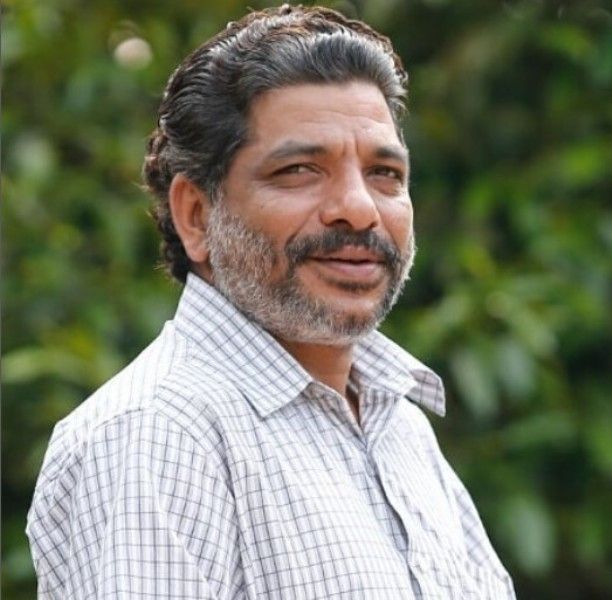 Jaffar Idukki is an Indian actor, impressionist, and comedian who primarily works in the South Indian entertainment industry. In 2022, he appeared in the Malayalam film Eesho in which he played the role of Ramachandran Pillai.
Wiki/Biography
Jaffar Idukki was born on 6 May in Udumbanoor, Kerala, India. His zodiac sign is Taurus. Jaffar Idukki completed his schooling at Ghs Maniyarankudy Senior Secondary School, Kerala. [1]Jaffar Idukki – Facebook. Fascinated by acting since childhood, Jaffar use to participate in various art programs in school. In an interview, he recalled his childhood days and said,
On Friday evening, there will be a training program for Sahitya Samaj in the school. Students from cl..classes 1 to 10 will present their favourite art programs. Must have been a guest of honour. After watching the programs, everyone will be given the necessary suggestions and incentives. At a young age, the artist in me was enlightened by the literary society of the school and its teachers. But after SSLC it all ended. Ten lost. Wrote again and lost that too…
Physical Appearance
Height (approx.): 5′ 3″
Hair Colour: Salt and Pepper
Eye Colour: Black
Family
Jaffar Idukki belongs to a Muslim family in Kerala.
Parents & Siblings
Jaffar Idukki's father's name is Moideen Kutty. Jaffar Idukki's mother's name was Nabissa. In September 2022, his mother passed away.
Jaffar has four siblings named Zubaidah, Shakeela, Naseer, and Late Shaila. [2]Manorama
Wife & Children
On 14 January 1996, Jaffar Idukki got married to Arifa.
The couple has two children named Althaf and Aliya.
Religion
Jaffar Idukki follows Islam. [3]Jaffar Idukki – Instagram
Career
As a mimicry artist
Jaffar Idukki started his journey as a mimicry artist with Jokes India, a professional troupe. Subsequently, he worked as a mimicry artist for Abi's Sagar Troupe and Kala Bhavan.
As an actor
In 2007, Jaffar Idukki made his acting debut with the Malayalam film Kayyopu in which he played the role of Firoz Babu. In the same year, he appeared in various Malayalam films like Big B (2007), Aakasham (2007), Nagaram (2007), and Kichamani MBA (2007). In 2008, he appeared in the Malayalam film Roudram in which he played the role of a police constable. Subsequently, Jaffar appeared in various Malayalam films like Vakathirivu (2019), Anjaam Pathiraa (2020), Vellakkarante Kamuki (2021), and Naaradan (2022).
Controversy
Actor Kalibhavan Mani's death: Seven suspects including Jaffer Idduki
On 6 March 2016, a south Indian actor and Jaffar's close friend named Kalabhavan Mani died in his farmhouse at Chalakudy, Kerala. Reportedly, Jaffar Idukki was one of the suspects in the death of Tamil actor Kalabhavan Mani. Mani's brother Ramakrishnan said in a media interview that Jaffar and some of Mani's friends had a get-together at a house near Paddy, where the actor was found unconscious. According to the Central Bureau of Investigation (CBI), Kalabhavan Mani died due to the overconsumption of alcohol and liver ailment. In an interview, while refuting the allegations against him, Jaffar said,
I don't have the time to enquire about what he intends to say as I am someone who makes a living by doing all sorts of works. I really don't understand what is wrong with him. I don't think I need to make any clarifications on this. If police decide to make further clarifications on this, I will extextend my full support. Otherwise, such statements won't affect me." [4]On Manorma
Facts/Trivia
In an interview, Jaffar Idukki revealed that he was compelled by the directors to withdraw his acting career for a year owing to the investigation of Kalabhavan Mani's death in which he was a suspect. Jaffer said that the directors used to hesitate to cast him in their films due to his legal disputes in court. [5]

The Times of India
As of 2022, Jaffar Idukki has worked as an actor in more than 150 films.
Soon after completing his schooling, Jaffar Idukki started working at a radio and television repair shop. He also worked as an electrician plumber and auto-driver. In an interview, Jaffar talked about this and said,


When I was idle at home without any work, I picked up the radio and started working on it. The radio…On Friday evening, there will be a training program of Sahitya Samaj in the school. Students from cl…The radio that used to sing is being taken away for no purpose and demolished. This demolition was d…was done when Wappa was not at home. One day Vapa saw this. Thinking that I was interested in radio …in radio work, Pullikaran took me to Vijayasound Raghavan Mash in Cherutoni. Vijaya Sound is a famous sound in Idukki. Raghavan Mash is also the electrician of the dam."

Born and brought up in a family of farmers, Jaffar started working in the fields at the age of ten. According to Jaffar Idduki, he owned 15 cents of land in his hometown and a fish farming business. In an interview, he quoted,


We came to Thodupuzha from Idukki 12 years ago. A small house. 15 cents of land adjacent to the house is cultivated. Kappa, yam, sorghum, lentil, brinjal, kachil, venda, ginger, yam and chili are all there. I don't go out and buy any vegetables. Along with this, fish farming is also done." [6]Manorma

In an interview, while recalling his childhood days, Jaffar said that he used to work for a rubber manufacturing company. He quoted,


In the nursery, rubber budding, rubber loosening, rubber kuru varal… During the rainy season, if you collect the rubber cusps lying in the small pits on the road, you will get 40 paise per lease. With that money, we will go to the movies. Watch all movies. This clod in the hand is a sign of working in the soil from a young age. I am still working on the soil
Apart from being an actor and comedian, Jaffar is a good chef.