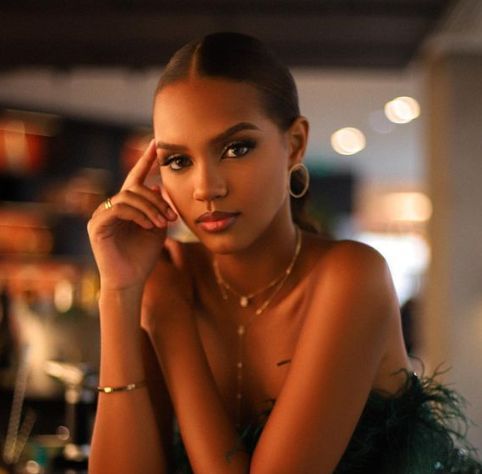 Indira Ampiot is a French model who won the title of Miss France 2023 after previously winning the titles of Miss Guadeloupe 2022 and Miss Basse-Terre 2022. Notably, she is the fourth Guadeloupean to be honored with the Miss France crown.
Wiki/Biography
Indira Ampiot was born on Sunday, 19 September 2004 (age 19 years; as of 2023) in Basse-Terre, in the overseas region of Guadeloupe. Her zodiac sign is Virgo. Ampiot graduated with her baccalauréat with honors in 2022 and had planned to pursue post-secondary education studying communication in Paris, with the goal of specializing in visual advertising, communication, and design, prior to becoming Miss France. She wants to be an art director.
Physical Appearance
Height (approx.): 5′ 9″
Weight (approx.): 57 kg
Hair Colour: Brown
Eye Colour: Brown
Body Measurements (approx.): 34-28-36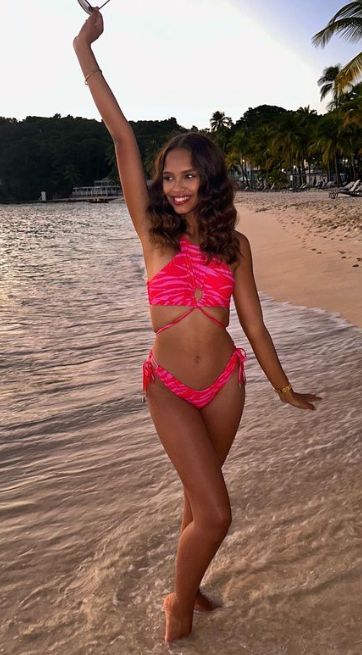 Family
She is of Indian origin through her maternal grandfather.
Parents & Siblings
Her father, Didier Ampiot, owns a communications and marketing agency, while her mother, Béatrice Téjou, works in the social security sector.
Her parents are divorced. Ampiot has an elder brother (studying in Canada).
Husband & Children
Indira Ampiot is not married.
Other Relatives
Ampiot is also the niece of footballer Frédéric Tejou.
Relationships/Affairs
Indira is not in a relationship yet.
Autograph
Career
Miss Guadeloupe 2022
In 2022, Ampiot started her pageant journey, initially competing in the Miss Basse-Terre 2022 contest. She won the title in its January 2022 finals. Holding the title of Miss Basse-Terre, she became eligible to participate in the Miss Guadeloupe 2022 competition.
She subsequently competed for the Miss Guadeloupe 2022 crown in July 2022 and won.
With this, Ampiot earned the privilege to represent her region in the Miss France 2023 contest. On 19 July 2023, she passed the Miss Guadeloupe crown to Jalylane Maës, her successor for 2023.
Miss France 2023
The Miss France 2023 competition took place in Châteauroux on 17 December 2022. Even before the event started, the French media had already spotlighted Ampiot as a potential winner. During the finals, she first progressed to the top fifteen and subsequently the top five. By the pageant's conclusion, Ampiot was announced as the winner, as a successor to Diane Leyre from Île-de-France.
This made her the fourth Guadeloupean woman to clinch the title. Throughout the contest, Ampiot achieved peak scores from both the jury and the French audience in both the top fifteen and top five segments.
Achievements
Miss Basse-Terre 2022 – Winner
Miss Guadeloupe 2022 – Winner
Miss France 2023 – Winner
Salary
With her Miss France title, Ampiot earned various accolades and benefits. These included gifts from sponsors, a year's stay in a lavish Parisian apartment, and a monthly stipend comparable to a senior executive's salary in France.
Favourites
Food: Les Dombres Ouassous, Le Gratin de Bananes Jeunes
Movies: Fast and Furious, Harry Potter
Song: Et si tu n'existais pas
Facts/Trivia
Ampoit's mother had also participated in the Miss Guadeloupe show where she was the first runner-up. She took part in other contests too such as Miss Caribbean.
Because of how she looks, Indira has often been compared to Rihanna. [1]

Cosmopolitan
Indira was always hesitant to participate in fashion shows as she was not confident in herself but she turned her complexes into her strength.
The model had always wanted to have a tattoo on her wrist on which she wanted to write her grandmother's name whom she liked to call, "Lili."
Indira revealed in an interview that her mother was a bit concerned about her participation in beauty pageants because she has done beauty pageants herself and wanted her daughter to not fall into any problems.
View this post on Instagram
She does a lot of social work like rescuing animals, educating the unprivileged, and efforts for the environment.
When she was younger, the model dreamed of becoming an astronaut or maybe a pediatrician. She also said that she wanted to get into research and artistic direction. Drawing and sketching has always been a passion for her.
The model loves to sing but says that she is just a bathroom singer. She had been in the choir group of her school when she was in primary school.
She wants to work for women's rights and fight against cancer; these are the two causes that are near to her as her grandmother passed away in 2022 because of cancer.
During her reign as Miss France, she got a chance to meet the American actor, Brad Pitt.
She also participated in TV shows like Fort Boyard.
The model has three burns on her body because of using a curling iron – on her hand, forehead, and neck. She also has a scar on her lips which she got during her childhood when she was trying to go up from an escalator that was going down. She has also broken her arm thrice.
She was once admitted to an emergency room because of severe bleeding due to mosquito bites. She said that she lost 8 kilograms of weight too and suffered from intense fever, cold, and cough.
In an interview, Indira revealed that she has had a crush on Rome Flynn, an American model, musician, and actor famous for his roles in The Bold and the Beautiful, or How to Get Away with Murder. [3]

Cosmopolitan
She was uncomfortable with her height when she was younger as she was taller than almost all her friends. However, after the pageants, she is more at ease and even wears high heels.
In an interview, Indira revealed that she has two lucky charms – a ring given by her father and her grandmother's bracelet.
Indira practices a lot of anti-stress remedies like having herbs and doing yoga. She says that she does not have a lot of stress in general but when she does, she bites her nails. She is also a very relaxed and calm person by nature.
Indira revealed that she loves working out. She works out every single day for at least 2 hours.
The model is also an animal lover and even has a pet dog.
She likes to drink alcohol on certain occasions with friends and family.