Glenn Mcgrath is a former Australian cricketer and one of the finest fast bowlers in the game of cricket. His major strength was to bowl accurately on one line and length. This helped him to get the extra help from the pitch and deceive the batters with his pace. Under his bowling, Australia was at the peak of its success during the late 1990s and early 2000s.
Wiki/Biography
Glenn Mcgrath was born on Monday, 9 February 1970 (age 51 years; as of 2021) at Dubbo in New South Wales (Australia). His zodiac sign is Aquarius.
He started playing cricket in his hometown in New South Wales (NSW) where he was spotted by the former Australian cricketer, Doug Walters. He then moved to Sydney to play grade cricket. With years of struggle and hard work, he made his international debut in November 1993 after playing just eight first-class games. Under his bowling, Australia won 1999, 2003, and 2007 ICC World Cups. In December 2006, Mcgrath announced his retirement from all forms of the game. He is the only cricketer to have taken the wicket of the first and the last ball of his international career.
Physical Appearance
Height (approx.): 6′ 5″
Weight (approx.): 77 kg
Hair Colour: Light Ash Blonde
Eye Colour: Light Blue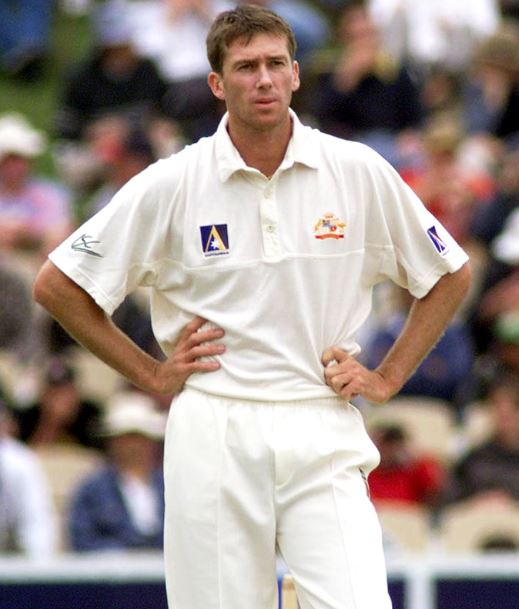 Family
Parents & Siblings
Glenn Mcgrath's father's name is Kevin Mcgrath.
His mother's name is Beverly Mcgrath.
Wife & Children
He was married twice. His first wife Jane Louise McGrath was an Australian cancer support campaigner. He was married to her from 1999 to 2008. Jane died on 22 June 2008 due to breast cancer.
He then got married to Sara Leonardi Mcgrath, a textile artist. They got married on 18 November 2010.
He has one son and two daughters named James Mcgrath, Holly Mcgrath, and Madison Mary Harper Mcgrath.
Address
Glenn Mcgrath lives in Burraway Street (Mitchell Highway), Tom Perry Park, Narromine, 2821.
Signature/Autograph
Career
International Debut
ODI: On 9 December 1993 against South Africa at Melbourne Cricket Ground (Australia)
Test: On 12 November 1993 against New Zealand at The WACA (Perth)
T20I: On 17 February 2005 against New Zealand at Eden Park, Auckland (New Zealand)
Records
Most successful fast bowler in international cricket with 949 international wickets. [1]

News Bytes
A bowler who dismissed a single batter most number of times in international cricket (Michael Atherton from England; 19 times) [4]

Cricket.com
Second bowler in terms of dismissing Most Players for Ducks in Tests after James Anderson (104 wickets) [6]

Newsbust.in
Second most wickets in a single edition of World Cup after Mitchell Starc (26 wickets in 2007 World Cup) [7]

The Times of India
Third fastest to 300 wickets in ODIs (200 ODIs) after Brett Lee and Waqar Younis [9]

Sportscrunch.in
Second most wickets in an ODI series (26) after Mitchell Starc also from Australia [16]

Sportscrunch
Domestic/state team(s)
Worcestershire (County Club)
While he was playing grade cricket in Sydney, there was an article published In one of the British daily newspapers, The Guardian, that,
"He had to live in a beach caravan. At the same time, he had to work in a bank. His colleague had told the paper, He used to sign withdrawal slips and pass them to girls and say "keep this because I'm going to be famous one day."
Since, in one of the matches, Mcgrath was not given the ball to bowl. Unhappy Mcgrath then started practicing in the backyard of his house. Pertaining to this, one of the reporters of the ABC Michael Vincent said,
"He didn't have an even wicket, he didn't even have a set of stumps and, like many other country kids before him, he improvised, raining down balls on a 44-gallon drum. Ball after ball, after ball."
The first major tournament which, he played was in the 1992-93 season. After making his international debut in 1993 which was a test match, he was impressive when he took the wickets of New Zealand's Danny Morrison, Mark Greatbatch, and Blair Pocock after giving away 142 runs in 55 overs. New Zealand's captain Martin Crowe opted to field first after winning the toss so Mcgrath has to wait one day more to hold the red cherry in his hand.
In 1995, Australia won the test series against West Indies. The main reason behind that victory was Mcgrath taking the approach of bouncing the West Indian team, including the bowlers.
Former captain, Ricky Ponting wrote on Mcgrath's biography that,
"I remember thinking Glenn's decision to take on the West Indies bowlers sent out a positive message to the West Indies that the Australian side was really up for it. Ambrose, Walsh, Kenny Benjamin had never been treated like that before. It made the West Indies sit back and think, 'This Australian team is fair dinkum—they're really up for it.' Even if you aren't the murder boys of cricket, you can show little things to let the opposition know you are serious. It might be the way you warm-up, how you dress to go to the ground. Perception can be enormous. If you can give off the right signals to (a) bluffing them or (b) showing them what you're all about. McGrath, at that stage of his career, showed them what he was all about. His body language and the way he looked at their batsman — the wry smile — it sent a signal to the batsman and his own teammates that he knew what he was doing."
In 2000, he became popular among the county's supporters due to his performance in the English County Championship where he took 80 wickets in 14 first-class games with a bowling average of 13.21 including his bowling performance of 8 for 41 against Northamptonshire. In 2004, while playing for the Middlesex team, he took nine wickets in four first-class games. Unlike his bowling, his batting was infamous in the cricket world. Once, he betted with a friend and former legendary Australian leg spinner Shane Warne that he will score a fifty at least once in his international career. He finally achieve it on 20 November 2004 against New Zealand at The Gabba (Brisbane) in a test match which was won by Australia.
In 2005, the Ashes series took place were in the first Test at Lord's, Mcgrath's bowling performance helped Australia to restrict England on 155 runs. It was in this match, where Mcgrath completed the 500th wicket after dismissing England's opening batter Marcus Trescothick.
This followed up with the four-wicket haul in the second inning after giving away 29 runs. For his overall match performance, he was adjudged Player of the match. However, he was unable to play the second test match at Edgbaston due to an ankle injury.
England won this match by two runs. He then got the chance to play the third test at Old Trafford where he took his second-five wicket haul but again he missed the fourth Test at Trent Bridge. He was back in the squad for the fifth test which is the decider match at the Oval. This match ended in a draw and England ultimately won the series. Mcgrath's injury was seen as the key factor in England winning the Ashes as the victory came in matches where Mcgrath was absent.
The next Ashes series took place in 2006-2007 in Australia. Mcgrath was this time back in the squad after participating in the 2006 Champions Trophy to reclaim his spot in Australia's test XI. In the final test, Mcgrath took six wickets and helped Australia to clinch the Ashes title 5-0. It was the second Ashes Whitewash after the 1920-21 Ashes series. Mcgrath finished with a series with 21 wickets. Coincidently, it was his final test series.
In his biography, Mcgrath wrote,
"There was an incredible sense of emotion and elation as I walked around the Sydney Cricket Ground with my teammates, holding hands with my children, James and Holly. I didn't feel the slightest sense of sadness about retiring. I knew I'd reached the end; my body told me that. And even more importantly, I'd realized that those special moments I was missing in the life and times of my family were too great … the moments had become weeks at a time, and I didn't like it."
He announced his retirement from tests on 23 December 2006. After being the highest wicket-taker in the 2007 ICC World Cup, he announced his retirement from ODIs as well.
His spell of 3 for 18 runs in the 2007 World Cup was rated as the fifth-best ODI bowling performance of the year by ESPNCricinfo voters. In 2008, the Indian Premier League (IPL) started where Mcgrath played for the Delhi Daredevils team. He emerged as the most economical bowler for the team. In the tournament, Australian pacer Dirk Nannes famously said,
"I will tell my grandchildren that I was responsible for keeping out the greatest fast bowler of all times of a playing XI."
In the next season, he did not participate owing to some personal issues. However, he played for the Delhi Daredevils team in the Champions League Twenty20 which was the last tournament for him.
Post-retirement, Glenn Mcgrath started working as the director of the MRF Pace Foundation (Chennai) after replacing Australian former paceman Dennis Lillee.
He also serves as the president of the Mcgrath foundation.
Mcgrath foundation was a breast cancer support founded by his first wife late Jane. She died at the age of 42 from complications following the cancer surgery. In her honor, day three of the annual Sydney test is marked as Jane Mcgrath Day.
He has played 124 test matches and took 563 wickets with an average of 21.64. His best performance was 8 for 24 runs which came against Pakistan on 16 December 2004 at WACA, Perth, Australia. Overall, he has bowled 4874.4 overs and conceded 12186 runs with an economic rate of 2.49. He has taken the most wickets against England with 157 wickets in 30 matches followed by West Indies, and Pakistan. The year 2001 is his most successful year with 68 wickets in 14 matches.
Talking about his ODI records, he has played 250 matches and taken 381 wickets with an average of 22.02. His best performance was 7 for 15 runs which came against Namibia at Potchefstroom Cricket ground on 27 February 2003. Overall, he has bowled 2161.4 overs and conceded 8391 runs with an economic rate of 3.88. New Zealand is the team against whom he has taken the most ODI wickets with 59 scalps. His most successful year is 1999 where he has taken 52 wickets in 27 games.
Besides this, he featured in 2 Twenty20 games and took 5 wickets with an economy of 9.87. The two matches are against New Zealand and England.
Controversy
Sledging controversy- This controversy took place in May 2003 at the Antigua Recreation Ground during a test match between West Indies and Australia. Mcgrath's wife was battling Cancer back home. In between, while Ramnaresh Sarwan was batting, Mcgrath tried to sledge Sarwan. Sarwan in reply took his wife's name not knowing the severity of the condition. To which, furious Mcgrath didn't say any word and quietly collected his cap from the umpire. Suddenly, in between something snapped and Mcgrath again came to Sarwan and shouted,
"If you ****ing mention my wife again, I'll ****ing rip your ****ing throat out."
Sarwan on the other hand apologized after getting to know the condition of his wife. Critics termed that sledging incident as the true face of Australian cricket especially when they were losing. Sarwan went on to score a century and helped his side chase a record target of 418 runs.
Awards, Honours, Achievements
Wisden Cricketer of the Year in 1998
Wisden Australia Cricketer of the Year in 1999
 Allan Border Medal in 2000
Test Player of the Year in 2000
One-Day International and Player of the Year in 2001
Wisden Australia Cricketer of the Year in 2005
Wisden Australia Cricketer of the Year in 2006
Player of the series in the 2007 ICC World Cup
Member of the Order of Australia for his "service to cricket as a player" and with his wife for their "service to the community through the establishment of the McGrath Foundation" on 28 January 2008
Sport Australia Hall of Fame in 2011
Inducted in the ICC Hall of Fame in 2012
Favorites
Cricketers: Sachin Tendulkar, Dennis Lillee
Cricket Ground: Melbourne Cricket Ground (MCG)
Sportsperson(s): Roger Federer, Usain Bolt, and Steve Redgrave
Sports: Lawn Tennis and Basketball
Travel Destinations: Africa, Europe
Food: Chicken Sushi, Sea Food
Facts/Trivia
His hobbies include Travelling, scuba-diving, snorkeling, and sky-diving.
He met his first wife Jane at a nightclub in Hong Kong in 1995. Remembering those days, Jane told,


"Of all the guys there, he was the last one to say hello. So the challenge was there for me. Initially, she did not know how big a cricketing figure McGrath was. It was only after a few incidents that she realized that McGrath was a legend and respected by most people in Australia."

Glenn Mcgrath rates Caribbean legend Brian Lara as the toughest batter to have ever bowled to in international cricket. [17]

The Bridge Chronicle
Glenn Mcgrath revealed about some of the modern-day greats during a private session hosted by HCL Technologies during the World Economic Forum (WEF). About Bumrah, he told, [18]

Cricfit Cricket Academy


"Bumrah is quite a unique bowler. He doesn't have a long run-up like a lot of fast bowlers have. But he has got good pace, incredible control, and the right attitude."

While for Rabada, he said,

"This South African bowler Rabada is an amazing bowler, I'm a big fan of his. I'm leaving Australian bowlers out of this list as I feel they all are great."

For Steven Smith, he told,

"Smith is a little bit unique, he is a little strange, he is not normal, but has got a great hand and eye coordination. Technically, he is not a textbook batsman, but the way he bats is amazing."

Lastly, about Virat Kohli, he told,

"He is a class player and is very technically correct. He is a little bit unusual and very aggressive on the filed especially as an Indian captain, but he is a class player."

During the 2003 ICC World Cup finals, he took the wicket of Sachin Tendulkar. Recalling that moment, Mcgrath said,


"It was a big match and Sachin opened the innings in Johannesburg, South Africa. Almost 90 per cent, or probably 95 per cent crowd were supporting India because South Africans either support South Africa or whoever is playing against Australia. Sachin came for batting and the first three balls, I kept pretty tight and he didn't score any runs. On the fourth ball, he went for a pull shot, hit me over to mid-off for four runs. The crowd was cheering and I'm sure people watching the match India must have been pretty happy too. The next ball was a very similar delivery, just bounced a little more, he went to play that pull shot again but he hit it straight up in the air and it came straight to my hands for a comfortable caught and bowled. I was pretty happy with that, but obviously, Indian fans were not happy with that."