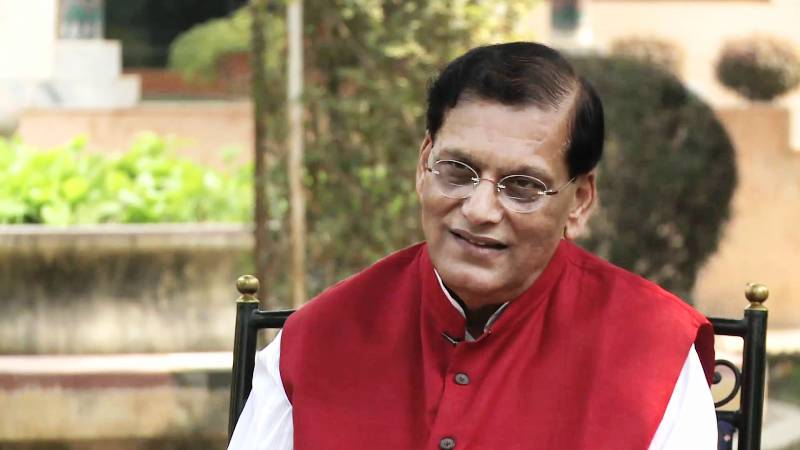 Dr Bindeshwar Pathak is an Indian Sociologist. He is the founder of the Sulabh International, Sulabh Sanitation Movement & Sulabh Toilets across India and all over the world.
Wiki/Biography
He was born on Friday, 2 April 1943 (age 76 years; as in 2019), in Village Rampur Baghel, Dist. Vaishali, Bihar. His zodiac sign is Aries. He studied from a government school in Rampur, Bihar. He attended RDS College in Muzaffarpur in Bihar, National College in Patna, and Patna University. In 1964, he did his graduation in Sociology, he did M. A. in Sociology in 1980 and M. A. in English in 1986. In 1985, he completed his PhD degree, and in 1994, he completed D. Litt.
Family, Caste & Wife
He was born into a Hindu Brahmin family. His father, Dr Rama Kant Pathak was an Ayurvedic doctor. He is the second of six siblings. In July 1965, he got married to Amola, she is a resident of Mehnar in Vaishali district, Bihar. They are blessed with three children- one son and two daughters.
Career
Dr Bindeshwar Pathak has worked hard to solve the problem of open defecation and manual scavenging. To solve this issue, he started 'Sulabh International' in 1973. Sulabh International is a non-profit entity; working in the field of abolishing manual scavenging and spreading hygiene and sanitation in India. This organisation has helped to construct over 1.5 million household Sulabh Shauchalayas (pour-flush toilets) across India, and every day, almost 20 million people are using this facility. The lavatories of Sulabh Shauchalyas earn more than Rs. 500 crores annually. His trust has generated employment to more than 50,000 people who manage more than 8,500 toilets across India.
In the initial stage, he faced many hindrances, especially from his family. In an interview, he said,
I was around 5 or 6. A woman, who happened to be a Dalit, used to come to sell some household items to our village. One day, I touched her to say something… All hell broke loose. My grandmother not only berated me but also made me eat cow dung, drink cow urine and poured Ganga-jal on me to 'purify' me. The incident left a scar. I began to wonder why Dalits were treated inhumanly even though they have the same flesh and blood like us. I vowed to do something for them when I grew up."
Initially, he was hesitant to work with the people of Bhangi-Mukti Cell; citing his Brahmin family background. Earlier, the task of manual scavenging in India was mostly considered to be performed by Dalits only. He was inspired by the Gandhian Principles, so, he continued working with that group instead of thinking about casteism. When asked about this group, he revealed,
I was initially reluctant to stay with people considered 'untouchables' by society because I was a Brahmin, but it was my job so I agreed. However, soon I was very moved to see the state of manual scavengers… cleaning human waste from the pit latrines and carrying it for disposal."
On 5 March 1970, he took a loan of Rs. 50,000 and founded Sulabh Svachchh Shauchalaya Sansthaan. His first project in this scheme was a 200 sq ft area of the office in Patna. Later, to support this scheme, he availed CSR fund support from corporates like State Bank of India, ONGC, Maruti, HDFC, Bharti Foundation and others. It was renamed to Sulabh International in 1980. Initially, all went well, but there was a situation of crisis at one point. In an interview, he said,
The non-profit needed money to run but there were no orders for toilets. The situation reached such a point that I had to sell my mother's and wife's jewellery to run it. I was nearly bankrupt and had lost all hope."
 The situation became stable in 1973 when he received an order of building two toilets in Arrah district in Bihar and earned Rs. 500 from it. Soon, it became one of the profitable businesses of India with one-time investment.
Awards & Honours
2003: Named on the list of the Global 500 Roll of Honour by UNEP; the same year, he received UN-Habitat Scroll of Honour Award
2004: The Dubai International Award for best practices to improve the living Environment
2005: Received Good Corporate Citizen Award from Dr A. P. J. Abdul Kalam
2009: Stockholm Water Prize
2015: CNN News-18 Indian of the Year
2016: WHO Public Health Champion Award, the same year, he received Humanitarian Award by New York Global Leaders Dialogue
2017: Golden Peacock Lifetime Achievement Award, the same year, he received the Lal Bahadur Shashtri National Award for Excellence in Public Administration, Academics, and Management
2018: 23rd Nikkei Asia Prize
Address
Sulabh Bhawan, Mahavir Enclave Palam Dabri Road, New Delhi 110045
Facts
He was born into a family which was highly orthodox and strongly believed in casteism.
His grandfather was a well-known astrologer of that time. Dr Bindeshwar said,
When I was just two years old, my grandfather had prophesied that I would earn a lot of name and fame in life."
Being from a Brahmin family, he had to face opposition from his family and relatives due to his choice of work. He revealed in an interview
My parents and in-laws, along with the society, were angry with me because they found it derogatory for a Brahmin to work for the lower caste, but I was out to achieve the dreams of Gandhiji."
While sharing one of the experiences of his college days, he said,
I was too shy and introverted in those days. I still remember standing in a queue for admission in college and pulling out every time I reached the gate and then standing in queue again… The gatekeeper eventually caught me and forced me inside the Principal's office!"
Dr Bindeshwar Pathak scored 54 per cent marks in the first year of graduation, and he was awarded a scholarship of Rs. 14 per month. He shared another experience of his college days and said,
My father used to send Rs. 25 every month for additional expenses," I used to stay at my uncle's house in Patna who took care of my food and accommodation. My friends were nice and took me to movies."
After completing his graduation, he joined Gandhi High School as a temporary teacher at a monthly salary of Rs. 80 in his village.
After his marriage, he left the job of a teacher and joined a thermal power station at Patratu in Ranchi (now in Jharkhand) as an account assistant. After that job, he joined his father's pharmacy business in Muzzafarpur. Later, he left that job too.
When he joined Bhangi-Mukti (scavengers' liberation) Cell of the Bihar Gandhi Centenary Celebrations Committee at Patna, he started learning and understanding the real meaning of Gandhian Principles. He said,
The Committee was mainly involved in spreading the ideas of Gandhiji and to liberate manual scavengers from the ill practice," explains Pathak. "I slowly began to get attracted to the ideals of Gandhiji. My whole life changed."
Due to his noble work and contribution to society, he has received many honours and achievements. 14 April 2016 was declared as "DR. BINDESHWAR PATHAK DAY" by Mr Bill de Blasio, Mayor of the city of New York.
To educate people more about the importance of toilets, his organisation runs a toilet museum in New Delhi.
He appeared in the Sony TV's game show Kaun Banega Crorepati, aired on 2 October 2019 (on the special occasion of Mahatma Gandhi's 150th birth anniversary).