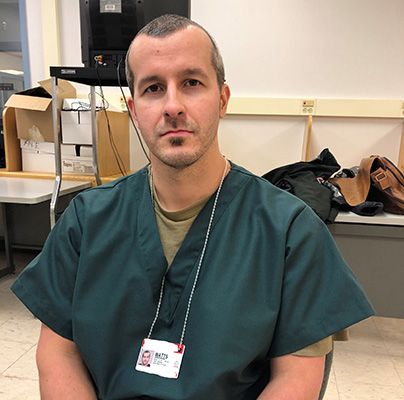 Chris Watts is a Colorado man who murdered his fifteen-weeks pregnant wife, Shanann Watts, and his two daughters, Bella and Celeste Watts.
Wiki/Biography
Chris Watts was born as 'Christopher Lee Watts' on Thursday, May 16, 1985 (age 35 years; as in 2020), in Spring Lake, North Carolina, US. His zodiac sign is Taurus. He did his schooling from Pine Forest High School, North Carolina.
Physical Appearance
Height (approx.): 5' 10"
Eye Color: Brown
Hair Color: Salt & pepper
Family & Ethnicity
Parents & Siblings
He was born to Cindy Watts and Ronnie Watts.
He has a sister named Jamie Lynn Williams.
Wife, Children & Relationships
In 2010, he met Shanann Watts who was an independent representative at 'Le-vel,' a multi-level marketing company that sells a product called 'Thrive.' They got married in Mecklenburg County on November 3, 2012.
They had two daughters: Bella Marie Watts (born on December 17, 2013) and Celeste Cathryn "Cece" Watts (born on July 17, 2015).
At the time of her death, Shanann was fifteen weeks pregnant with a son whom the couple had named Nico Lee Watts; her due date was January 31, 2019. While he was married to Shanann, he started dating Nichol Kessinger. He started seeing her just two months before the Watts Family was murdered.
The Murder
After Shanann returned home from a business trip to Arizona at about 1:48 am on August 13, 2018, Chris was home with the children. In an interview with the investigators, Chris described how he killed his wife and two daughters. According to Chris, after he fought over separation with Shanann, he strangled her at their home in Frederick. After having Shanann murdered, he dragged her body down the stairs, when Bella witnessed him. According to Chris, Bella cried,
What is wrong with mommy?"
He then loaded Shanann on the floorboard and Bella and Cece on the back seat of his work truck. He drove them about 45-minutes to an oil site, a property of Anadarko Petroleum where he worked. When he got there, Chris used a blanket to smother Cece and threw her in an oil tank. He returned and did the same to Bella as well. According to Chris, before Bella died, she asked him,
Is the same thing gonna happen to me as Cece?"
After he dumped both his daughters in the oil tanks, he buried his wife in a shallow grave nearby.
The Report of Disappearance and Arrest of Chris
Nickole Utoft Atkinson, a former friend, and colleague of Shanann dropped her home from the Airport on August 13, 2018, in the morning.
Later that day, Nickole began worrying as Shanann had missed her business meeting, her OB-GYN appointment, and Shanann did not even respond to her messages. Nickole went to Shanann's home at 12:10 pm, where nobody responded to the doorbell. Nickole contacted Chris, who had gone to work, and subsequently called the Frederick Police Department. At about 1:40 pm, an officer arrived for a welfare check at his home. Chris also arrived and permitted the police to search his home. During the welfare check, Shanann and his daughters were missing. The searchers later discovered Shanann's purse containing her phone and keys, her car in the garage, and her wedding ring, which was found on the couple's bed. The following day, the FBI and the Colorado Bureau of Investigation joined the investigation. Initially, Chris had told the police that he had no idea where both his daughters and wife were, and he had not seen his wife since 5:15 am on the 13th when he left for work.  He gave interviews to many media outlets in which he was seen pleading for his wife and daughters' safe return. In an interview, Chris said,
Shanann, Bella, Celeste, if you're out there, just come back. If somebody has her, just bring her back. I need to see everybody."
On August 15, 2018, he was arrested.
According to the arrest affidavit, Chris failed a polygraph test and confessed to murdering Shanann. Before confessing, he asked the investigators to speak to his father.
During the investigation, he claimed that he killed his wife as an act of rage after she killed their daughters in response to the request for a divorce. He stated that he strangled Shanann and took the three bodies to a remote oil-storage.
He was fired from his job on the same day of his arrest. The authorities located the bodies on August 16. Later, in an interview he gave to the police, he admitted to his crimes of killing his pregnant wife and daughters. After Chris was arrested for the murder of his wife, his mistress, Nichol Kessinger went to the Colorado Bureau of Investigation and told them that she believed that Chris was about to divorce his wife. She said,
Chris would often pay for dates with gift cards — possibly so his wife couldn't track his spending. He always paid with those. Always. But during their last date together the night of August 11, something changed. Instead of paying with his usual gift cards, Watts paid with a personal credit card. It was like he had nothing to hide. Or nothing to lose"
Charges & Sentencing
On August 21, Watts was charged with five counts of first-degree murder of his wife and two daughters, including an additional one count per child cited as "death of a child who had not yet attained 12 years of age and the defendant was in a position of trust" of his two daughters; unlawful termination of a pregnancy; and three counts of tampering with a deceased human body. On his first court appearance, he was denied bail, and at a later hearing, his bail was set at $5 million, with Chris required to put down 15% for his release.
On September 1, Watts gave $750,000 and was released with pending legal proceedings. On November 6, he pleaded guilty to the murders, and the death penalty was not put forward by the district attorney on the request of Shanann's family who accepted the plea deal. On November 19, Chris received five life sentences – three consecutive and two concurrent without the possibility of parole; he also received an additional 48 years for the unlawful termination of his wife's pregnancy, and 36 years for three charges of tampering with a deceased body. Later, Chris revoked his $5 million bails and was immediately remanded. On December 3, 2018, Watts was moved to an out-of-state location due to "security concerns" and on December 5, 2018, he arrived at the Dodge Correctional Institution, a maximum-security prison, in Waupun, Wisconsin.
Property
Chris and his wife, Shanann, owned a five-bedroom, four-bathroom house at 2825 Saratoga Trail in Frederick, Colorado. The house was bought in April 2013 on a loan of $392,709. As of 2020, the house is valued at $583,500. [1]The Denver Post
Salary
As an employee of Anadarko petroleum, he earned an annual salary of $61,000, according to their bankruptcy records filed in 2015. [2]CBS News
Facts/Trivia
In high school, he was a bright student and aspired to be a National Association for Stock Car Auto Racing (NASCAR) crew chief technician.
In 2003, he won third place in an N.C. Automobile Dealers Association competition, held in Winston-Salem and was awarded a $1,000 scholarship to Universal Technical Institute and NASCAR Technical Institute in Mooresville.
In June 2015, Chris and Shanann jointly filed for a chapter 7 bankruptcy in the Colorado Federal Court. At that time, Chris was an employee of Anadarko Petroleum, and Shanann and Chris had to pay a debt of $44800; their bankruptcy case was closed in October 2015. [3]

The Denver Post
The Watts Family Murders' case has been featured on many news channels and talk shows including ABC News television news magazine 20/20, Dr. Phil Show, and The Dr. Oz Show.
On January 26, 2020, Lifetime, an American cable channel, released a film called 'Chris Watts: Confessions of a Killer.' In the film, Sean Kleier and Ashley Williams played the roles of Chris Watts and Shanann Watts. However, Shanann's family was unhappy about the film as they were not consulted or aware of the movie.

A Netflix documentary titled 'American Murder: The Family Next Door,' featuring the Watts Family Murder case, directed by Jenny Popplewell was released in September 2020. The documentary contained the archival footage of the case, social media posts, law enforcement recordings, text messages, and home videos, with no narration or enactments.

Many authors have written books on the Watts Family Murders and Chris Watts; some of the books are: 'The Perfect Father: The True Story of Chris Watts, His All-American Family, and a Shocking Murder' (2020) by John Glatt, 'Letters from Christopher: The Tragic Confessions of the Watts Family Murders' (2019) by Cheryln Cadle and Christopher Watts, 'My Daddy is a Hero: How Chris Watts Went from Family Man to Family Killer' (2019) by Lena Derhally, 'Two Face: The Mysterious Mistress and the Confession' (2019) by Nick Van Der Leek, 'Two Face: Oblivion' (2019) by Nick Van Der Leek, 'Two Face: Drilling Through Discovery' (2019) by Nick Van Der Leek, 'Two Face: Beneath the Oil' (2020) by Nick Van Der Leek, and 'Chris Watts Mistress: Final Interview of Nichol Kessinger on August 23, 2018 ‑ The …' (2020) by Cindy George.

The fiction book 'No Inclination: Inspired by the Chris Watts Case' by Tania Hagan published in January 2020, was inspired by the Watts Family Murders.

He has a tattoo of band Metallica on his back, a sun symbol and barbed wire on his left arm, and a snake's head and diamond tattooed on his right arm.