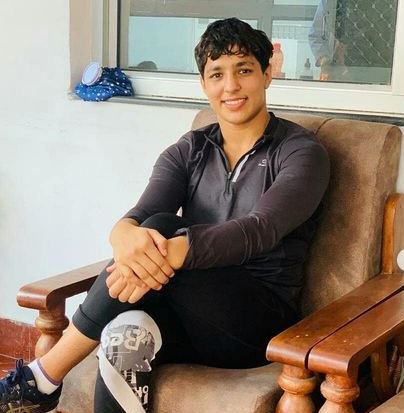 Anshu Malik is one of the wrestlers from Haryana who competes in international events in a freestyle category. As of 2021, she participated in 17 matches and won matches in 14 of them. On 7 October 2021, she won the silver medal in the finals of the World Championships held in Oslo (Norway) losing to two-time Olympic medallist Helen Maroulis (United States). With that, she became the first female Indian wrestler to achieve this feat. Before her only Geeta Phogat (2012), Babita Phogat (2012), Pooja Dhanda (2018), and Vinesh Phogat (2019) could manage to win a medal; but that too a Bronze.
Wiki/Biography
Anshu Malik was born on Sunday, 5 August 2001 (age 21 years; as of 2022) at Jind in Haryana. The state which is known to produce some of the world-class wrestlers like Sushil Kumar, Vinesh Bhogat, Kavita Kumari (WWE), and many more. Her zodiac sign is Leo. She completed her schooling at the Chaudhary Bharat Singh Memorial Sports School located in Nidani, Jind (Haryana). Her interest in Wrestling rosed after watching her brother participating in this sport and getting trained at the CBSM Sports School (Jind). From thereon, she also thought of pursuing her career in Wrestling. She later convinced her father to put her in wrestling. Interestingly, as his father is a former wrestler so he also wanted someone from his family to do big in this sport. She was admitted to the Nidani Sports School for training from where she learned the basics of this sport. Her father recalls,
"She is a quick learner. During training, Anshu would make mental notes of various moves like Bhandhaj and Kheech apart from Gatta Pakad and would also try minute variations in these attacks."
From that point onwards, her journey began by winning medals at the school level then gradually making her way out towards the national then in the international events.
Physical Appearance
Height (approx.): 5′ 3″
Weight (approx.): 57 kg
Hair Colour: Natural Black
Eye Colour: Brown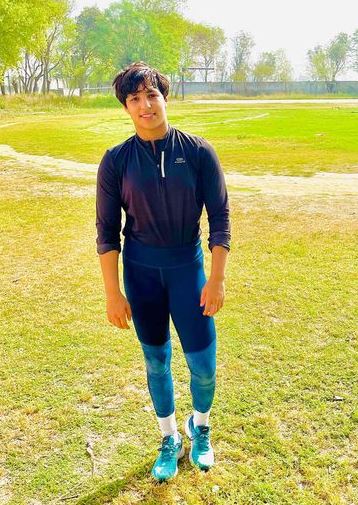 Family
Parents & Siblings
Anshu Malik belongs to a family of sportspersons; mostly wrestlers. Her father competed at the Junior Wrestling team during the 1990s. In 1995, he left the sport due to a prolonged injury. His name is Dharamvir Malik and he is working in a  Central Industrial Security Force (CISF).
His mother's name is Manju Malik and she is a school teacher. She is also a former freestyle wrestling champion.
She has a younger brother whose name is Shubham Malik and he is a freestyle wrestler at the national level. Her grandfather's name is Bir Singh and he is a former Kabaddi player. Vedavati is her grandmother's name.
Career
She began her wrestling career in 2012 at the Nidani Sports School at Jind (Haryana). Her father always ensured that she should get easy access to the training center at Sonipat and Lucknow from her home. Soon, she got admission to the Sports Authority of India (SAI) national center of excellence in Lucknow (Uttar Pradesh). In 2016, she won her first gold medal at the national school games. The same year, she also won the bronze medal at the World Cadet Championships in Tbilisi (Georgia). She then defended her title for the next two years when in 2017, she won the gold medal at Athens in Greece and then bagged the bronze medal in the same event in Zagreb (Croatia) in 2018. In the same year, she also became the champion in the Junior Wrestling National Championships with a bronze medal.
She then took part in the senior-level competition against the World Champion Linda Morais from Canada. She won this match convincingly. This followed up with her another win over the two-time European Champion Grace Bullen of Norway in the Mattio Pellicone Ranking series. With that, she bagged her place at the 2020 Tokyo Olympics after the win against a fierce opponent named Shokida Akhmedova from Uzbekistan at the  Asia Oceania Olympic qualifier held in Almaty, Kazakhstan.
She went through an injury later on, and could not able to compete with the best of her capability. Due to which she lost to a double world championship medallist Iryna Kurachkina from Belarus at the 2020 Tokyo Olympics (held in 2021 due to COVID lockdown). In September 2021, she got selected for the 2021 World Wrestling Championships. And in October 2021, she first competed in this mega-event with a win over Nilufar Raimova from Kazakhstan in a round of 16 to bag a place in the quarterfinals. She won that match by technical superiority. Technical superiority is the condition for victory when the wrestler outscores her opponent by a specific number of points.
Her next game was against Davaachimeg Erkhembayar from Mongolia. She was playing that match with an ankle injury yet she defeated her comprehensively with 5-1 to reach the second last stage of the game which is the semi-final competition. Her father told that she competed in the semis after taking painkillers. He further revealed, [1]Sportstar
"After the Olympic loss, I advised her to believe in her karma. Her elbow injury got aggravated in the selection trials. It was a really tough month. Anshu continued to train (under the guidance of her coach Jagdeesh Sheoran at Nidani village in Jind district of Haryana) despite tremendous pain. Her determination helped her."
This was later elaborated by her childhood coach Jagdish Sheoran that she played the World Championships with an injury which she sustained during a selection trial on 30 August 2021. He further said,
"We took her to a doctor who advised her complete rest for one week. After that, she worked only on strengthening her legs, giving the elbow the desired rest. It is important to keep her injury-free keeping the senior nationals next month in mind and then the Commonwealth and Asian Games next year."
She was up against the junior European champion Solomiia Vynnyk from Ukraine. This match is won by her with a huge margin of 11-1. After that match, she told,
"I am so happy. What I could not do at the Tokyo Games I did here. I fought each and every bout as my last bout. I suffered an injury (elbow) and can't explain how much pain I endured one month before the World Championship. I will fight the final like it's my last bout."
Also in a video message on Twitter, she told,
"I am extremely delighted. In the Olympics, I could not perform the way I wanted to. I can't explain how I trained for a month with that (left elbow) injury. I didn't want to repeat the disappointing performance I put up at the Olympics."
Then came the finals on 7 October 2021 against Helen Maroulis from the United States who is also a two-time Olympic medallist. In that game, neither Anshu nor her opponent was aggressive in the beginning.
Soon, her opponent stunned the crowd with a quick spun back and then pinned her to get four crucial points. Anshu as she was playing with an injured right elbow, she was crying in pain and could not able to get up for two minutes. She tried to hold her right hand but in vain. Due to that injury, she could not resist when Maroulis grabbed her right shoulder. After the match, she was provided with medical assistance. However, she lost the match but managed to script her name in the history books with a silver medal.
Before this game, she had defeated big names in wrestling like Linda Morais who also happens to be a world champion, Grace Bullen: the European and U23 World champion, Veronika Chumikova, and Evelina Nikolova.
But this time, the opponent was much more experienced which resulted in her loss. Her father reacted to her achievement with pride. He told in an interview that,
"Despite being in pain my daughter did great and won a silver medal. We all were expecting her to win gold as it's a long-standing dream of mine, but no worries. It's just a beginning for her and I am proud of her effort. I couldn't sleep last night and woke up early today as the excitement didn't allow me to sleep properly. I wasn't alone facing this problem in the family, but everyone at home was anxious before the bout."
On 5 August 2022, Anshu Malik won silver in the Women's Freestyle 57kg category at the Birmingham Commonwealth Games after losing to Odunayo Folasade Adekuoroye of Nigeria.
Coach/Mentors
Records/Achievements
Individual World Cups
2020: Silver medal- 57 kg in Belgrade (Serbia)
Asian Championships
2020: Bronze medal- 57 kg event in New Delhi (India)
2021: Gold medal- 57 kg in Almaty (Kazakhstan)
World Junior Wrestling Championships
2018: Bronze medal- 59kg in Trnava (Slovakia)
Asian Junior Championships
2019: Gold medal: 59kg in Chon Buri (Thailand)
World Cadet Championships
2016: Bronze medal: 60kg in Tbilisi (Georgia)
2017: Gold medal: 60kg in Athens (Greece)
2018: Bronze medal: 60kg in Zagreb (Croatia)
World Wrestling Championships
2021: Silver medal: 57kg in Oslo (Norway)
Favorites
Wrestlers- Kaori Icho, Sushil Kumar
Movies- Dangal (released in 2016)
Facts/Trivia
After winning the silver medal at the 2021 World Wrestling Championships, she became the sixth Indian ever to bag the World's gold medal. Before only Bishambar Singh (1967), Sushil Kumar (2010), Amit Dahiya (2013), Bajrang Punia (2019), and Deepak Punia have achieved this feat.
After that achievement, Haryana Sports and Youth Minister Sandeep Sharma congratulated her and said she has created history by reaching the finals of the World Wrestling Championships and brought the laurel to the state. He also said the 19-year-old had dominated the semi-finals from the very beginning and reached the finals of the 57 kg category by winning based on technical superiority. He congratulated his coach and family members as well. He said,


"It is only because of the inspiration of the family members that the daughter of Haryana has achieved this feat with her hard work."

One of the prime reasons for her taking this sport was financial stability as she wanted to get a government job through the sports quota. In fact, she was offered a railway job by the Haryana government after her return from the 2020 Tokyo Olympics. But she denied it by saying that she will only do the job after the completion of her graduation (Bachelor of Arts).
During her return from the Tokyo Olympics, her father ensured that she should be welcomed like a champion despite her defeat. He further added, [2]

Indian Express


"Whenever I returned from international competitions without winning a medal, I would always feel dejected. But that has not been the case in Anshu's career. I have always told her that a loss also teaches one something. She has put the loss against the Russian in the Olympics behind her. To see her become the only Indian wrestler to reach the final of world championships makes me a little emotional."

She wakes up at 4:30 in the morning. Then she goes to her wrestling academy. After return, she studies and then goes to sleep early. [3]

The Better India Her workout duration is three hours in the morning and three hours in the evening. Her next target is to bag a medal in the 2024 Paris Olympics after securing her place. She considers Sonam (also a freestyle wrestler and her neighbor) as her best friend.