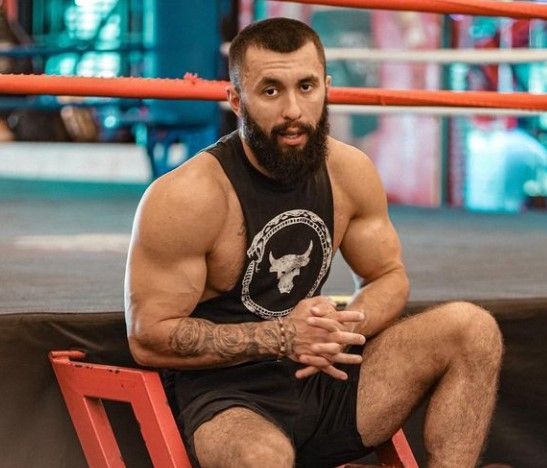 Vladimir Shmondenko is a Ukrainian powerlifter and YouTuber. He participated in various weightlifting championships and holds the title of Master of Sports of International Class in Powerlifting. He owns two YouTube channels where he uploads his prank videos in disguise as a cleaner, rookie trainer or an old man.
Wiki/Biography
Vladimir Shmondenko was born on Tuesday, 10 August 1999 (age 24 years; as of 2023) in Kryshtopivka village of Cherkasy, Central Ukraine. His zodiac sign is Leo. He completed his school education in Krishtopovka and then pursued a bachelor's degree at the National University of Life and Environmental Sciences of Ukraine, Kyiv.
Physical Appearance
Height (approx.): 5′ 11″
Weight (approx.): 80 kg
Hair Colour: Black
Eye Colour: Black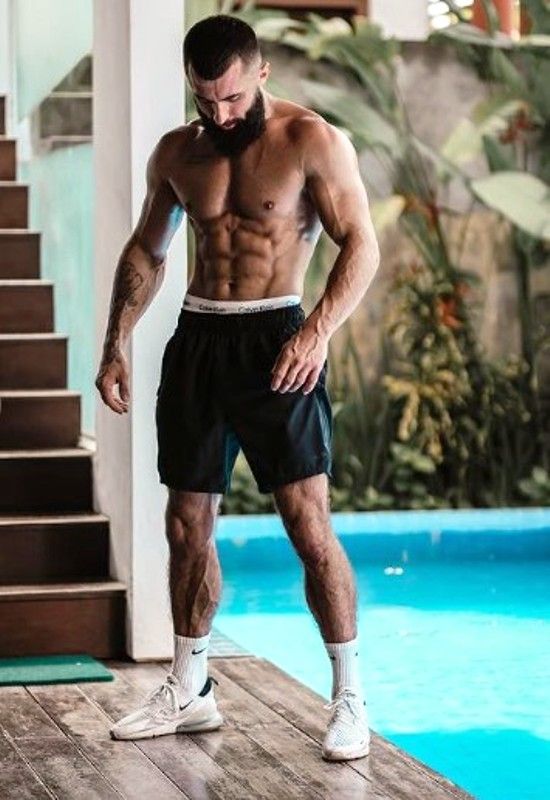 Family
Parents & Siblings
There is not much information about Vladimir's parents and siblings.
Wife
Vladimir Shmondenko is unmarried.
Relationships/Affairs
Vladimir Shmondenko is in a relationship with Valery Shirshova who is a lingerie model. They have been dating each other since December 2019. Vladimir met Valery in Moscow when he came back from England after signing a contract with a brand.
Career
Powerlifter
Vladimir got access to the internet at the age of 14 and started watching videos of American bodybuilders and bloggers such as David Leid; inspired by them, he decided to take the same course but there was no gym in Kryshtopivka so he built his own gym using the parts of Soviet-era tractors, wood, and bricks and named it Golds Gym Kryshtopivka.
In 2016, he moved to Kyiv for his graduation. He wanted to buy a Canon 600D camera so he started working as a waiter and courier delivery boy along with his university classes. In 2018, he participated in a Powerlifting Regional Competition and stood first, and in the World Championship Kyiv 2018 stood third.
After completing his graduation, he moved to Moscow with $1000 in his pocket and started preparing for powerlifting competitions. In 2020, he participated in the Moscow Open Cup. In the same year, he earned the title of 'Master of Sports of International Class' in powerlifting and became an elite powerlifter (to become an elite powerlifter, the powerlifting total which comprised of squat max, bench press max, and deadlift max, must be in the top 10 totals in the respective weight class).
YouTuber
Vladimir's YouTube journey started at 16. On 20 December 2015, he created his YouTube channel under the name Vladimir Shmondenko [1]YouTube – Владимир Шмонденко and started shooting videos of his workouts using his phone. In 2016, he moved to Kyiv where he purchased a Canon 600D camera and shot better-quality videos. Through constant efforts to enhance his content and video quality, he amassed 40k subscribers on his YouTube channel by the end of 2019.
In 2019, Vladimir relocated to Moscow in search of better opportunities and to collaborate with other fitness content creators. His YouTube channel continued to grow as his content was well-received by viewers. He often created prank videos where he would disguise himself as a cleaner, an old man, or a novice trainer to fool people at the gym. These videos increased his popularity in Russia and Ukraine.
However, in 2021, when war broke out between Russia and Ukraine, Vladimir sold everything and moved to Dubai. He encountered the biggest hurdle in the form of the language barrier. To overcome this challenge, he started learning English and created a new YouTube channel, Anatoly, for English-speaking viewers. His prank videos were well-received by the English-speaking audience, making him a popular YouTuber among them as well.
Awards
YouTube Creator Award: 2 Gold buttons for crossing the mark of 1 million subscribers on both of his YouTube channels i.e., Vladimir Shmondenko and Anatoly.
Tattoos
Vladimir has got two tattoos. A tattoo of roses inked on his right forearm, and the other one is of 'through adversity to the stars' (meaning of a Latin phrase when translated to English) inked on the right side of his chest.
Car Collection
He owns a BMW M5.
He owns a BMW E90 car.
He bought a Kia K5 car which he gifted to his parents in September 2021.
He owns a Mercedes Benz G-Wagon.
He owns a Porsche 911.
He owns a Ford Mustang Bullitt.
He owns a Range Rover car.
He owns a BMW M8.
He owns a Mercedes AMG G63.
He owns a Tesla Model 3 Car.
He owns a BMW 740 DLi.
He owns a Mercedes Maybach.
Facts/Trivia
Vladimir's teachers and classmates mocked him for bringing oatmeal containers to school. They believed that he could never become a bodybuilder due to his skinny physique. However, to support his muscle-building goals, he ate seven meals a day to meet his body's protein requirements.
His relatives and neighbours viewed him as a school dropout and drug addict who spent his time wandering around with a camera.
During the day, he worked on farms, looked after the kettles and gardens, and in the evening he went to the gym. He managed to become a recognized athlete without the help of a trainer or financial opportunities.
He was stuck in Moscow during the Covid-19 pandemic. Due to the lockdown gyms were closed; to maintain his fitness routine he set up a temporary gym in a cemetery where he used to work out at night.
In 2018, Igor Voitenko took notice of Vladimir and invited him to become part of the 'Road to the Dream' community. This marked a significant milestone in Vladimir's career as a sports blogger. He frequently used the hashtag 'Road To The Dream' in his social media updates and was often seen wearing t-shirts that displayed the same phrase.
In 2021, Vladimir was struggling to come out of depression when the war between Ukraine and Russia broke out. He sold everything in Moscow and relocated to Dubai on 16 April 2022.

Vladimir could earn only 2k subscribers even after 9 months of creating the new YouTube channel, Anatoly
As of June 2023, his record in the deadlift is 290 kg (639 lbs) and for squats, it is 210 kg (462 lbs).
By the end of 2019, he launched his online workout, diets and nutrition programs for the people. [2]

Vladimir Shmondenko
Post 2019, he was unable to compete in powerlifting and weightlifting championships due to a back injury that prevented him from active participation in competitive events.
He endorses various brands including Ryse Fuel and Myprotein on his social media platforms.
He admires Arnold and sees him as his role model.
It was his dream to buy a BMW car since childhood. He bought his first BMW E90 car on 20 August 2020. He bought another BMW car and customised it to an 800-horsepower engine.
He enjoys boxing during his free time.
His favourite food is pizza.