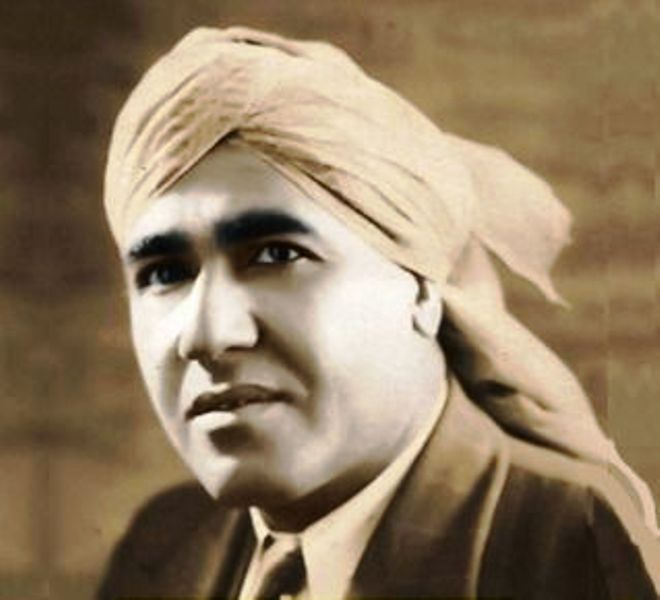 The man who single-handedly avenged the Jallianwala Bagh massacre of 1919 – Udham Singh, or Shaheed-E-Azam Sardar Udham Singh, as he is popularly known, was an Indian revolutionary and freedom fighter. The "patient assassin" is considered one of the key figures of the Indian independence movement whose name got etched in Indian history for assassinating Sir Michael O' Dwyer in March 1940 – the former Lieutenant Governor of Punjab who administered the Amritsar carnage.
Wiki/Biography
Udham Singh was born as Sher Singh on Thursday, 28 December 1899 (age 41 years; at the time of death) in Sunam in Punjab's Sangrur district. His zodiac sign was Capricorn. [1]The Wire
Physical Appearance
Height (approx.): 5′ 6″
Hair Colour: Black
Eye Colour: Black
Family
Udham Singh belonged to a very poor Punjabi Kamboj Sikh family. [2]The Wire
Parents & Siblings
Udham's father, Tehal Singh, worked as a railway gatekeeper at a railway crossing in the Village Uppali in Punjab. His mother's name was Mata Narain Kaur. He had an elder brother named Mukta Singh, who became Sadhu Singh in the orphanage.
Wife & Children
According to the book "The Patient Assassin," written by Anita Anand on the life of Udham Singh, he married a Mexican woman named Lupe and had two sons. [3]CrimeReads Another report, however, contradicted the claim stating that Singh never married. [4]The Times of India
Religion/Religious Views
Though remembered as a Sikh shaheed, Singh himself was a clean-shaven Sikh. It is believed that Udham Singh, who called himself Ram Mohammad Singh Azad during his final days in the English prison, proclaimed his morals based on his Punjabi identity rather than his personal faith. Reportedly, after assassinating O'Dwyer, Singh explained to an inspector:
When I was seven, I call myself Mohamed Singh. I like Mohamedan religion and I try to mix with Mohamedans."
Also, some accounts report that after his death sentence was announced, Singh requested a turban and a Gutka (Sikh prayer book), which might have hinted at his religious inclinations. Further, in contrast, a book about the freedom fighter by historian Anita Anand mentions Singh as an atheist under the influence of his "guru" Bhagat Singh. The book infers that Udham Singh was a revolutionary who wore his Indian identity over any ethnic or religious identity. [5]The Wire
Caste
Udham Singh belonged to the Other Backward Classes (OBC). [6]The Wire
Signature/Autograph
Early life
Singh's mother died in 1901, and his father also died in 1907 soon after the father and sons had migrated to Amritsar. After their father's demise, Udham and his elder brother were taken in by the Central Khalsa Orphanage of Putlighar in Amritsar, where he was renamed from Sher Singh to Udham Singh following the Sikh initiation rites. Soon, his brother also died in 1917. Udham left the orphanage in 1919 after completing his matriculation exams in 1918. [7]The Wire
Life As A Revolutionary
Jallianwala Bagh Massacre
Singh joined the British Indian Army during the First World War as a manual labourer and served overseas. In 1919, he returned to India and witnessed the carnage of the Jallianwala Bagh on 13 April 1919, when under Michael O' Dwyer's watch the British troops opened fire on a peaceful assembly of people, killing a thousand of them. Some readings from that time suggest that Udham Singh was present at the Bagh when the shooting happened, while others state that he had come there as a volunteer from a Sikh orphanage after the massacre; however, in both cases, the event left Udham Singh deeply horrified and led him on his path of revolution. [8]Bhai Gurdas Library It is also believed that after the barbaric act, Udham Singh bathed in the holy Sarovar of the Golden Temple and took a vow to seek vengeance on the perpetrators of the massacre. [9]Dainik Jagran
Udham Singh – The Ghadarite
Early 1920's
Soon, Udham became associated with the Ghadar revolutionaries and started campaigning for them by distributing their revolutionary literature in all the villages of Punjab. His political career involved travelling to four continents, and association with the Ghadar Party and the London-based Indian Workers Association. Singh's political ideology was deeply embedded in the radical anti-colonial, internationalist, and communist movement. While campaigning, he met several radical nationalists, which further shaped his revolutionary career. Udham Singh travelled to East Africa to work on the country's railway lines, where he became more involved with the Ghadar revolutionaries. In 1922, Singh returned to India, learnt about the militant activities of the Babbar Akali movement, and began organizing with them. Once back home, he opened a shop in Amritsar from where he operated all his revolutionary activities. Two years later, Singh illegally migrated to the U.S. in 1924 via Mexico and settled in San Francisco, which was the epicentre of the Ghadar movement in America. It was during his three-year-long stint in the U.S. that he became one of the active members of the Ghadar movement and travelled across the country to recruit members of the party and raise funds. Soon, Singh also launched his own party, the Azad Party, as an offshoot of the Ghadar movement. After his campaigns in the U.S., Singh worked as a carpenter and a seaman for an American shipping line, and he travelled extensively throughout Europe to establish contacts with revolutionaries.  [10]The Wire
Late 1920's
Singh returned to India from his world travel in July 1927 with the intention of accelerating Ghadarite propaganda and radicalising the anti-colonial movement for which he smuggled revolvers, pistols, and ammunition in the country. On 30 August 1927, he was arrested by the police in Amritsar under the Arms Act and was sentenced to five years imprisonment. Some copies of the banned "seditious" literature were also recovered from him, which included Ghadr-di-Gunj, Ghadr-di-duri, Desh Bhagat-di-Jaan, and Gulami-da-Jehar. [11]The Wire
Time in Prison
During his four years in jail, Singh missed out on the most crucial time for India's independence; however, the Ghadarite revolutionary in him continued propagating his ideas amongst his inmates even in jail. His actions threw him into solitary confinement, and he was labelled a difficult prisoner for the authorities to manage. Due to this, Singh was frequently transferred between different jails, and it was in one of those jails that he met Bhagat Singh.  [12]The Wire Reportedly, during his interrogation, Singh said:
I had come from America to free the country from the British and fully sympathized with the Bolsheviks."
1930's
Udham Singh was released from jail on 23 October 1931, and he was stalked by the British police due to his close links with Bhagat Singh's Hindustan Socialist Republican Association. He returned to his native place Sunam in Punjab and was constantly harassed by the local police there. This forced him to move back to Amritsar where he opened a shop as a signboard painter and assumed the name Ram Mohammad Singh Azad. [13]Bhai Gurdas Library For a few years, Singh continued his revolutionary activities in Punjab while simultaneously working on a plan to reach London to kill O'Dwyer; however, his movements were under constant surveillance by the police. Two years later, he again visited his native village from where he set out to Kashmir after successfully duping the police, and from there, he escaped to Germany to carry out his revolutionary mission. A year later in 1934, Singh finally reached England; however, as per some secret reports of British Police, Udham Singh was still in India till early 1934, and then in Italy for 3-4 months. The reports stated that from Italy, he travelled to France, Switzerland, and Austria, before finally reaching England in 1934. [14]Dainik Jagran The revolutionary continued to work there in various working-class jobs, and he also joined the Indian Workers Association (IWA) in London during his time in England. [15]The Wire
Assassinating Sir Michael O' Dwyer
The 'patient assassin' waited for 21 long years for an opportunity to avenge the Jallianwala Bagh massacre. Singh seized the opportunity on 13 March 1940 at 4.30 p.m. in the Caxton Hall, London, where a meeting of the East India Association was being held in conjunction with the Royal Central Asian Society, and Sir Michael O'Dwyer was supposed to speak at the occasion. Udham entered the hall with a revolver hidden in a diary, with its pages cut in the shape of the revolver. He took out the revolver and fired five to six shots at Michael O' Dwyer, the former Lt. Governor of Punjab who ordered and justified the bloodbath in Amritsar. O'Dwyer was hit twice and died on the spot. Apart from him, Singh also shot at Lord Zetland – the Secretary of State for India and former Governor of Bengal, Lord Lamington – the former Governor of Bombay (now Mumbai), and Sir Louis Dane, – the former Lieutenant-Governor of Punjab, who were all injured. Udham Singh made no attempt to escape, and he stood there, waiting patiently for the police to arrest him. He was taken to the Brixton prison in London. [16]Bhai Gurdas Library [17]The Wire
Controversies
O'Dwyer or Dyer?
Different reports from 1940 presented different perceptions about Singh killing O'Dwyer, which led to a controversial debate on the issue. Some stated that Udham Singh took revenge on the wrong man, mistaking O'Dwyer for Dyer as the culprit behind the Jallianwala Bagh massacre, while a popular argument asserted that it was a part of his larger plan for India's independence. [18]The Times of India [19]The Wire
Singh Had Never Worked for O'Dwyer
The 14 March 1940 edition of UK's The Times newspaper reported that O'Dwyer was murdered by his chauffeur, which led to many speculating that Udham Singh had worked at some point for the general. 'The Amritsar Legacy,' a book by Roger published in 1989 dismissed the claims and asserted that Singh had served as a chauffeur to a retired Indian Army officer. [20]The Tribune The book read:
What he certainly did not do was to go anywhere near Sir O'Dwyer, a fact confirmed by the Irishman's family."
Oath on Copy of Heer-Ranjha
A few years after shaheed's execution, controversy erupted on whether Singh took an oath during his trial on the Punjabi classic romance Heer-Ranjha by Waris Shah or not. Many scholars and books written about Udham Singh claimed that he valued his Punjabi identity beyond religious identity, and he used a copy of the Punjabi poetry to take an oath. These claims were soon questioned by the Shaheed Udham Singh Welfare Trust of Birmingham, England that revealed that the letter written by Singh while awaiting his trial was examined by handwriting experts who found it to be not genuine. [21]The Times of India
Death
Shaheed Udham Singh was executed on 31 July 1940 at Pentonville Prison in North London after he was convicted of shooting Sir Michael O' Dwyer dead at Caxton Hall, London.
Trial and Execution
After the shooting at Caxton Hall, Udham Singh was formally charged with the murder of Sir Michael O'Dwyer on 1 April 1940 and was remanded in custody at Brixton Prison. In the prison, while waiting for his trial, the freedom fighter kept his revolution going with a hunger strike that lasted 42 days, and it considerably diminished Singh physically after which he was force-fed. [22]The Wire
On 4 June 1940, the court trial of Udham Singh began at the Central Criminal Court, Old Bailey, before Justice Atkinson, who passed his death sentence. When Singh was brought to court for the trial that lasted for only two days, he pleaded 'not guilty.' He used to laugh at the judges and cchose a Punjabi classic love story, Heer-Ranjha by Waris Shah, to take the oath rather than a holy book. His name Ram Mohammadd Singh Azad had also caused a lot of confusion, which prompted his defence team to plead that he was insane; however, Azad denied the allegations and continued laughing at the judges. [23]The Logical Indian Singh was represented by V.K. Krishna Menon, the fifth Defence Minister of independent India, who served from 1957 to 1962. On 15 July 1940, an appeal was filed on his behalf, which was turned down. [24]Bhai Gurdas Library It was on 31st July 1940 that Udham Singh or Ram Mohammad Singh Azad was executed at the gallows at Pentonville Prison, London and was buried in the prison graveyard. Reportedly, when Singh was being led to the gallows, he refused to bow to any holy book. [25]The Times of India
Last Speech
His court statements during his trial for killing O'Dwyer were not only about revenge but also inspired by anti-colonial revolutionary politics. Explaining the reason behind his violent act, Udham Singh made this statement: [26]Clarion India [27]The Times of India
I did it because… he [Michael O'Dwyer] deserved it. He… wanted to crush the spirit of my people, so I have crushed him. For full 21 years, I have been trying to wreak vengeance. I am happy I have done the job. I am not scared of death. I am dying for my country. I do not care about the sentence of death…I am dying for a purpose…We are suffering from the British Empire…I am proud to die to free my native land and I hope that when I am gone…in my place will come thousands of my countrymen to drive you dirty dogs out; to free my country…you will be cleansed out of India. And your British imperialism will be smashed…I have nothing against the English people at all…I have great sympathy with the workers of England. I am against the imperialist government. Down With British Imperialism!"
In summation, Singh raised his right arm and thrice shouted: "Inquilab Zindabad!" – each time looking at the judge, jury, and the press in the court. [28]The Wire
Repatriation of Remains
Udham Singh's body was laying in rest on British soil until July 1974 when his remains were exhumed and repatriated to India at the request of the then Indian Prime Minister Indira Gandhi. Reportedly, the then Chief Minister of Punjab, Giani Zail Singh, had petitioned Gandhi to make such a request to the erstwhile British Government. Shaheed Udham Singh was given a martyr's reception, and Indira Gandhi also laid a wreath upon the martyr's body. Singh's mortal remains were later taken to his native place in Sunam, Punjab, where he was cremated. His final rites were performed together by a Brahmin Pandit, a Maulvi, and a Sikh Granthi on 2 August 1974. His ashes were divided into different urns – 3 urns were buried in holy places of each faith – Hindu, Muslim, and Sikh, some ashes were scattered in the Ganga river, and one urn is on display at the Jallianwala Bagh museum in Amritsar. [29]Dainik Jagran [30]The Wire
Legacy
A charity is dedicated to Singh on Soho Road, Birmingham.
Singh's weapon – a knife, his diary, and a bullet from the shooting at Caxton Hall are kept in the Black Museum of Scotland Yard.
The room in which Udham Singh spent his childhood at the Central Khalsa Orphanage in Amritsar has been turned into a museum.
In 1992, a stamp was released by the Indian government in memory of Shaheed Udham Singh.
"Udham Singh Nagar," a district in Uttarakhand was named after the freedom fighter in 1995 by the erstwhile state government.
In January 2006, the Punjab government officially changed the name of Singh's ancestral town Sunam to 'Sunam Udham Singh Wala.'
A chowk in Anupgarh, Rajasthan is named after Shaheed Udham Singh.
In 2015, the Indian band Ska Vengers honoured Singh on his 75th death anniversary by releasing an animated music video on his life called 'Frank Brazil.' [31]

The Better India
He was the subject of the 1998 track "Assassin" by the Asian Dub Foundation.
The martyr has been the subject of many Punjabi and Hindi films: Sarfarosh: The Story of Shaheed Udham Singh (1976), Jallianwala Bagh (1977), Shaheed Uddham Singh (1977), Shaheed Uddham Singh (2000), and Sardar Udham (2021).
Every year, the Indian states of Punjab and Haryana observe a public holiday on 31 July as Shaheed Udham Singh's Martyrdom Day. [32]

Public Holidays
Every year on his death anniversary, marches are held in his birthplace Sunam, and every statue of his is paid honour and tribute.
In 2018, Singh's 10ft tall statue with his hand holding blood-soaked earth was unveiled at Jallianwala Bagh on the occasion of Baisakhi. [33]

The Indian Express
In 2019, Udham Singh became the protagonist of a London-based journalist Anita Anand's book on his life titled "The Patient Assassin – A True Tale of Massacre, Revenge and the Raj."
In October 2021, a film based on the life of the martyr titled "Sardar Udham" got shortlisted as India's official entry into the 94th Academy Awards. Paying tribute to India's unsung hero, the film featured Bollywood actor Vicky Kaushal as Shaheed Udham Singh. His impeccable performance and film direction earned the movie massive recognition. [34]

The Times of India
Facts/Trivia
According to some reports, Ram Mohammad Singh Azad – the name by which Udham Singh preferred to be known, was tattooed on his arm as a symbol that India's all major religions were united against British rule. [36]

The Times of India
Singh loved singing political songs and was fond of Ram Prasad Bismil, who was the leading poet of the revolutionaries. [38]

Bhai Gurdas Library
When Udham Singh met Bhagat Singh in one of the jails, he was immediately captivated by him. Udham called Bhagat Singh his "guru" and "best friend," and he carried a photo of him in his wallet. [39]

The Wire Udham Singh wrote in a letter:


It is since 10 years when my friend [Bhagat Singh] has left me behind and I am sure after my death I will see him as he is waiting for me…it was 23rd [when they hanged Bhagat Singh] and I hope they will hang me on the same date as he was."
Singh's violent act of revenge by killing Dwyer was strongly condemned by both Mahatma Gandhi and Jawaharlal Nehrubecause at the time, they were involved in non-violent negotiations with the British for independence. In a statement to the Press, Gandhi said, [42]

Mint


The outrage has caused me deep pain. I regard it as an act of insanity…I hope this will not be allowed to affect political judgement."
References

↑

1,

↑

2,

↑

6,

↑

7,

↑

10,

↑

11,

↑

12,

↑

15,

↑

17,

↑

19,

↑

35,

↑

37,

↑

39,

↑

40,

↑

41
The Wire

↑

3
CrimeReads

↑

4
The Times of India

↑

5,

↑

22,

↑

28,

↑

30
The Wire

↑

8,

↑

13,

↑

16,

↑

24,

↑

38
Bhai Gurdas Library

↑

9,

↑

14,

↑

29
Dainik Jagran

↑

18,

↑

36
The Times of India

↑

20
The Tribune

↑

21
The Times of India

↑

23
The Logical Indian

↑

25,

↑

27
The Times of India

↑

26
Clarion India

↑

31
The Better India

↑

32
Public Holidays

↑

33
The Indian Express

↑

34
The Times of India

↑

42
Mint