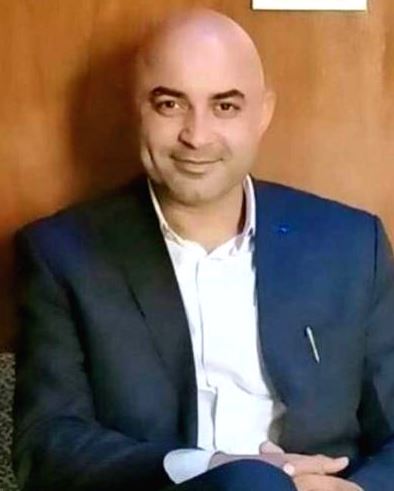 Sudhir Sangwan is an Indian lawyer and contractor who is known for being the personal secretary of the Tiktok star and BJP leader Sonali Phogat. In August 2022, he came into the radar of the Goa police for his alleged involvement in Sonali Phogat's murder case.
Wiki/Biography
Sudhir Sangwan hails from Nuran Khera village in Gohana, Sonipat, Haryana. He holds an LLB degree and is a member of the Gohana Bar Association. [1]Aaj Tak
Physical Appearance
Height (approx.): 5′ 8″
Hair Colour: Bald
Eye Colour: Brown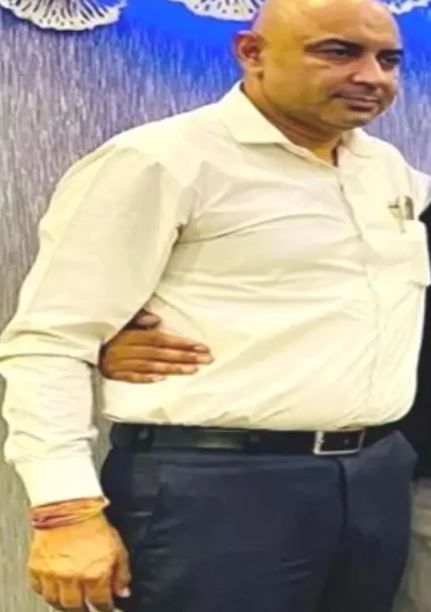 Family
Parents & Siblings
Sudhir's mother is a government employee.
Wife & Children
Sudhir is married. His wife is a JBT teacher in Rohtak. The couple has three children.
Alleged Relationship with Sonali Phogat
Sudhir Sangwan met Sonali Phogat for the first time during the 2019 Lok Sabha elections. The meeting was apparently arranged by a man from Gagdwas village in Bhiwani district, who has links with many film actors. He worked behind the curtains for around five months and came out in the public during the 2019 Legislative Assembly Elections; Sonali contested the elections from the Adampur assembly seat on the ticket of the Bharatiya Janata Party. Sudhir helped her during the election campaigns. He first made visits to Sonali's house as a guest and slowly made her house his permanent home. Talking about the same during a media conversation, one of Sonali's relatives said,
One day I got a call from Sonali. She said that a guest from Australia has come to the house. He is a lawyer and I should go and meet him. When I reached Sonali's house, Sudhir was walking in Capri. After a day, he left. After a week, Sudhir came again and stayed at Sonali's house for 7 days. Gradually, he made Sonali's house a permanent home. Within a month, Sudhir understood who is close to Sonali in the family."
Gradually, he took hold of everything, from the keys of Sonali's farmhouse to her ATM card, financial assets, and even her phone. He used to decide whom Sonali will meet and who is allowed to enter Sonali's house. Apparently, he took a house on rent in Gurgaon Greens society located in Sector 102 of Gurugram, where he mentioned Sonali Phogat as his wife in the documents. [2]Bollywood Life
Career
After completing his LLB, Sudhir started practising as a lawyer in Gohana. After a while, he opened a poultry farm, which did not work well. He even started working as a middleman to provide subsidies to the farmers in the poly house. He also briefly worked as a contractor and in 2019, he started working as the personal secretary of the Tiktok star and BJP leader Sonali Phogat.
Controversies
Defrauding Landlord
During 2015-2016, Sudhir resided with his parents, wife, and children at a rented house in Sector-2, Rohtak, Haryana. The landlord of his house once accused him of ill-treating him (landlord) and also of occupying his (landlord's) house. Post that, he asked Sudhir's family to vacate his house within seven months. [3]Aaj Tak
Accused of a scam
While Sudhir was working as a middleman for providing subsidies to farmers in poly house, he was accused of a scam. Reportedly, he kept all the subsidy money by himself and did not provide it to the farmers. He had to serve the jail for his act. [4]Aaj Tak
Rape Allegations
Post the demise of Sonali Phogat, her brother Rinku Dhaka registered a complaint with the police alleging that Sangwan had raped his sister Sonali three years ago after mixing some obnoxious substance in her food. He recorded the incident with his phone and apparently forced Sonali to make physical relations with him many times. He even blackmailed her of ending her political and film career if she did not agree with him. [5]Dainik Bhaskar
Suspected in Sonali Phogat's Murder Case
Sonali Phogat died under mysterious circumstances in Goa on 22 August 2022. Initially, it was believed that she died of a heart attack. However, her post-mortem report revealed that she had several injuries on her body after which her family members claimed that she was raped by two men. Soon after the police began the investigation in the case, they came across three CCTV footage.
First CCTV Footage: The first video was of the Curlies restaurant in Goa in which Sudhir was seen handling Sonali as she was not able to walk properly. In the same footage, Sudhir and his associate Sukhwinder Singh were seen taking Sonali to the washroom and they stayed there for around two hours.
Second CCTV Footage: The 36 seconds video is of a disco. In the video, Sonali is seen dancing with both the men, Sudhir and Sukhwinder. However, she does not seem comfortable dancing with Sukhwinder and tries to get rid of him many times. Sudhir was also dancing by their side.
Third CCTV Footage: In the third video, Sudhir is seen forcibly drugging Sonali by putting a bottle in her mouth while she was dancing with them.
After going through the videos, the Goa police arrested Sudhir Sangwan and Sukhwinder Singh for further interrogation.
Sudhir's Confession during Police Interrogation
According to the Goa police officials, during the police interrogation, Sudhir and Sukhwinder confessed that they forcefully gave methamphetamine chemical to Sonali Phogat by mixing it in water. when Sonali's health deteriorated due to a drug overdose, they took her to the washroom. During a press conference, the Inspector General of Police Omvir Singh Bishnoi while giving details about the incident said,
After reaching Goa, Sudhir along with Sukhwinder took Sonali Phogat to Curlie's restaurant in North Goa on the pretext of partying and he (Sangwan) mixed some obnoxious substance in drinking water and forced Sonali to drink it. After drinking the water she felt uneasy and sick in the restaurant. Later she was taken by Sangwan and Sukhwinder to hotel, where they were staying and then to St Antony's hospital, Anjuna where she was declared brought dead."
Facts/Trivia
Apparently, it was Sudhir who introduced Sukhwinder Singh to Sonali Phogat saying that Singh would help Sonali get work in Goa.
Sudhir used to arrange various luxury rides for Sonali during the elections. Some of the vehicles that he arranged for Sonali Phogat include Mercedes, Ford Endeavor, and Skoda car.
Reportedly, Sudhir kept using Sonali's mobile phone even 12 hours after her death. [7]

Dainik Bhaskar
According to Sonali's relatives and friends, she never took any decision without Sudhir's consent. He controlled Sonali's routine in such a way that even her family members couldn't reach her without Sudhir's wish.