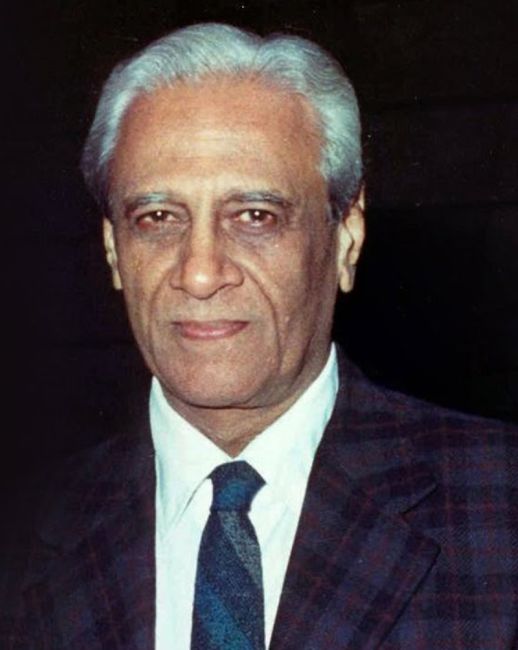 Satish Dhawan was an Indian mathematician, rocket scientist, and aerospace engineer. He is known as the father of experimental fluid dynamics research in India and led India to be a space-faring nation. Satish Dhawan passed away unexpectedly in 2002.
Wiki/Biography
Satish Dhawan was born on Saturday, 25 September 1920 (age 81 years; at the time of death) in Srinagar, Kashmir. His zodiac sign is Libra. Satish Dhawan's father had to travel a lot, leading to his early formal education being provided by private teachers at home. Satish Dhawan completed a Bachelor of Science in physics and mathematics in 1938, a Master of Arts in English literature from the University of the Punjab in Lahore, British India (now in Pakistan) in 1941 and a Bachelor's degree in Mechanical Engineering in 1945. Satish did a practical training internship at Hindustan Aeronautics Limited for a year from 1944-45. He went on to do a Master of Science degree in Aerospace Engineering from the University of Minnesota, Minneapolis, in 1947 on a government scholarship. He completed an Aeronautical Engineering degree from the aeronautical engineering degree from the California Institute of Technology in Pasadena, California. He then completed a double PhD in Mathematics and Aerospace Engineering under the supervision of his advisor Hans W. Liepmann from The California Institute of Technology, in 1951.
Physical Appearance
Height (approx.): 5′ 7″
Hair Colour: White (previously black)
Eye Colour: Black

Family
Satish Dhawan was born in a Saraiki Hindu family.
Parents & Siblings
His father's name was Devidayal Dhawan, who worked as a Judge in pre-Independence Punjab. His mother's name was Lakshmi Khosla. Satish has four siblings, an older sister named Vimla and three younger siblings named Primla, Shukla and Ranjit Dhawan who was a Wing Commander for the Indian Air Force.
Wife & Children
Satish Dhawan's wife's name is Nalini Nirodi, and she was a cytogeneticist. The two were introduced by Nalini's sister who interviewed Satish for SPAN Magazine and got married on 8 June 1956.
The couple has three children together, a son named Vivek, and two daughters named Amrita, and Jyotsna, who is a Senior Principal Scientist in the Centre for Cellular and Molecular Biology.
Religion/Religious Views
Satish Dhawan was not a religious man. [1]Indian Institute of Science
Signature/Autograph
Career
Indian Institute of Science
When Satish Dhawan returned to India in 1951, he joined the Indian Institute of Science (IISc) as a scientific officer. In 1955, he became a professor and the Head of the Department of Aeronautical Engineering. From 1963 to 1981, he was the director of IISc.
Satish Dhawan built India's first high-speed aerodynamics and boundary layer laboratories. All of Satish Dhawan's work was done at a low cost, with original development or modification of the materials, skills, and instruments which were available at that time. Satish Dhawan conducted research inspired by problems that the aircraft industry in Bangalore, which was then newly established, was facing. This research often turned into a research subject beyond just trying to find a solution. Dhawan is said to have had a strong desire to create a tradition of research in India similar to the engineering science and mechanics fields that had developed in Europe and the United States. The high-speed laboratory he established was like a test project for the bigger wind tunnels later constructed at the National Aeronautical Laboratory (established by the Indian government in 1959). Many of Dhawan's students from IISc (Indian Institute of Science) played a crucial role in setting up the facilities at NAL during its early years. Around 1970, the government asked Dhawan to check if the HS-748 aircraft used by Indian Airlines was safe to fly. This involved conducting many new kinds of flight tests in India that had not been done before.
Director of the IISc (1974-1984)
As the director of IISc (Indian Institute of Science), Satish Dhawan spent a lot of time setting up several new scientific programs that covered areas like automation and control theory, materials science, molecular biology and biophysics, computer science, technology for rural areas, theoretical physics, applied mathematics, solid-state chemistry, and atmospheric sciences. He also managed to convince many respected Indian scientists working in various parts of the world to work at the institute. IISc's educational program had remained almost the same for several years, and Satish encouraged changes to be made to the same.
During his long time as the institute's director, he transformed it from a somewhat relaxed campus with a few excellent people in certain fields into a highly successful institute, which led to more students joining, and a younger set of faculty. When Dhawan started, the institute had 11 departments and 5 sections, with an annual budget of about Rs. 5.5 million in the early 1960s. By the time he left, IISc had about 40 departments and units, with an annual budget of Rs. 100 million. Before taking over as Chairman of ISRO, Satish Dhawan was on a sabbatical from IISc and took up teaching at his alma mater, the California Institute of Technology (Caltech), as a visiting professor between 1971-72.
Chairman of ISRO
Satish Dhawan succeeded Vikram Sarabhai (founder of the Indian space programme) after he passed away, as the chairman of ISRO (Indian Space Research Organisation) in 1972. He was picked by then Prime Minister Indira Gandhi, and before he joined, he made clear that the Space program needed to be away from Delhi, his views on what direction he wanted the Space program to take, and what the administrative structure had to be. The Government of India accepted his terms which is why he accepted to lead the program.
The new structure involved a policymaking Space Commission, the Department of Space, which is an administrative arm of the government, and the Indian Space Research Organization (ISRO), which is a science and technology agency, and were all headed by one person. After finishing his job as a visiting professor at Caltech, Satish Dhawan started his job as the head of the space programme. Satish Dhawan looked over Aryabhata, India's first satellite. Its launch was in April 1975, followed by Bhaskara 1 and 2 and APPLE (Ariane Passenger Payload Experiment), 1981, which were experimental satellites. The APPLE satellite transmitted special educational and social content to 12 of the most underdeveloped regions in the country in the local languages of these areas. Satish overlooked the development of India's launch vehicles, the first of which was the Sattelite Launch Vehicle (SLV-3). The SLV-3 is what launched the Rohini RS-1 satellite into orbit around the Earth on 18 July 1980. He chose APJ Abdul Kalam to head India's first SLV-3 project. APJ Abdul Kalam said,
Prof Dhawan transformed Sarabhai's vision to a truly outstanding national mission." [2]Deccan Herald
Satish Dhawan also overlooked the design of the Polar Satellite Launch Vehicle (PSLV) and studied the Geosynchronous Satellite Launch Vehicle (GSLV). A popular anecdote that shows what a good leader Satish Dhawan was, is when the first attempt to conduct a launch on the SLV-3 failed in 1979. At the time, Satish Dhawan asked project director Abdul Kalam not to make a statement to the press and took all the blame. In his statement to the press, he said,
We failed! But I have a very good trust in my team that next time we will be succeeding for sure" [3]LinkedIn
In 1980, when the launch of satellite Rohini RS-1 was a success, he gave credit for the success to Abdul Kalam and his team. This time, he let Abdul Kalam deal with the press.
Indian Academy of Sciences 
In 1970, Prof. Satish Dhawan was elected into the Indian Academy of Sciences (IAS) and was on the council from 1971 to 1991. He served as the Vice president of IAS from 1974 to 1976 and became the President from 1977 to 1979. The IAS named their auditorium the Satish Dhawan Auditorium as a tribute to him.
Other Positions 
Satish Dhawan held the position of President at the Aeronautical Society of India in the years 1968-69. He received honorary fellowships from various esteemed institutions, including the Aeronautical Society of India in 1979, the Institution of Engineers in 1983, and the Indian Institute of Science in 1981. He was recognized as a fellow by organizations such as the Royal Aeronautical Society in 1963, the Indian Academy of Sciences in 1972, and the Indian National Science Academy in 1978. He also got international recognition as a Foreign Honorary Member of the American Academy of Arts and Sciences in 1972 and a Foreign Associate of the US National Academy of Engineering in 1978.
Satish Dhawan Space Centre
The Satish Dhawan Space Centre is located in Sriharikota, Andhra Pradesh, one of India's spaceports. Sriharikota was selected to be a spaceport by ISRO as it is relatively closer to the equator and helps launch rockets in an easterly direction. The spaceport was first known as the Sriharikota Range (SHAR). It was renamed after Satish Dhawan to honour him after his death, on 5 September 2002.
Awards, Honours, Achievements
Satish Dhawan received the fourth-highest civilian honour, the Padma Shri in the field of Science and Engineering, in 1966.
Satish Dhawan received the Distinguished Alumnus Award from the California Institute of Technology in 1969.
Satish Dhawan received India's third-highest civilian honour, the Padma Bhushan in 1971.
Satish Dhawan was awarded honorary degrees of Doctor of Science by the University of Roorkee in 1972, the University of Punjab in 1978, the University of Delhi in 1984, the Cranfield Institute of Technology, UK in 1975, and the Indian Institute of Technology, Madras in 1981.
Satish Dhawan was given an honorary degree in the Doctor of Laws from the University of Bombay in 1976.
Satish Dhawan received India's second-highest civilian honour, the Padma Vibhushan in 1981.
Satish Dhawan received the Aryabhata Medal from the Indian National Science Academy, in 1983.
Satish Dhawan was awarded the Pandit Jawaharlal Nehru Award in Engineering and Technological Sciences by the Madhya Pradesh Government in 1983.
Satish Dhawan received the Rajyotsava Award from the Karnataka Government in 1984.
Satish Dhawan received the IISc (Indian Institute of Science) Distinguished Alumnus Award from the IISc Alumni Association in 1984.
Satish Dhawan received the Om Prakash Bhasin Award for Science and Technology in 1985.
Satish Dhawan received the Gujar Mal Modi Award for Science & Technology from the International Institute of Fine Arts in 1988.
Satish Dhawan received the Indira Gandhi Award for National Integration in 1999.
Death
Satish Dhawan passed away on 3 January 2002, in his house in Bangalore. His death was considered to be unexpected, although three months before his death, Satish was hospitalised. [4]Current Science
Facts/Trivia
Satish Dhawan's tenure as a director for the IISc is the longest ever.
Satish Dhawan did not want the Space program to be in Delhi because he did not want to leave his teaching responsibilities in IISc, Bangalore.
Satish Dhawan was a lifelong fan of Arthur Clarke's books and the ideas he had for satellite technology.
The Ariane Passenger Payload Experiment of 1981 was one of Satish Dhawan's favourite projects as it helped him promote social justice in India. Further, he was extremely happy to be able to locate an antennae over Arthur Clarke's house in Sri Lanka.
One of Satish Dhawan's favourite books was a book of short stories written by Saki (also known as H. H. Munro).
Indira Gandhi had doubts about Satish Dhawan when he was recommended to be the Chairman of India's space programme. [5]

Deccan Chronicle
When Satish Dhawan was working for ISRO and was the director of IISc, he accepted a token salary of one rupee per month from ISRO.
Satish Dhawan was an enthusiastic bird watcher. He wrote a book on the subject, named How Birds Fly. Satish Dhawan studied the flight of birds and applied the same to aeronautics.
Even when Satish Dhawan worked in both ISRO and IISc, he made time for his family and planned fun activities with his children.