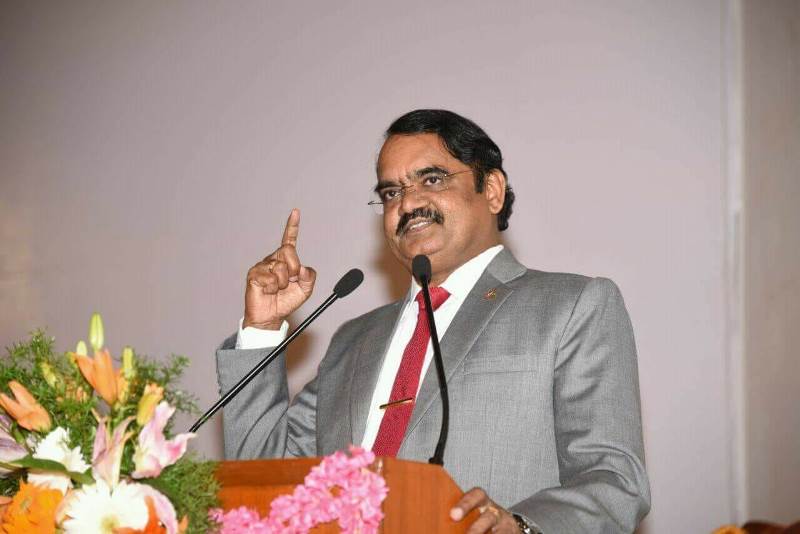 Mylswamy Annadurai is an Indian scientist presently working as vice president for the Tamil Nadu State Council for Science and Technology (TNSCST), Chairman of the National Design and Research Forum(NDRF). Before this, he served as the Director of the Indian Space Research Organisation (ISRO) at ISRO Satellite Centre (ISAC), Bangalore. He dedicated 36 years of his life's work to ISRO and is credited as the Project Manager of Mangalyaan, Chandrayaan-1, and Chandrayaan-2. He is most notably known as the Moon Man of India.
Annadurai is an influential columnist, with some of his notable columns including the S. P. Adithanar Literary Award-winning "Kaiyaruke Nila" (2013), Tamil Weekly, Kungumam and the Manvai Mustafa Memorial Science Award-winning "Vinnum Mannum" (2021). He is also mentioned in the 10th standard textbook of the Tamil Nadu Board of Secondary Education.
Physical Appearance
Height (approx.): 5′ 6″
Hair Colour: Black
Eye Colour: Black

Wiki/Biography
Mylswamy Annadurai was born on Wednesday, 2 July 1958 (age 65, as of 2023) in a village called Kothavadi, Tamil Nadu, India. His zodiac sign is Cancer. He received his primary education in Kothavadi panchayat union school and completed high school in Kinathikadavu, Tamil Nadu. In 1980, he received his bachelor's degree in engineering (Electronics and Communication) from the Government College of Technology, Tamil Nadu, India. In 1982, he pursued his master's degree in engineering at PSG College of Technology and was awarded an honorary doctorate from Anna University of Technology, Coimbatore, Tamil Nadu, India.
After my studies, like most other guys, I started looking for a government job, applied for ISRO and the department of atomic energy. To my surprise, it was on the same day that I received interview calls from both places. I chose ISRO because it was closer home." [1]The Statesman
In the same year, he joined the Indian Space Research Organization (ISRO), where he served as spacecraft operations manager for the IRS (Indian Remote Sensing)-1A, IRS-1B, INSAT (Indian National Satellite System)-2A, and INSAT-2B satellite programs. He was then appointed as the deputy project director of the INSAT-2C, INSAT-2D, 2E, 3B, 3E, and GSAT (Geosynchronous Satellite)-1 programs, before getting promoted as the mission director.
From 2015 to 2018, as the director of the ISRO Satellite Centre, Annadurai was in charge of the development, launching and operationalisation of 30 satellites. In 2019, he was appointed as the vice president and chairman for the Tamil Nadu State Council for Science and Technology and the Board of Governors, National Design and Research Forum(NDRF) respectively. He has been conducting his duties for both positions effectively and ever since playing a significant role in the incorporation of Science and technology beyond the academic level.
Family
Parents & Siblings
His father, A. Mylswamy, was a primary school teacher. His mother's name is M. Balasaraswathy. He has five younger siblings.
Wife & Children
Annadurai is married to Vasanthi, and together they have a son named Gokul.
Career
Mylswamy Annadurai joined ISRO in 1982. Later, between 1985 to 1988, he handled the position of Team Leader to develop the S/W satellite Simulator. His career then took off with him transiting between various positions.
1988-1992: Spacecraft operations manager, IRS-1A
1992-1996: Spacecraft operations manager, INSAT-2A
1993-1996: Spacecraft operations manager, INSAT-2B
1994-1996: Deputy project director, INSAT-2C
1996-2001: Mission Director, INSAT-2C
1997-1998: Mission Director, INSAT-2D
1999-2012: Mission Director, INSAT-2E
2000-2010: Mission Director, INSAT-3B
2001-2002: Mission Director, GSAT-1
2003-2011: Mission Director, INSAT-3E
2003-2005: Associate project director, EDUSAT
2004-2009: Project director, Chandrayaan-1
2008-2013: Project director, Chandrayaan-2
2011-2015: Programme Director, Indian Remote Sensing (IRS) & Small, Science and Student Satellites(SSS)
2015-2018: Director, ISRO Satellite Centre, Bangalore
2019-Present: Vice president, Tamil Nadu State Council for Science and Technology
2019-Present: Chairman, Board of Governors, National Research and Design Forum
India's Lunar Expeditions
Chandrayaan 1 and Chandrayaan 2
Chandrayaan 1, India's first mission to the moon, launched by the national space agency ISRO, elevated India's position among the moon-exploring Asian countries including China and Japan. The unmanned lunar expedition was launched on 22 October 2008 from Satish Dhawan Space Centre, Sriharikota at 06:22 IST (00:52 UTC). Chandrayaan 1 was successfully inserted into the lunar orbit on 8 November 2008.
As Swami Vivekananda says, any great thing you do, first others will neglect us, then they will laugh at us, oppose us and eventually they will recognize us. Either way, Indian scientists are motivated to work for the progress of our country." [2]WION
Highlights
Launch from Satish Dhawan Space Centre, Sriharikota: 22 october 2008
Successful launch into lunar orbit: 8 November 2008
2004-2008: Annadurai successfully led his team in transporting the instrumentation from NASA, ESA and Bulgaria for mapping of the lunar surface at high spatial and spectral resolutions. This was one of the ambitious projects of ISRO that established it as a world leader in space research.
Chandrayaan 2 Tragedy
On 22 July 2029, Chandrayaan 2 was launched to study the lunar surface composition and location of water on the moon.
Chandrayaan 2 consisted of a lunar orbiter, a lander, and the Pragyan rover.
Accept failure as a part of the game and own the responsibility. However, look for lessons from the failure, so that they are corre

[5]

The Statesman
India's First Mission to Mars: Mangalyaan
Mangalyaan or Mars Orbiter Mission was launched on 5 November 2013 from the Satish Dhawan Space Centre in Sriharikota, Andhra Pradesh. It successfully reached Mars on 24 September 2014. This achievement made India the first Asian country to reach Mars orbit and the first country to do so in the first attempt. The 'MOM' team (Mars Orbiter Mission) was awarded the Space Pioneer Award in 2015. [6]The Indian Express
Mangalyaan aimed to study the Martian surface features, morphology, mineralogy, and atmosphere to understand the planet's climate, geology, origin, evolution, and sustainability of life.
The whole expedition cost India approx. $74 million, making Mangalyaan the most cost-effective Mars mission among the countries able to do so. [7]Gadgets360 China referred Mars Orbiter Mission (MOM) as the 'Pride of Asia.'
Science is not about knowing something alone. It is also about asking new and right questions." [8]The Times of India
Influences
Annadurai was deeply influenced by the late Dr A. P. J. Abdul Kalam, India's 11th president, popularly known as the 'Missile Man of India.'
Dr Kalam exemplifies to us how to have a meaningful life. I have become a better person after being in his presence." He added that Dr Kalam taught everyone to dream and have a meaningful life. "That is what Dr Kalam's life teaches us." [9]Edex Live
Awards, Honours & Achievements
Annadurai is the recipient of over 100 awards from various academic and professional bodies, including one Padma Shri and Rajyotsava Prashasti government Awards;  multiple doctorates from elite universities including the University of Madras, Anna University, Pondicherry University; national and international awards; social and public forum, to name a few. In 2004, he was awarded by ISRO the Hariom Ashram Prerit Vikram Sarabhai Research Award for his outstanding contributions to Systems analysis and Space systems management.
Annadurai has written over six books in Tamil among which "Kaiyaruke Nila" won the S. P. Adithanar Literary Award for the year 2013 and "Vinnum Mannum" won Manvai Mustafa Memorial Science Award in 2021. Annadurai is an avid motivator towards enlightening students about Science and Technology. He frequently travels across the country to rendezvous with students and encourage them to study science.
In Popular Culture
In the critically acclaimed Bollywood film "Mission Mangal," the central character (Akshay Kumar) was inspired by Annadurai.
In the 2010 film "Chandrayaan," Annadurai and his family members were mentioned and portrayed by South Indian actors.
Facts/ Trivia
Muthayya Vanitha was reluctant to accept the project director's role in the Chandrayaan 2 mission. Annadurai inspired her to take on the role.
He has earned a Padmashri award.
He got an interview call from ISRO and the Department of atomic energy on the same day. He chose the former since it was nearer to his home. [10]

The Statesman