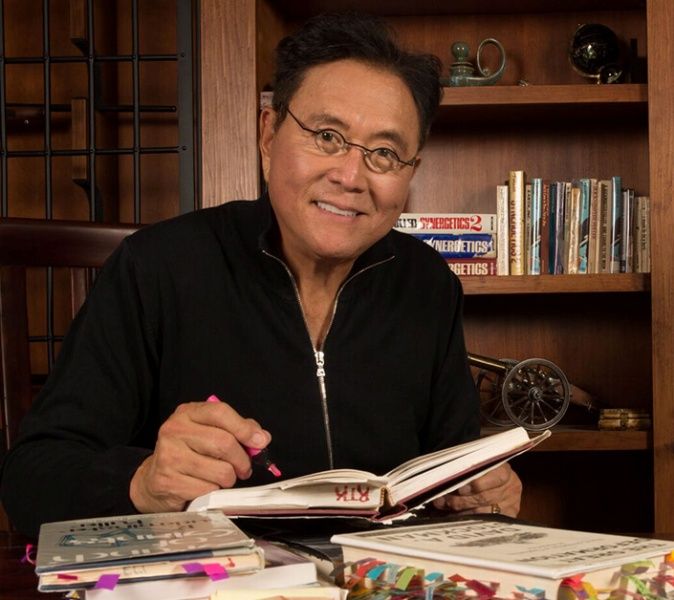 Robert Kiyosaki is a Japanese-American author, businessman, and the Financial Education Advocate. He is one of the most well-known influencers in the financial advice industry. He has written several books and one of his books titled Rich Dad Poor Dad (1997) became prominent among the readers.
Wiki/Biography
Robert Toru Kiyosaki was born on Tuesday, 8 April 1947 (age 76 years; as of 2023) in Hilo, the fourth-largest settlement in the state of Hawaii. His zodiac sign is Aries. In 1965, he graduated from Hilo High School and in 1966 he attended the Merchant Marine Academy at King's Point in New York.
Some of the biggest failures I know are people who have never failed."
Family
Robert Kiyosaki belongs to a Japanese family. He has three siblings, Emi Kiyosaki, Jon Kiyosaki, and Beth Kiyosaki.
Parents & Siblings
His mother, Marjorie O. Kiyosaki was a registered nurse. His father, Ralph H. Kiyosaki was the state superintendent of schools in the 1960. He attained a 4-year bachelor's degree in just two years. [1]Social Crawlytics
Wife & Children
Robert Kiyosaki has a wife, Kim Meyer, whom he married in 1986. They have no children yet. Kim Meyer is the CEO and co-founder of The Rich Dad Co., as well as the author of two books related to women building wealth. As Kim says in an interview,
When it comes to money, what we women have been taught is to not take care of ourselves, but to depend upon a husband, family member or government for our financial well-being."
Signature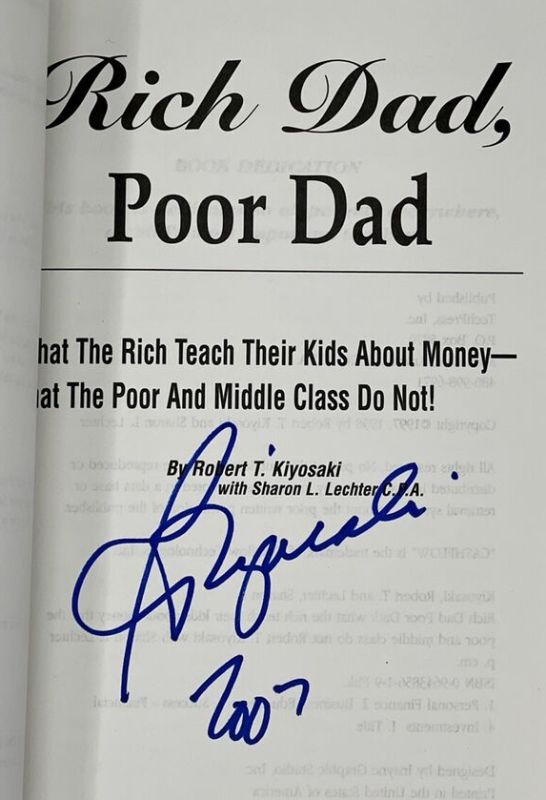 Career
Robert Kiyosaki's first job was as a third mate in a Standard Oil of California oil tanker fleet where his income was $42,000 a year. Following the end of his military service in 1972, Robert Kiyosaki joined the U.S. Marine Corps and served as an officer and a helicopter gunship pilot in Vietnam. In 1974, Kiyosaki attended the Erhard Seminars Training "How to Buy Real Estate Foreclosures," which according to him was a turning point towards business. [2]Smart Asset
As an ENTREPRENEUR I've been a winner and loser many times. I have rich & poor, feeling sorry for myself at my pity party. GREAT NEWS: You have the ability to turn pity into personal power. When you do that your true wealth, health & prosperity comes forth.

— Robert Kiyosaki (@theRealKiyosaki) September 25, 2023
The Entrepreneur
In 1977, Kiyosaki began his business career and started a company named Rippers with his brother, Jon Kiyosaki which used to sell surfer-style nylon and Velcro wallets which unfortunately went bankrupt. Kiyosaki joined Xerox company as a sales associate and worked there till June 1978. In 1997, Kiyosaki launched Cashflow Technologies, Inc., a business and financial education company that owns and operates the Rich Dad and Cashflow brands. Robert Kiyosaki is the founder of Rich Dad Company which provides personal finance and business education through books and games. He also founded Rich Global LLC. With his wife, Kim, he launched the Cashflow board games to help people learn about business and financial concepts through games. Kiyosaki launched a board game called Cashflow 101. Robert Kiyosaki has built an extended financial education unit that includes finance books, board games, business courses, and coaching. In 1994, Kiyosaki took retirement from the Rich Dad Company and even after retirement, Kiyosaki continued his real estate and business investments. In 2010, on The Alex Jones Show, he revealed his assets which include big complexes, hotels, farms and golf courses. [3]Rich Dad
Author
In 1991, Kiyosaki published his first book, If You Want to Be Rich and Happy, Don't Go To School. After being refused by several publishers, he self-printed 1,000 copies and the book became a huge success at bookstores.
I was very, very shocked at how well my books sold. There is a big difference between being a good writer and a best-selling author." [4]Hawaii Business
Books
If You Want to Be Rich and Happy, Don't Go To School (1991)
Rich Dad Poor Dad (1997)
Rich Dad's Guide to Investing: What the Rich Invest in, That the Poor and Middle Class Do Not! (2000)
Rich Dad Poor Dad for Teens (2004)
Rich Dad's Who Took My Money?: Why Slow Investors Lose and Fast Money Wins! (2004)
Why We Want You to Be Rich: Two Men, One Message (co-written with Donald Trump; first published in 2006)
Midas Touch: Why Some Entrepreneurs Get Rich and Why Most Don't (co-written by Donald Trump; first published in 2011)
Rich Dad's Increase Your Financial IQ: Get Smarter with Your Money (2014)
Capitalist Manifesto – Money for Nothing; Gold, Silver and Bitcoin for Free (2022)
Awards, Honours, Achievements
In 1972, he was honoured with the Air Medal for serving in the Vietnam War as a gunship pilot.
Net Worth
His net worth is estimated to be $100 million. [5]Moneywise
Facts/Trivia
Rich Dad Company generates the main revenues from franchisees using Kiyosaki's brand name, of the Rich Dad seminars conducted by independent youth.
Robert Kiyosaki's book Rich Dad Poor Dad has been translated into 51 languages and around 41 million copies have been sold worldwide.
In 2012, Robert Kiyosaki's company, Rich Global LLC filed for bankruptcy. The Learning Annex won a court judgment of $23.7 million and Robert Kiyosaki was asked to pay $24 million to The Learning Annex and its founder by the court. [6]

Famous Entrepreneurs
Robert Kiyosaki wrote two books titled Why We Want You to Be Rich (2006) and Midas Touch (2011) with Donald Trump prior to him becoming President of the United States.
Rippers was the first company to bring the nylon and Velcro "surfer" wallet to market.
In an interview, Robert Kiyosaki talked about his 'rich' dad and revealed his name as Richard Kimi, a Hawaiian real estate entrepreneur who died in 2009.
Recently on 11 October 2023, a podcast titled Understanding the Global Impact of Gold and Silver Investing was released with Andy Schectman, an expert in gold and silver investing as a guest, hosted by Robert Kiyosaki.