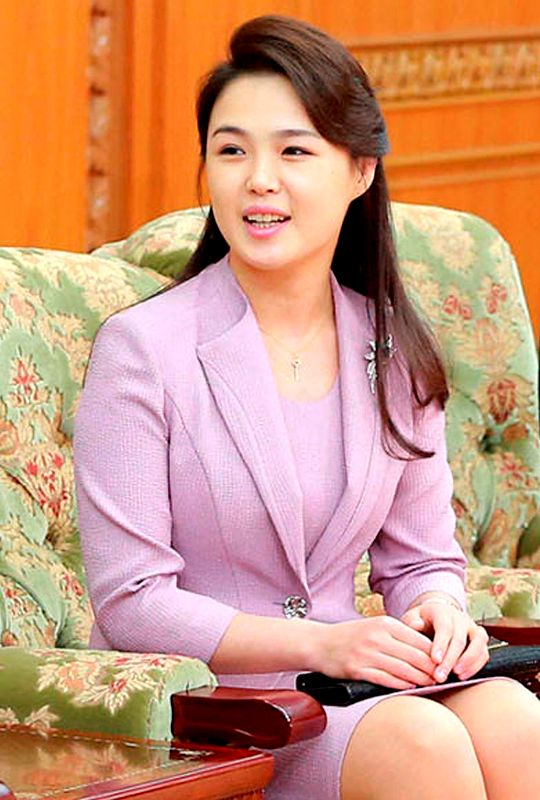 Ri Sol-ju is the wife of the North Korean politician Kim Jong-un, who has been the Supreme Leader of North Korea since 2011. Little is known about the First Lady of North Korea from official sources, but there have been many speculations about her.
Wiki/Biography
Ri Sol-ju was born between 1985–1989 (age 33–37 years; as of 2022) in Chŏngjin, North Hamgyong Province, North Korea. She graduated from Geumsung 2 Middle School in Pyongyang and studied abroad in China majoring in vocal music. Later, she pursued a master's or doctoral degree in science at Kim Il-sung University in Pyongyang, North Korea. [1]CNN
Physical Appearance
Height (approx.): 5′ 3″
Hair Colour: Black
Eye Colour: Black
Family
Parents & Siblings
Ri's family is reportedly from the political elite. Her father is a professor and her mother is a doctor (head of a gynaecology ward).
Husband & Children
Ri Sol-ju got married to Kim Jong-un in 2009 while she was pursuing her master's or doctoral degree in science at Kim Il-sung University. Kim Jong-il had hurriedly arranged his son's marriage after suffering a stroke in 2008. Kim and Ri have three children together. The couple had a son in 2010. In December 2012, it was reported that Ri was visibly pregnant. In March 2013, Dennis Rodman, an American former professional basketball player, who visited Kim Jong-un in North Korea reported that the couple's daughter is named Kim Ju-ae. Ri gave birth to her third child in February 2017. In November 2022, North Korean state media published photographs of Kim Jong-un holding hands with a young girl, presumably his daughter Kim Ju-ae, at the site of a missile launch in Pyongyang.
Others
There have been speculations that she might be the granddaughter or grandniece of Ri Pyong-chol, a North Korean marshal, who formerly served as a top advisor of supreme leader Kim Jong-un. He has also served as general of the Korean People's Army Air and Anti-Air Force.
Early Life
Reportedly, in 2005, she visited the western port city of Incheon for the Asian Athletics Championships as a member of North Korea's cheering squad. Ri was one of the 90 cheerleaders back then who chanted "We are one!"
She is rumoured to have active participation in performing arts. Previously, Ri was a singer in North Korea's Unhasu Orchestra. Some media houses reported that she is a former member of an art company, where she choreographed the 7 July 2012 performance by the Moranbong Troupe, which featured Mickey Mouse and Hollywood film tunes. North's KCTV aired a video clip of a concert in February 2011 in which the channel presented a female singer with the same name and a similar appearance.
Public Appearances
In North Korea, she first caught the public eye in 2012 when she was spotted at a gala concert for the country's who's who, where she was dressed in a trim black suit in the Chanel tradition. Thereafter, she was spotted at a kindergarten, where photographers caught images of her smiling gently at children playing on a slide, and then at the inauguration of an amusement park in Pyongyang. At that time, she was referred to as a mysterious woman who had been showing up alongside Kim Jong-un in North Korean media. Soon, it was inferred that Kim Jong-un had taken a wife and identified her as Comrade Ri Sol-ju. Ri Sol-ju's public appearance was considered significant by North Korean analysts who believed that Kim Jong-un was breaking from the leadership style of his father, Kim Jong-il, who was known for marrying beautiful performers, whom he never introduced to the public.
First Lady of North Korea
In April 2018, North Korea's state media referred to Ri Sol-ju as the "respected first lady" elevating her from merely "comrade" in its report on her weekend attendance of a Chinese ballet performance in Pyongyang; the title was previously born by Kim Il-sung's second wife, Kim Song-ae in 1974. The change in title was made official by star anchorwoman Ri Chun-hee, who often makes major announcements.Ri took on a diplomatic role in 2018 when she visited China with her husband, where she met China's paramount leader Xi Jinping and his wife, Peng Liyuan.
Ri attended the April 2018 inter-Korean summit, where she met the First Lady of South Korea, Kim Jung-sook for the first time.
Analysts viewed Ri's active participation in diplomatic events as a symbol of change within the North's leadership, i.e., a fresh feminine face that could soften the communist regime's image of the country at home and abroad.