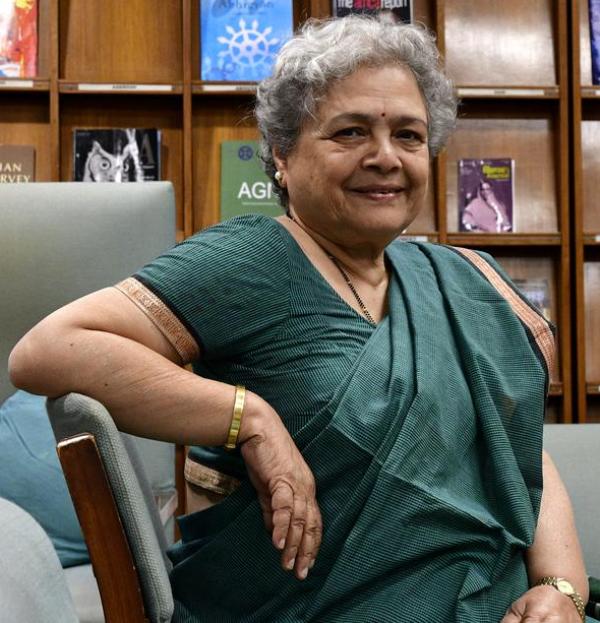 Mrinal Pande is an Indian journalist, television personality, and author. In 2006, Pande was honoured with Padma Shri for her contribution to the fields of journalism and Hindi literature. She worked as the chief editor of the Hindi newspaper Hindustan and worked there till 2009.
Wiki/Biography
Mrinal Pande was born on Tuesday, 26 February 1946 (age 77 years; as of 2023) in Tikamgarh, Madhya Pradesh. Her zodiac sign is Pisces. She did her schooling in a government-run school in Nainital. In the 1960s, she pursued a master's degree at Allahabad University in Uttar Pradesh. When Mrinal was studying in school, she excelled in subjects such as English and Sanskrit literature. She studied ancient Indian history, archaeology, classical music, and the visual arts at Corcoran School of Arts & Design at GW, USA. When she was studying in college, she found out that she was a good debater. She also discovered many of her hidden talents such as singing and dancing. At the university, she met like-minded people who introduced her to politics and changed her perspectives on certain subjects. Later, she researched political analysis and health and women's issues.
Physical Appearance
Hair Colour: Grey
Eye Colour: Black

Family
She belongs to a Kumaoni-Brahmin family.
Parents & Siblings
Mrinal's father, Shuk Deo Pant, was a chemistry teacher in a government school in Uttar Pradesh. Due to his job, his family traveled to various places including Allahabad and Priory Lodge in Nainital, before settling in Lucknow. He died at an early age.
Mrinal's mother, Gaura Shivani Pant (pen name Shivani), was a Hindi writer of the 20th century and a pioneer in writing Indian women-centric fiction. She was conferred with Padma Shri in 1982. She died on 21 March 2003 at the age of 79.
 Mrinal has two younger sisters, Veena Joshi, and Ira Pande. Mrinal also has a younger brother named Muktesh Pant, who was born in 1954. Mrinal had a step-sister nqmed Beenu who was elder than her.
Husband & Children
Mrinal Pande got married to Arvind Pande. He graduated in Economics from Cambridge University in the United Kingdom. In 1965, he became an IAS officer. Twenty-one years later, he joined the public-sector steel company, SAIL; however, he retired as chairman in 2002.
The couple has two daughters; one is an oncologist and the other, Rohini Pande, is a professor of public policy at Harvard University, USA.
Religion/Religious Views
Mrinal Pande follows Hinduism. On 8 December 2018, she talked about her faith on Twitter and said,
I am a Hindu, study and practice my faith and yet I am a liberal opposing violence and hypocrisy in the name of any religion. I firmly believe there are scores of believers like me.They may not be as vocal or noticeable as they mostly express themselves in Indian languages." [1]Twitter – Mrinal Pande
Career
Teacher
Mrinal taught English literature at the University of Allahabad and the College of Jesus and Mary, Delhi University. She has also taught the history of art and architecture at Maulana Azad College of Technology in Bhopal.
Daily News Editor
From 1984-87, she served as the editor of Vama, which is a Hindi publication of The Times of India Group, and Saptahik Hindustan, a Hindi weekly of The Hindustan Times Group (1988-92). She left Saptahik Hindustan on 31 August 2009.
She was founder-president of the Indian Women's Press Corps, and served from 1990-1994 and again from 2001-2002. She also spent many years on the National Commission for Self-Employed Women, engaged in the socioeconomic development of groups such as rag-pickers, vegetable sellers, and domestic help. Pande was later appointed chief editor of Hindustan, which is the Hindi daily of The Hindustan Times Group following which she became the first woman to hold the post (2001-09).
I entered it as a special correspondent for culture, a category Hindi journalism lacked. Circumstance pushed me into the mainstream and after working as an editor with The Times of India Group, I accepted a lateral entry into The Hindustan Times Group as editor of their Hindi magazines and later the daily."
In February 2010, she was appointed chairperson of Prasar Bharati, India's largest public broadcasting agency. She held onto this post till April 2014.
Television Host 
She has also hosted a weekly interview show 'Baaton Baaton Mein' on Lok Sabha TV under Congress Government. In 1996, she began anchoring on Star News and Doordarshan. At this time, she was also the senior editorial advisor for the channel's news and current affairs programmes (1999-2001).
Literary Works
At the age of 21, Mrinal published her first story in the Hindi weekly Dharmyug. Later, she started writing short stories, plays, novels, and essays. She penned several books including The Subject is Woman (1991), Daughter's Daughter (1993), That Which Ram Hath Ordained (1994), Devi: Tales of the Goddess in Our Time (1996), and My Own Witness (2000).
Awards & Honours
On 29 March 2006, Mrinal Pande was conferred with Padma Shri for her services in the field of journalism and Hindi literature.
Facts/Trivia
Mrinal found her comfort corner in the Hindi language when it came to writing. At the age of 14, she copy-edited her mother's writings in Hindi.
In an interview, while talking about what her leisurely indulgences were, Mrinal said,


sleeping, reading, thinking, and listening to music."
Mrinal often takes an anti-BJP stance like when Narendra Modi paid his visit to Itanagar, Arunachal Pradesh, in 2019 and Pande mocked him for wearing their traditional headgear. She tweeted a picture of a rooster and wrote "Once more !!" and was criticised heavily for her making fun of the head gear by the netizens.
This is a Nyishi tribal headgear of Arunachal Pradesh, which PM Modi is wearing during his visit yesterday at Itanagar. Don't let hatred or intolerance overpower your sanity! https://t.co/TZInolGgai… pic.twitter.com/35LBqcGoOY

— Pema Khandu པདྨ་མཁའ་འགྲོ་། (@PemaKhanduBJP) February 10, 2019