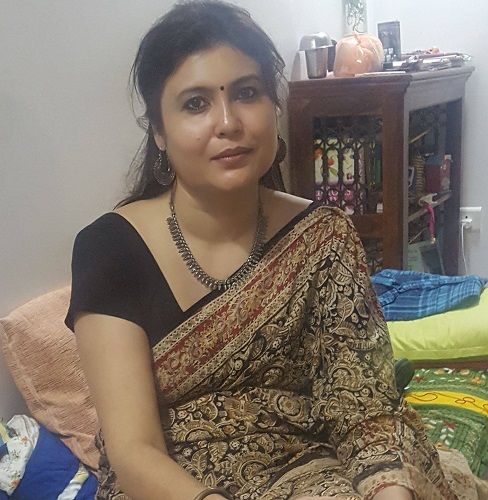 Mridula Tripathi is a former Indian teacher who is the wife of the famous Indian actor Pankaj Tripathi. She manages the working schedule and meetings of Pankaj Tripathi.
Wiki/Biography
Mridula Tripathi was born in Kolkata, West Bengal. She did her schooling at National High School, Kolkata. In 1999, she pursued her graduation in Hindi Hons. from Shri Shikshayatan College, Kolkata, West Bengal. She then did her post-graduation and B.Ed. She then wanted to pursue M.Phil and PhD. [1]Facebook- Mridula Tripathi [2]YouTube- YourStory
Physical Appearance
Height (approx.): 5′ 7″
Hair Colour: Brown
Eye Colour: Brown
Family
Parents & Siblings
Her father, S. N. Tiwary, used to work in a private firm. She has an elder brother and an elder sister.
Husband & Children
On 15 January 2004, she got married to the popular Indian actor Pankaj Tripathi. The couple has a daughter named Aashi Tripathi.
Pankaj Tripathi and Mridula Tripathi's Love Story
On 24 May 1993, Mridula met Pankaj for the first time at the wedding of her elder brother, who is married to the sister of Pankaj Tripathi. In an interview, while sharing the memories, she said,
It was my elder brother's Tilak (engagement ceremony). I was on my way to a tiny room on the terrace to get dressed when this boy with hazel eyes, brown hair and a beard crossed me. Those eyes would go on to follow me during the entire function."
At that time Mridula was in class 9, and Pankaj was in class 12. They then became friends, and soon, fell in love with each other. In an interview, when Pankaj was asked about his first meeting with Mridula, he said,
My sister was getting married. But her in-laws wanted to get a toilet built before my sister went there. This was long before 'Toilet Ek Prem Katha'. My friend went to her in-laws' house to see what repair work was being done. He saw a girl there and came and told me about her. He said that she is very beautiful. Walks like a deer. I heard his compliments and was lost. I married her after 11 years. We both just used to see each other from 1993 to 2004. At that time I used to go to drama school. Those times were very different to me because there were no mobile phones at that time. The letter could not be written because it seemed that anyone in the house could open it and read it. When I went to NSD, there was a phone and there was a landline in her house. We decided to talk everyday at 7.30 am and at 8:00 pm."
After completing her studies, Mridula shifted to Delhi from Kolkata to work as a teacher. At that time, Pankaj was also in Delhi to pursue an acting course at the National School of Drama. In an interview, Mridula shared that unaware of her relationship with Pankaj Tripathi, her parents were once looking for a groom for her. At that time, Pankaj also accompanied her sister and brother-in-law to the prospective groom's home. In an interview, while talking about the same, Mridula said,
Pankaj accompanied my brother and sister-in-law to the prospective groom's place. He came and told me that it was a good match for me and I would surely get much of 'bhautik sukh.' I did not know so much Hindi back then and asked what that meant, and he said 'material happiness.' That's when I felt that I was losing something very precious. Only I know the lengths that I'd gone to break that marriage. And now the most important dilemma was communicating this news to Pankaj."
After dating for a few years, the couple got married in 2004.
They then shifted to Mumbai as Pankaj wanted to pursue a career in acting. During Pankaj's struggling days, Mridula used to earn money and Pankaj used to cook food at home. Pankaj has praised his wife several times for supporting him always. In one of his interviews, he said,
If you ask me about my struggle, I don't have any sad details like sleeping on a footpath or starving for days. That's because my wife, Mridula, had taken over the entire responsibility of the house. In fact, I tell everyone that she is the man of the house."
Facts/Trivia
While Pankaj was living in the boys' hostel, Mridula used to secretly live with him. [4]

YouTube- SET India
Mridula is a spiritual person. She has a deep faith in Lord Ganesha.
She is an avid animal lover and has two pet dogs named Jeanie and Prince.