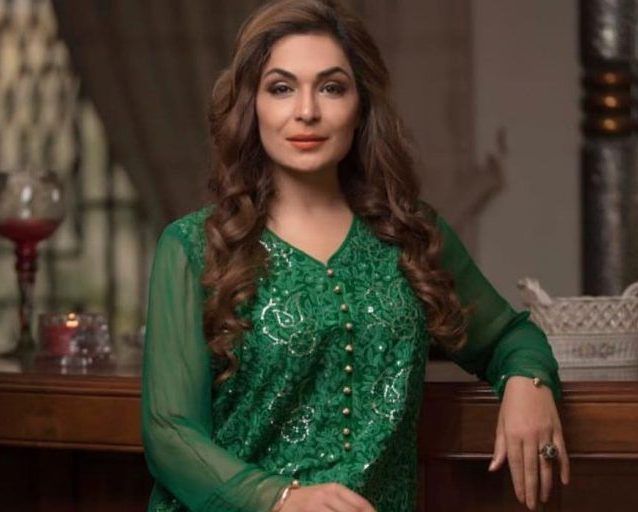 Irtiza Rubab (Meera) is a Pakistani actress, model, TV presenter, and humanitarian. She is best known for her work as an actress in Punjabi, Urdu, and Hindi films and dramas. She made her Bollywood debut with Nazar (2005) opposite Ashmit Patel. She has won the Nigar Award two times in her lifetime for her astonishing acting skills in the Urdu films "Khilona" (1996) and "Inteha" (1999). She is an acclaimed actress who received the Pride of Performance Award from the Government of Pakistan in 2012.
Wiki/Biography
Meera was born as Irtiza Rubab on Thursday, 12 May 1977, (age 45 years; as of 2022) in Sheikhupura, Punjab, Pakistan. Meera is her stage name. She completed her graduation at Kinnard College for Women, Lahore, Pakistan. During her studies, her diligent participation in plays made her pursue acting as her career. Meera began her career in acting with the Urdu film "Kanta" in 1995. She has worked in more than 60 films. She made her Bollywood debut with the film "Nazar" (2005). She has also worked in various dramas among which "Mein Sitara"(2016) is the most notable one. Apart from acting in films and television, Meera made her directorial debut with the Pakistani film "Oscar" (2016).
Physical Appearance
Height (approx.): 5′ 4″
Weight (approx.): 60 kg
Hair Colour: Black
Eye Colour: Black 
Figure Measurements: 36-28-38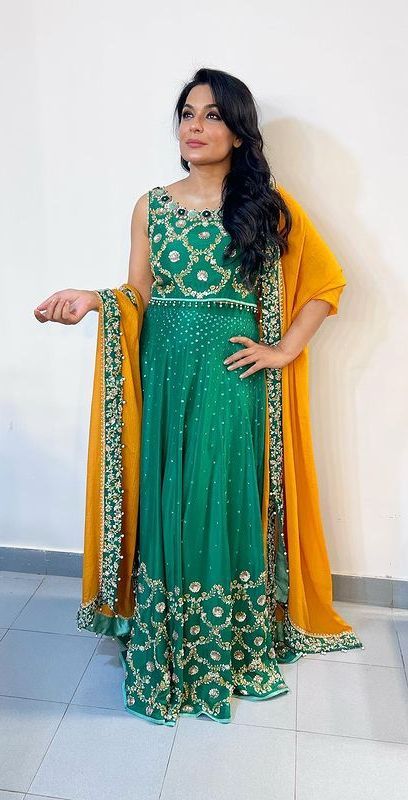 Family
Meera belongs to the Syed family.
Parents & Siblings
Her father's name is Syed Mohammad Sarwar Shah and her mother's name is Shafqat Rubab. She has five siblings, Shaista Abbasi, Syed Ahsan Abbas, Syeda Hussain, Rubab Aqsa, and Murtaza Ahsan.
Husband
She tied the knot with a businessman, Sheikh Attiq-ur-Rehman, in 2007. Later, she refused the fact that she was married and filed a case against Sheikh Attiq-ur-Rehman in 2011, but in 2018, she was declared married to him by the Lahore family court based on her honeymoon photographs and marriage certificate. In 2013, she got married to Naveed Pervaiz.
Relationships/Affairs
In an interview with Geo News, Meera claimed that she had an affair with Pakistani Cricketer Shoaib Akhtar, but the cricketer never acknowledged this. In an interview, Meera talked about this and said,
It was an intense affair and I wasted one precious year of my life waiting for him. I was committed and sincere to him. But he didn't appreciate me,"
Later, Shoaib denied the accusations and said that he was never engaged in any romantic relationship with the actress. [1]Journalism of Courage In another talk with Geo News, Meera revealed that Bollywood actor Emraan Hashmi had offered her a proposal for marriage, but she denied it because of her family. She also disclosed that Bollywood filmmaker Mahesh Bhatt once advised her to marry Bollywood actor Ashmit Patel but due to the difference in religion, she rejected his advice. [2]Geo News Moreover, indicating her desire to marry the Bollywood star Salman Khan, she said in one of her interviews that it would be very difficult for her to refuse the proposal of the Dabangg star if he would ever propose to her.
Career
Meera has built a successful career in acting and modelling. She has worked in more than 60 films and various TV dramas. On account of her acting skills, Meera has earned good fame in Lollywood and also tried her hand in Bollywood.
Acting
Lollywood
Meera started her acting career in 1995 with the Urdu film "Kanta." She has worked in numerous Punjabi, Urdu, and Hindi films. She won her first Nigar Award for her performance in a lead role in the film "Khilona" (1996).
In 1999, she appeared in the Urdu film "Inteha" (1999) for which she received critical acclaim. She played the lead role in the film "Hotal" (2014), which was the first psychological thriller film in Pakistan. At the 3rd Delhi International Film Festival, she received the Best Actress Award for her marvellous performance in "Hotal." Her role as Shameera in the film "Baaji" (2019) earned her massive fame as the film gained huge success at the box office.
Bollywood
Meera made her Bollywood debut with the film "Nazar" (2005), directed by Soni Razdan in which she played the role of Divya Varma.
She made her second appearance in Bollywood with the film "Kasak" (2005), opposite Lucky Ali. She also appeared in "Paanch Ghantey Mein Paanch Crore" (2012) and "Bhadaas" (2013). She performed an item song in the film "Bumper Draw" (2015). Although she tried her hand at Bollywood films, she didn't taste much success in them.
Television
She started her career in the Television industry with the drama "Husan Ara Kaun" in 2010, which aired on TV One. Her roles as Naseem Dilruba in "Mein Sitara" (2016) and Madam Kaali in "Naagin" (2017) are among her most notable roles.
Modelling
Meera started her career in modelling when she was in high school. She achieved highs in modelling at a very young age.
Meera is among the top supermodels in Pakistan. In her mid-teens, she started appearing in TV commercials for many popular brands including Pepsi and Lux.
Politics
Apart from acting, Meera also remains active in politics. In 2013, she contested the polls independently against the Pakistan Tehreek-e-Insaf (PTI) Party. She contested for the Lahore constituency NA- 126, and her electoral symbol was the black coat. In 2021, she decided to join the same party against which she contested polls in 2013. In an interview with Geo News, Meera talked about this and said,
I am heartbroken with the world of showbiz and have decided to join politics." [3]Daily Times
Controversies
The lawsuit filed against her Marriage
In 2010, Meera filed a lawsuit against a businessman from Faisalabad, Sheikh Attiq-ur-Rehman, who claimed to be her husband. She remained entangled in this case for 7 years. According to Rehman, they got married to each other in a private ceremony in 2007. He presented the marriage certificate and some photographs as evidence, but Meera denied all these claims. [4]BBC News When Meera revealed her parent's acceptance of the marriage proposal from Naveed Shehzad, who is a Pakistani-American airline captain and also her family friend, Rehman, her alleged husband, filed an application against Meera's allegations. He said that Meera cannot marry someone else before having a divorce from him as it is against Islamic laws. [5]The Express Tribune
The case against Alleged Abortion
In 2012, a man named Islam appealed to register a countersuit in a Pakistani court against Meera for having an alleged abortion. [6]Deccan Herald
Controversial Video Clip on Social Media
In 2014, a case was filed against Meera and her husband Capt Naveed by FIA (Federation Investigation Agency) over sharing a 'controversial video clip' on social media. [7]Dawn
Awards and Honours
Meera, for her performance in the film "Khilona," received her first Nigar Award in 1999.
She won her second Nigar Award for her brilliant performance in the film "Inteha" (1999) as the Best Actress of the Year.
In 2012, Meera was honoured with the Pride of Performance Award by the Government of Pakistan for her contributions to the Pakistan film industry.
Meera was nominated at the Lux Style Awards for Best Film Actress – Viewers' Choice and Critics Choice for the film "Baaji" in 2020.
Meera received the award of Best Actress at the International Pakistan Prestige Awards (IPPA) 2021, in Istanbul, Turkey.
Facts/Trivia
Apart from being an actress, Meera is also known for charity work. She performed at an event in New York in 2022 to raise the funds for Pakistani flood victims. In an interview, she said that she was ready to perform anywhere in the world to help flood affectees. She shared a post on Instagram for the same and asked her fans to join hands to help the flood victims.
In 2018, Meera visited a school for special children in Karachi and spend her day with students. She made an announcement there to donate PKR 25,000 to Diamer Bhasha Dam Funds. She shared her experience of visiting the school for special children on Twitter.
It was wonderful to celebrate the day with special kids today .#karachi pic.twitter.com/QwaSML1Z9h

— Meera (@TheMeeraJee) September 10, 2018
She was voted one of the most beautiful stars of Pakistan in 2000.
Meera's mother, Shafqat Rubab, was once kidnapped by the land grabbers. In an interview with "The Express Tribune," she said,


I am being threatened by Mian Shahid Mahmood, he is a land-grabber who is trying to illegally take over my family property after agreeing to live there as a tenant. This person kidnapped my mother and now he is doing his best to get hold of my family property." [10]The Express Tribune
She is also called Meera Jee by her fans.
Meera is also known as a controversy queen as she often hit the headlines for her controversial statements.
In February 2023, Meera was selected for the role of Nargis to be played in the Pakistani remake of the Bollywood film "Pakeezah" (1972), which was originally played by Meena Kumari. [11]

Hindustan Times