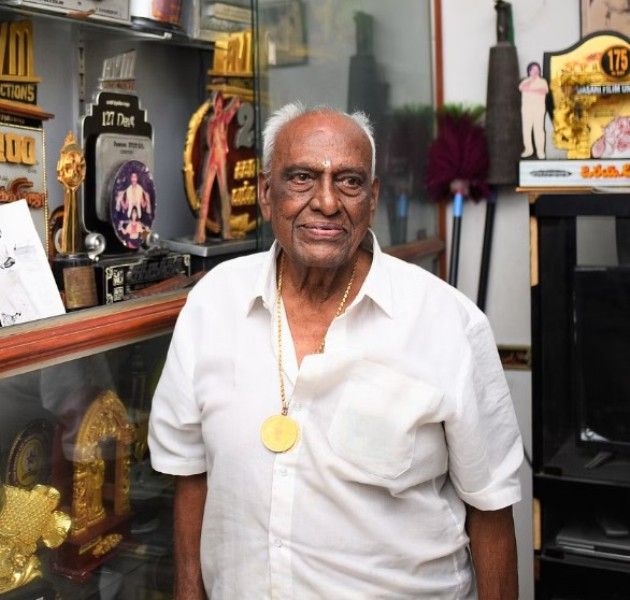 Judo. K. K. Rathnam (1930-2023) was a stunt artist, stunt director, and actor who worked on more than 1500 films in his career spanning more than 5 decades. He holds the world record for doing the maximum number of films as a stunt artist or stunt director and directing fight scenes for the maximum number of actors. He worked in Tollywood, Mollywood, Kollywood, and Bollywood. In the 1960s and 1970s, he directed the fight scenes of almost every Tollywood film.
Wiki/Biography
Judo. K. K. Rathnam aka K. K. Rathnam was born on Friday, 8 August 1930 (age 92 years; at the time of death) in Gudiyatham, in Vellore, Tamil Nadu, (then-Madras Presidency), British India (now-India). His zodiac sign was Leo. He was weak during his growing years and was not interested in Judo. Once he went to work in the mill where he was asked if he would work in the night shift as he did not look strong. Upon hearing this, he became angry and started to do physical training to achieve good physical condition. He learnt Taekwondo from 'Mahabharat' Masilamani, boxing from South Indian Boxing Champion Paramashivan, Judo from G. Ramu, yoga from Thangavelu, and also trained under Soviet-trained Ranganathan. Once he was performing exercises in a district collectorate program when he was spotted by the screenwriter Mugavai Rajamanickam. Mugavai persuaded him to work in the films.
Physical Appearance
Height (approx.): 5′ 10″
Weight (approx.): 70 kg
Hair Colour: Salt and Pepper (half bald)
Eye Colour: Black
Family
Wife & Children
His first wife's name was Padma, and his second wife's name was R. Govindammal who passed away on 15 November 2013. He had 8 children which included 6 daughters. His son Judo. K. K. Ramu is also a stunt master, while his grandsons Judo Lenin and John Prince are stunt artists.
Career
Film
Judo. K. K. Rathnam made his debut as an actor in the film Tamaraik Kulam directed by Mukta V Siniwan, at the recommendation of the screenwriter Mugavai Rajamanickam. He later made his debut as a stunt director with R. Sundaram-directed film Vallavan Oruvan in 1966 in which he directed a judo fight scene for Jaishankar-Manohar. This fight scene created a lot of sensation among the fans, and he became very popular. R. R. Sundaram, the president of Modern Theaters, gave him the status of 'My Master' through this film, and the Tamil Arts and Literature Forum awarded him the title of 'Judo'. Rathnam has done more than 1500 films which included 49 films with Rajinikanth, 16 films with Kamal Haasan, 69 films with Kannada Rajkumar, 4 films with Amitabh Bachchan, and 16 films with NTR. He has worked as a stunt artist and stunt director in films in more than 9 languages including Malayalam, Tamil, Telugu, Hindi, and English languages. He also produced the film Othiyadi Pathayile which was directed by Prof. AS Prakasam and starring famous music director Shankar Ganesh and was released in the year 1980. Some of the films in which he worked as a stunt director are Thangakopuram, Vallavan to Vallavan, Two Vallavars, Prisoner Kannayira, Floor House Bridegroom, All Mighty Vallavan, Flowing Tiger, Red Sun, Roaring Bull, Gayatri, Thangaikor Geetham, Usha Till Alive, Tirupam, and Don't Sleep Brother Don't Sleep. He directed many iconic fighting scenes like the train fight scene in Rajinikanth's film Muratkugu. His last movie as an actor was Thalayanagaram which was released in 2006.
Awards, Honours, Achievements
2013: Guinness World Record for working in more than 1200 films as a stunt coordinator
2016: Sankaradas Swamigal Award
2019: Kalaimamani Awards from the Government of Tamil Nadu
Death
Judo. K. K. Rathnam died on 26 January 2023 at the age of 92 years in his hometown Gudiyatham in Vellore, Tamil Nadu. Many people paid tributes to him including Rajinikanth, Vijay, Ajith Kumar, and Tamil Nadu's CM M. K. Stalin who paid condolences by tweeting about his contribution towards the film industry.
பழம்பெரும் சண்டைப் பயிற்சியாளரான திரு. ஜூடோ ரத்னம் அவர்கள் உயிரிழந்தார் என்ற செய்தி அறிந்து மிகவும் வேதனையடைந்தேன்.

1/2 pic.twitter.com/YHuho3lWvc

— CMOTamilNadu (@CMOTamilnadu) January 27, 2023
Facts/Trivia
Stunt masters and actors such as Vikram Dharma, Super Subbarayan, Thalapathy Dinesh, Jaguar Thangam, Rambo Rajkumar, FEFSI Vijayan, Ponnambalam, Judo. K. K. Ramu, Indian Baskar, Rajasekhar, Ambur. R. S. Babu, and M. Shahul Hameed have worked as fighters and assistants to him.
He also holds the Guinness World Record for performing stunts for 63 heroes.
He was inspired by the principles of communism and was an active member of the Marxist Communist Party.
Judo KK Ratnam had written a plea letter to Chief Minister J. Jayalalithaa. He said that Kalaimamani Award has not been given to him and requested to give it to him.
He published his autobiography titled Thamaraikulam Two Capitals in 2013.
His nicknames were Kalaichelvan and Rudhranagam.
Judo. K. K. Rathnam said during an interview that he injured Rajinikanth's neck while practising the ancient martial art of Silambam.
In August 2021, thieves stole 15 expensive silk sarees, ½ kg of silver items, 2 expensive Rolex watches, and Rs. 20 thousand from his house at Periyappa Mudali Street in his hometown, Kudiatham, Dharanapet. [1]

CNN-News18