Hema Sharma is an Indian actress, dancer, and social media influencer, who is known for acting in films like Yamla Pagla Deewana: Phir Se (2018), One Day: Justice Delivered (2019) and Dabangg 3 (2019).
Wiki/Biography
Hema Sharma aka Hem Lata [1]Instagram – Hem Lata was born on 20 December [2]Instagram – Hem Lata in Muradnagar, Ghaziabad, Uttar Pradesh. [3]Instagram – Hem Lata Her zodiac sign is Sagittarius. She took the admission to Tejpal Singh Tyagi Kushal Pal Singh Tyagi Memorial Degree College, Uttar Pradesh for Bachelor's in Arts [4]Instagram – Hem Lata but had to stop her studies due to the financial crises and poor health of her father. [5]India Post She wanted to become a choreographer and took training for Kathak for six years. She is also a trained Bharatnatyam dancer. She has also done six months diploma course in Kathak. She was also pursuing an air hostess course from the Frankfinn Institute of Airhostess Training. [6]YouTube – Hema Ki Kahan[7]India Post To pursue a career in choreography, she shifted to Delhi. However, the choreography didn't happen and she shifted to Mumbai in 2008. [8]Hindustan Times
Physical Appearance
Height (approx.): 5′ 5″
Weight (approx.): 60 kg
Hair Colour: Black
Eye Colour: Black
Figure Measurements (approx.): 36-30-37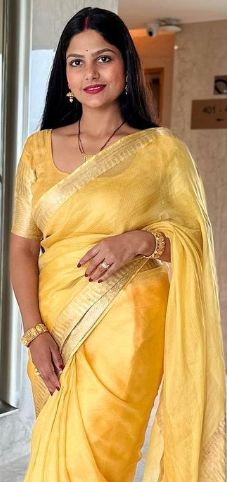 Family
She belongs to a middle-class family from a small town in Uttar Pradesh. [9]Hindustan Times
Parents & Siblings
Hema's father was a mechanic in a government bus department.
Hema has two brothers and one sister. The family was huge due to which there were a lot of financial crises. Her mother is a homemaker.
Husband & Children
Earlier, Hema was married to a man on 21 April 2009 whom she met in Mumbai. [10]YouTube – Hema Ki KahaniIt was a love marriage. However, the couple got legally separated in 2020. Hema has a son, Yash, from her previous marriage. Yash lives with her sister. [11]YouTube – Hema Ki Kahani [12]YouTube – Hema Ki Kahani Later on, she met Gaurav Saxena and married him.
Gaurav works in Uganda, Africa. Hema also has a son with Gaurav Saxena, named Aekansh.
Career
Job as a Receptionist
Before entering the world of entertainment, she used to work as a receptionist for INR 800 per month in a hospital named Narayan (now Jagat Hospital) in Meerut. [13]YouTube – Hema Ki Kahani
Music Album
Before beginning her career as an actor, she got the chance to appear in all songs of the Rajasthani music album Veena Chat Pe which eventually helped her get small roles in various advertisements and TV commercials. [14]Hindustan Times
After a brief hiatus, Hema returned to Mumbai to begin her journey in the entertainment industry.
Television
Hema returned to Mumbai in 2015 after doing several shows in the USA with actors like Govinda, Neha Dhupia, and Esha Deol. She managed to grab a role in the television show Chakravartin Ashoka Samrat (2015) that aired on ColorsTV.
Later, she also appeared on Kahaan Hum Kahaan Tum (2019) TV show that aired on StarPlus. Hema has done several TV commercials for various prestigious brands like HDFC Bank, Nerolac Paints, Children's Hope India, Jabong, and many more.
Film
In 2018, Hema got the role of Dr Subhi in the film Yamla Pagla Deewana: Phir Se (2018).
In 2019, Hema made a special appearance in the wedding song of the film One Day: Justice Delivered (2019). Later in 2019, she made an appearance in Salman Khan's film Dabangg 3 by playing the role of a reporter.
Web Series
Hema made her OTT debut with the web series Inspector Avinash (2023) aired on JioCinema.
Controversies
Humiliation by Salman Khan's Security
In June 2023, actress Hema Sharma gave an interview in which she shared the incident from the sets of Dabangg 3 which was shot in 2019. She was a great fan of actor Salman Khan and was very happy to know that she might share the screen with the actor in the film. However, due to last moment changes, the scene was shot with Salman Khan alone. She was unhappy with the changes and approached several people to help her to meet Salman Khan once and help to click a picture with him. Later, she met Pandit Janardhan who promised to fulfil her wish. Pandit Janardhan has also appeared in several seasons of the Indian reality show Bigg Boss as a celebrity astrologer and face reader. Both Hema and Pandit Janardhan made an attempt to meet Salman Khan, but according to her, she was humiliated and treated badly by the security of the actor. Not only this but the security officers forcefully removed her and Pandit Janardhan. They even threatened to ban the entry of Pandit Janardhan. Hema Sharma was treated so badly that according to her, she was thrown out like a dog in front of a unit of around 100 people. The unit included several individuals who were known to Hema which intensified the humiliation. Though Salman Khan was not present at the incident, he was in the vicinity. As per Hema, Salman Khan could have intervened and handled the situation well, but he didn't bother to come in between. This made Hema more furious and she promised herself not to meet Salman Khan ever in life. This incident left Hema in pain, and she couldn't sleep for almost 10 days. [15]News18
Soon after giving the details of the incident, Hema Sharma started getting several threats which she shared on her YouTube channel Hema Ki Kahani. [16]YouTube – Hema Ki Kahani
Awards, Honours, Achievements
Dadasaheb Phalke, Icon Award Film Organization 2023, Nari Shakti Icon Achiever Award 2023
Favourites
Facts/Trivia
Coming from a middle-class family in a small town gave Hema a lot of experiences to face various challenges to survive in the city of her dreams, Mumbai. It has always motivated her to stay focused on goals and not to give up so easily. The struggles of her life helped her to get a role in the film Yamla Pagla Deewana: Phir Se (2018). [18]

Hindustan Times
In an interview, she shared that she has a dream of opening a dance academy someday and wants to join politics.
Hema has a YouTube channel "Hema Ki Kahani" where she shares her personal life details with her fans and subscribers. Her channel has more than 100K subscribers on YouTube.
In an interview, Hema told that due to the financial crises during her childhood days, she used to teach Kathak to several children after her school. She used to earn INR 5000 per month for teaching the dance to students. [19]

India Post
While sharing the story of her struggle in an interview, Hema told that she used to eat only biscuits when she shifted to Mumbai from Delhi. Her belongings were stolen at the railway station due to which she came back to Delhi. She couldn't disclose all these things to her family so she came back to Mumbai. [20]

India Post
Hema's ex-husband used to question her character when she used to make several TikTok videos. Though it was a love marriage, there were several understanding and trust issues. After eleven years from 2009, Hema divorced her first husband. Her family was not happy with the decision as first it was a love marriage and second she got divorced from her husband. [21]

India Post She also has a son from her first marriage.
Hema said that she got the opportunity to work in the film Yamla Pagla Deewana: Phir Se (2018) with the help of the film's writer, Bunty Rathod, whom she met at a party. He is also from Meerut and saw Hema's music videos which eventually impressed Bunty. He said he would cast Hema in one of the scenes in the film. That's how Hema got a chance to act in the film.
Hema considers Anupam Kher as her mentor and his mother shares a unique bond with Hema. She often calls Hema a Pigeon. [22]

India Post
She experienced a fatal situation when she was diagnosed with Malaria in 2021 and was hospitalised for almost 10 days.
In one of her videos on her YouTube channel Hema Ki Kahani, she shared the struggles and pain she went through in her previous marriage. She also revealed the reason to divorce her first husband. She said that he used to torture her daily with emotional abuse. [23]

YouTube – Hema Ki Kahani
Hema is also known by the name "Viral Bhabhi" for uploading various dancing videos, reels, and posts on various social media platforms. [24]

YouTube – Hema Ki Kahani
References

↑

1
Instagram – Hem Lata

↑

2
Instagram – Hem Lata

↑

3
Instagram – Hem Lata

↑

4
Instagram – Hem Lata

↑

5,

↑

7,

↑

19,

↑

20,

↑

21,

↑

22
India Post

↑

6
YouTube – Hema Ki Kahan

↑

8,

↑

9,

↑

14,

↑

17,

↑

18
Hindustan Times

↑

10
YouTube – Hema Ki Kahani

↑

11
YouTube – Hema Ki Kahani

↑

12,

↑

23
YouTube – Hema Ki Kahani

↑

13
YouTube – Hema Ki Kahani

↑

15
News18

↑

16,

↑

24
YouTube – Hema Ki Kahani

↑

25
News18

↑

26
Instagram – Hem Lata

↑

27
Instagram – Hem Lata

↑

28
YouTube – Hema Ki Kahani