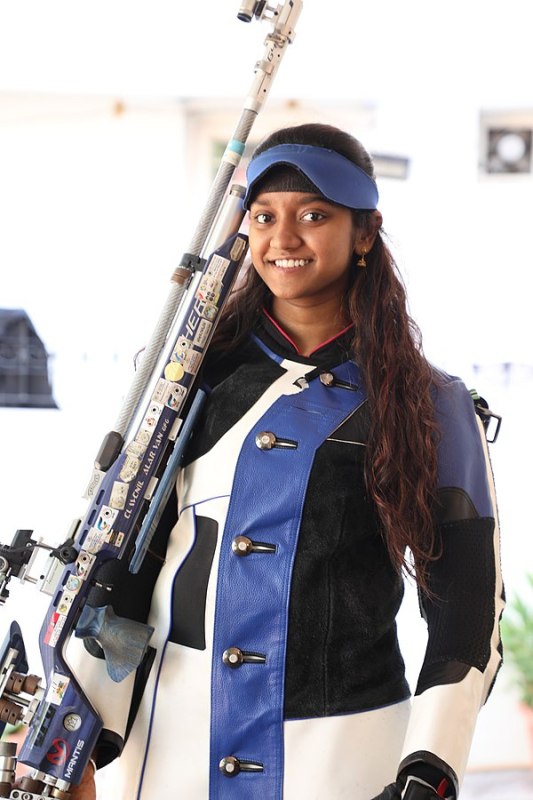 Elavenil Valarivan is an Indian professional shooter, who was famous for winning a gold medal at the 2018 ISSF (International Shooting Sport Federation) Junior World Cup. In 2021, her name was announced by the government of India for the 2020 Tokyo Olympics, which were earlier postponed due to the COVID-19 pandemic.
Wiki/Biography
Elavenil Valarivan was born on Monday, 2 August 1999 (age 24 years; as of 2023) in Cuddalore, Tamil Nadu, India. Her zodiac sign is Leo. Her hometown is in Gujarat, India. She pursued her Bachelor of Arts in English literature. [1]ISSF
Physical Appearance
Hair Colour: Black
Eye Colour: Black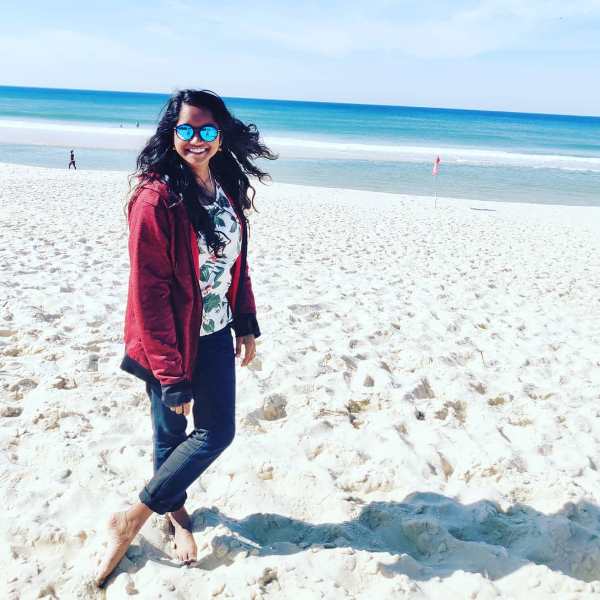 Family
Parents & Siblings
Her father's name is Valarivan Ruthrapathy, and he is a scientist and an alumnus of the Indian Institute of Technology, Madras. Her mother's name is Saroja Valarivan, and she is a teacher.
She has a brother named Ereivan, and he is a Captain in the Indian Army.
Career
Elavenil Valarivan received worldwide recognition when she won a silver medal in the World University Games in 2019. Around the same year, she clinched a gold medal in Suhl, Germany, at World Junior World Cup. In the same year, she was honoured to represent India at the Rio de Janeiro Olympics, and she won a gold medal at the 10-meter Air Rifle world cup. At the finals of the 2019 ISSF Shooting World Cup in Munich, Germany, she ended up at the fourth position. In the 2019 Asian Air Gun Championships, she won her first individual gold medal in a 10m air rifle, a senior category event, at Taoyuan, Taipei, Taiwan.
Medals
ISSF World Cup Final
2019: Gold medal – first place at Putian China in 10m Air Rifle Women
ISSF World Cup
2019: Gold medal – first place at Rio de Janeiro in 10m air rifle women
Asian Airgun Championships
2019: Gold medal – first place at Taoyuan Taiwan in 10m air rifle women
ISSF World Shooting Championships
2018: Silver medal – second place at Changwon in 10m air rifle women junior
ISSF Junior World Cup
2018: Gold medal – first place at Sydney in 10m air rifle women junior
2018: Gold medal – first place at Suhl in 10m air rifle women junior
2019: Gold medal – first place at Suhl in 10m air rifle women junior
2018: Gold medal – first place at Suhl in Mixed team in 10m air rifle junior
Facts/Trivia
In an interview, Elavenil revealed that since childhood, she was very curious to participate in sports events at school. She further added that she was a sprinter and a long-distance athlete in school before opting for shooting sport seriously. Elavenil was introduced to shooting sport by her cousin. She narrated,


I initially took it up for fun and only began serious, full-time practice in July 2014."

She further stated,

My parents, both PhD scholars, have always been very encouraging of whatever I chose to do."
In her leisure time, she adores reading books and going on car drives.
Elavenil Valarivan regularly participates in Badminton too.
Neha Chavan is her personal coach. Deepali Deshpande and Deepak Dubey are Elavenil's national coaches.
She is a right-handed player, and her right eye is her master eye while shooting.
In 2015, Elavenil Valarivan completed her secondary examinations. She had a balanced schedule of training practices and studying during her examinations. Neha Chavan, Elavenil's coach, said in a conversation with a media house that Elavenil used to attend daily training practices of shooting before and after the school timings, and she used to practice early in the morning and late at night. She spelt out,


She stayed about 25 kms away from the training centre so she woke up at 4.30 am every day to be here for practice around 5.30 am. In the evenings, she'd train until 8.30  pm every day."
In an interview, Elavenil Valarivan revealed that she was immensely supported by her brother to participate in the national shooting events. She further added that her brother was a captain in the Indian Army. She narrated,


I will dedicate this medal to my brother Ereivan. He is a Captain in the Indian Army. He is in the 17 Dogra Regiment. We never get a chance to meet up throughout the year Most of the time, we are both travelling. So, it is quiet to meet my brother and talk to him. He doesn't get holidays. He has always been supportive of my career."
According to Elavenil Valarivan, one crucial thing to be kept in mind as a sportsperson was patience. In an interview, she said,


In 2014, I joined Gagan sir's academy. Patience – That is the topmost thing, I have learnt from Gagan sir. I have also learnt how to deal with situations when you can't figure out what's happening around (you)."
Apparently, in her name Elavenil Valarivan, Valarivan belongs to her father or grandfather or an earlier male ancestor, and it was not her surname.
In 2016, Elavenil Valarivan got the chance to meet Smriti Irani. Elavenil Valarivan felt excited to meet her in person and shared her picture with Smriti Irani on her social media account.
In 2019, Rashtriya Khel Protsahan Puraskaar, a national award in sports, was awarded to her academy named Gun for Glory.
In 2020, Elavenil received the 'Sports Person of the Year' award from FCCI (Federation of Indian Chambers of Commerce and Industry).
In an interview, Elavenil's mother exclaimed about her selection to the 2020 Tokyo Olympics in 2021. She said,


For years, I have seen her toiling tirelessly from 5.30 am to 9 pm, without complaining even for once. Now, she mostly stays in Chennai, Pune or Delhi for training, and we don't get to see her too often in Ahmedabad. She never gets carried away by success, and I hope that her level-headed attitude will help her in winning many more medals for India."
In July 2021, Elavenil felt honoured to converse with Indian Prime Minister Narendra Modi. She shared the video on her Twitter handle.
I have been closely observing the progress of @elavalarivan in the field of sports and I am extremely proud of what she has accomplished. Do hear what she said about her sporting journey… #Cheer4India pic.twitter.com/jWBEBukBMx

— Narendra Modi (@narendramodi) July 13, 2021