Cheitan Sharma is an Indian digital marketing executive. He came into the limelight on 3 July 2022, when married his gay partner Abhishek Ray (fashion designer) in Kolkata, India. According to Indian media sources, their marriage was considered the first gay marriage, which was celebrated publicly in Kolkata according to all Hindu rituals and traditional ceremonies. The pictures of their marriage went viral on several social media platforms soon after its celebrations were over. [1]The Print
Wiki/Biography
Cheitan Sharma celebrates his birthday every year on 22 May, and he was born in Delhi, India. His zodiac sign is Gemini. Soon after completing his school education, he joined the Rajasthan Technical University, India in 2012 to pursue a Bachelor of Technology (B.Tech.) degree in Computer Science. In 2014, he completed a Master of Business Administration (MBA) degree in Marketing & HR at Mewar University, India. In the same year, he joined Digital Marketing Institute in Ireland and earned a Professional Diploma in Digital Marketing. [2]Cheitan Sharma's LinkedIn Account
Physical Appearance
Height (approx.): 5′ 7″
Hair Colour: Black
Eye Colour: Black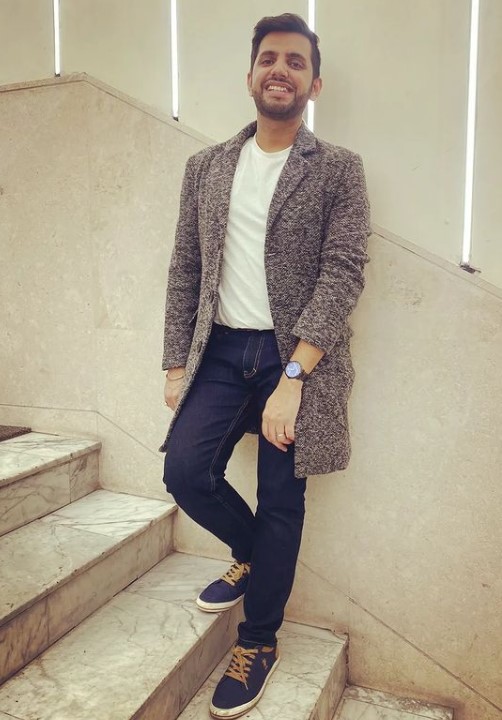 Family
Parents & Siblings
His father's name is J.P. Sharma, and his mother's name is Renu Sharma.
He has two sisters named Akanksha and Neha.
Spouse
Cheitan Sharma got married to Abhishek Ray on 3 July 2022. Abhishek is an Indian fashion designer.
Sexual Orientation
Relationships/Affairs
Cheitan Sharma was in a relationship with Abhishek Ray for two years before getting married to him on 3 July 2022.
Career
In August 2012, Cheitan Sharma joined Global Space Web Technologies Private Limited as an Android Application Developer Trainee. He received the training there till December 2012. He then joined Mewar University as Training and Placement Officer in December 2012, and he served the position till February 2015. From February 2015 to July 2015, he served the Return On Web (ROW) organisation as a Digital Marketing Analyst. In July 2015, Cheitan Sharma joined SRV Media Pvt. Ltd. as a Digital Media Marketing manager and held the position till November 2015. Cheitan Sharma started working as a Team Leader at the Google Ads Optimization in Gurugram, Haryana, India in November 2015 and served the position till February 2016. Cheitan Sharma then elevated to the higher position in the same organisation and was appointed as a Quality Specialist in June 2016. The next month he left this organisation and joined Accenture in Gurugram, India as a Digital Media Marketing Manager. Cheitan Sharma held the position till February 2021. In February 2021, Cheitan Sharma joined Google Operations Center as a Training Delivery Sr. Specialist in Digital Marketing and Research.
In a gay relationship with Abhishek Ray
On 3 June 2022, his name was floating on google with the headline that he got married to Abhishek Ray, a Kolkata-based fashion designer.
During a media interview, Cheitan Sharma talked about his relationship with Abhishek Ray. He stated that he met Abhishek Ray in person in 2020 after the COVID-19 lockdown uplifted in India. They were friends on Facebook for a long time before meeting each other personally. In the same conversation, his gay partner, Abhishek Ray said that they planned a trip to Agra after the removal of the COVID-19 lockdown in India. Ray added that Cheitan Sharma proposed to him for the marriage in front of the Taj Mahal, and the proposal was like a filmi style, which was a dream come true moment for him. Ray said,
We made a trip to Agra, where he proposed to me, in a very filmi way, right in front of the Taj Mahal. Because, casually, I had told him I am a very Bollywood-y person and that it was my dream to see the Taj Mahal with my partner."
The wedding of the couple was organised publicly in Kolkata on 3 July 2022. Several media houses covered the story of their marriage. On the wedding day, Cheitan Sharma wore a sherwani while Abhishek Ray donned a dhoti-kurta. They were looking like Bengali grooms. The marriage ceremonies were attended by their near and dear ones only.
In a conversation with a media house, Cheitan Sharma's gay partner Abhishek Ray stated on their wedding night that both of them were fully aware that their marriage would not get legal status and recognition in India, and they would not call themselves lawfully wedded. He said,
I like to call it a wedding ceremony. I can't call myself lawfully wedded but yes, I am wedded and Chaitanya is my husband."
In the same interview, Cheitan Sharma said the was feeling lucky and blessed after getting married to Abhishek Ray. In the same discussion, Cheitan Sharma urged all the members of the LGBTQ+ community in India to face the challenges with zeal and fight for their rights and wishes. Cheitan Sharma spoke,
I feel blessed and luckiest to have Abhishek as my husband, life partner and best friend. He is a very kind and amazing person. What else can I expect from a partner?"
In a media interview after their wedding on 3 July 2022, Cheitan Sharma and his gay partner said that finding suitable priests from the Bengali and Marwari communities was the biggest challenge faced by them during their wedding arrangements. They added that their requests were turned down by many priests; however, their family priest, who performed the rituals of their marriage, agreed at once.
Bike Collection
Cheitan Sharma owns a Bourget bike.
Facts/Trivia
When he was pursuing his college studies, he received an education scholarship for his higher studies.
According to Cheitan Sharma, he likes travelling to distant places in his leisure time. Listening to music is his favourite pastime activity.
Several renowned software ventures often invite Cheitan Sharma to deliver public lectures at various seminars and workshops based on digital marketing. He regularly attends these occasions as an orator.
Cheitan Sharma is an avid animal lover. On various social media platforms, he regularly shares pictures of his pet rabbit.
His employer, Google Operations Center in Gurugram, India honoured Cheitan Sharma with "The Star Award" in June 2022.
Chaitanya Sharma remains frequently posts his pictures and videos on various social media platforms. Over 2k people follow his Facebook account, and more than 1k people follow his Instagram handle. He is also an active Twitter user.