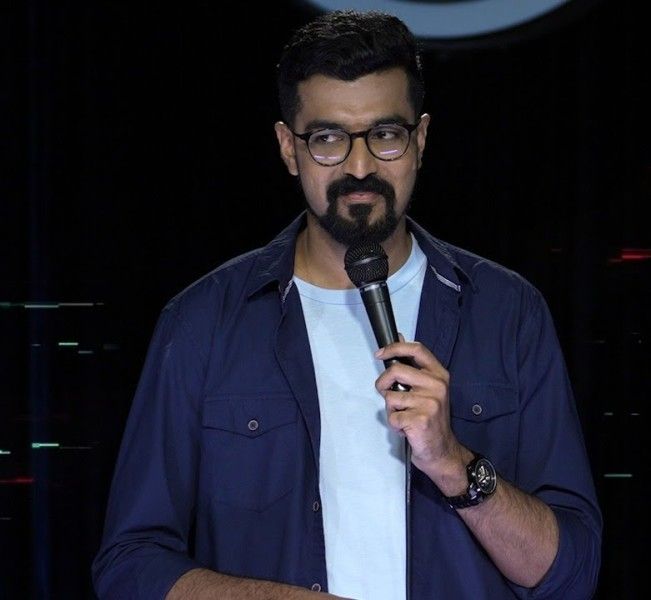 Azeem Banatwalla is a prominent Indian standup comedian and writer, who also happens to be an engineer. He is a jack of all trades and master of pun, who is known for his sharp-witted and observational comedy in the English language.
Wiki/Biography
Azeem Banatwalla was born on Thursday, 8 December 1988 (age 33 years; as of 2021) in Mumbai. His zodiac sign is Sagittarius. He did his graduation in Computer Engineering from Rajiv Gandhi Institute of Technology. [1]LinkedIn After his graduation, he turned into a writer and has worked for UTV Media as a social media manager and humorous content writer.
Physical Appearance
Height (approx.): 6′ 0"
Hair Colour: Black
Eye Colour: Black
Family
Azeem Banatwalla belongs to a Muslim family. [2]The Times of India
Parents & Siblings
Not much is known about Azeem's parents and siblings. His family includes his mother, father and elder sister, Tarannum Banatwalla. [3]Instagram – Azeem Banatwalla
Wife
Azeem Banatwalla got married to Sana Khan who is the founder of a thrift store in Mumbai, Bombay Closet Cleanse, a co-host of a podcast, Senti-Mental and a pole dancer. [4]Instagram – Sana Khan
Religion
Banatwalla belongs to the Muslim community. [5]The New Indian Express
Career
As a Comedian
Azeem Banatwalla is a social commentator and political humorist. He started his journey as a comedian, in 2011, when he won his first open mic in Mumbai.
It was at a tiny pub called Zenzi, which doesn't exist any more. That's where I got noticed, and people started allowing me to perform for a few minutes at other venues," [6]The Hindu
Following this, Banatwalla went on to become one of the most prolific standup comedians in India. He is a regular at Mumbai's Canvas Laugh Factory and has been a part of India's busiest comedy company, East India Comedy, which has a record of doing 130 shows across the country in a year. [7]Mid-Day He has two stand-up specials under his name on Amazon Prime Video. Cometh The Hour was his debut on the OTT platform.
His second stand-up special on Prime was Problems (2019), which showcased Bantwalla's faith in his performance, as he can be seen performing the entire show standing in one place. He talks about racism, Kashmir, the government, overpopulation, and stupidity in this show. Some other notable works of Azeem include My System (2017) and Between The Lines, which was his India tour in 2019 and 2021.
Banatwalla is a global star and has performed not only across India, but also across, Asia, the UK and Australia. He has quite a few international radio and TV credits to his name. He has appeared on ABC's Comedy Bites and ABC's Comedy Up Late in Australia. He featured in the MICF Roadshow across Australia and did 42 shows in 45 days. He has also done his acts in Comedy Zone Asia lineup and the Indian All-Star Showcase for the Melbourne International Comedy Festival (2018). He also got the opportunity to be the guest performer at various showcases on the Edinburgh Fringe Festival (2017). [8]East India Comedy
When asked in an interview, about the topics he chooses to deliver performances on, he replied,
I talk about things that I feel strongly about and I want to talk about. I have jokes on the left-wing and the right-wing." [9]The New Indian Express
Continuing the talk about his political humour, he said,
I keep pointing out that we're not specifically against the BJP. Similar dissent comes against anyone who abuses power. For instance, when the Congress was in power, there was a certain degree of corruption and scams. We used to talk about that too. Now with the BJP, certain things have become communal." [10]The New Indian Express
As a Writer
Azeem Banatwalla is known for his creative and well-put fashion of expressing or writing his content. Having a good command of the English language, Bantawalla has been a professional writer and has worked as a content writer and social media manager for UTV Media. He has written in almost all the genres for publications including travel, humour, lifestyle, sport, and technology. [11]Justdial Azeem has written features for various prominent publications, such as The Man, TechTree, Deccan Chronicle, Scroll, Indian Video Gamer, and The Week Magazine. Apart from this, Banatwalla has been a part of the core editorial team responsible for putting together and launching the National Geographic Traveller India, ACK Media magazine in July 2012. Presently, he is the HR of his comedy club, East India Comedy and has been the lead writer and creative director of the news comedy show EIC Outrage. Azeem has written both for sketches and branded content.
Controversies
Banatwalla recently suspended his Twitter account because of the hate comments he was receiving from some people, who were offended by some of his jokes. Speaking about the same in an interview, he said,
It has come to my attention that many people have been upset and offended by tweets I have made many years ago. For that I would like to apologise unreservedly. Many of these were before I even starting doing comedy, but that does not excuse the fact that they were not acceptable," [12]

The Asian Age
Azeem Banatwalla posted an Insta story about a comedy special that he was launching. After which he gave a clarification that the special would be heavily edited, and whoever wants to watch the uncensored version could join him in a Zoom live session and pay to view. Talking about the same, he said,


The message behind my edited special is that today in India, this is what comics have to do to get their work out. From now on, I will stick to social commentary. Religious and political discourse can affect my livelihood. I don't want anyone to say, he makes a living by making fun of Hindus. I may speak my mind as Azeem, the person, but not as the comedian." [13]Mid-Day
Recently, a fellow comedian, Munawar Faruqui, was arrested on the cause of hurting the sentiments of Hindus, in some of his performances. Azeem Banatwalla came forward and tweeted in his defence.
Facts/Trivia
Azeem's stand-up special on Amazon Prime, Problems won the Critics' Choice Best Online Special category at the DeadAnt Annual Comedy Awards.
When asked in an interview about his idols and the people he looks up to, and would he pay to watch them perform, he said,


I've paid and watched most of my idols already, like Eddie Izzard, Bill Burr, Jim Gaffigan, Ed Byrne. I'd like to watch Jim Jefferies live someday." [14]The New Indian Express
Azeem has got the opportunity to perform at the Global Citizen Festival, in front of 80,000 people just before the performance of Coldplay. [15]

The New Indian Express
Azeem is not a Biryani fan. When he was in Hyderabad for a show, he was asked in an interview if he was going to have Biryani (Hyderabad's speciality) after the show to which he replied,


Not a chance! I am not a biryani person at all. I'll be searching for a good burger, please!" [16]The New Indian Express
Azeem has confessed that he too had his share of failures in life which includes a couple of shows with no laughter for as long as half an hour. [17]

The New Indian Express