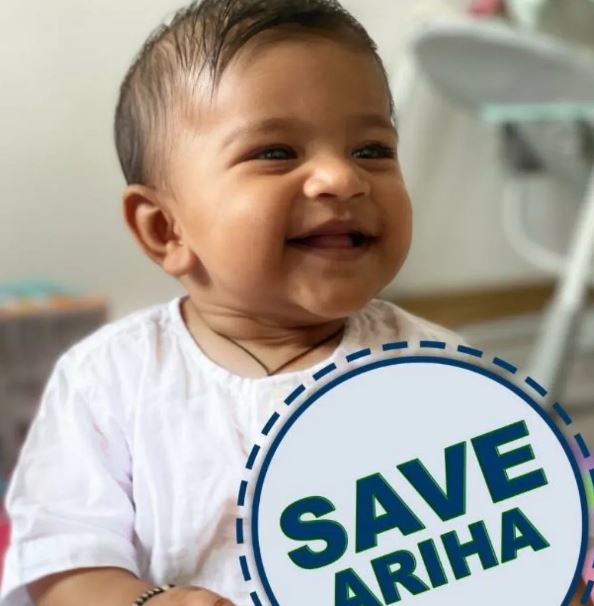 Ariha Shah is the daughter of an Indian couple who was separated from her parents on 23 September 2021 by the German authorities when she was just seven months old. She was sent to foster care in Germany by Jugendamt, German Child Services after a doctor reported a suspected sexual assault on her. [1]The Indian Express
Wiki/Biography
Ariha Shah was born in February 2021 (age 2 years; as of 2023) in Berlin, Germany. Her parents relocated from Gujarat to Berlin, Germany, in 2018.
Physical Appearance
Eye Colour: Black
Hair Colour: Black
Family
Ariha Shah belongs to a Gujarati Jain family. [2]The Indian Express
Parents & Siblings
Ariha Shah's father, Bhavesh Shah, is a software engineer. Her mother's name is Dhara Shah.
What Happened to Baby Ariha?
In September 2021, when Ariha was only seven months old, her grandparents paid a visit to see their beloved grandchild at her home. Unfortunately, while Ariha was in the care of her grandmother, an accidental injury occurred that affected her outer genital area. Alarmed by the presence of blood in Ariha's diaper, her parents promptly sought medical assistance. The doctor provided treatment and reassured Ariha's parents of her well-being. However, when Ariha was taken to the hospital for a follow-up, the doctor alerted the authorities of a suspected 'sexual assault' on Ariha by her parents. Shortly after the arrival of the Jugendamt, the German Child Services, at the hospital, Ariha was entrusted into their care, leading to the initiation of an investigation against her parents on charges of child abuse. [3]The Print
Legal Battle For Ariha's Custody
In response to the situation, the Jugendamt promptly took decisive action by placing the child in foster care, allowing her parents limited visitation rights on a biweekly basis. Simultaneously, authorities filed a child sexual abuse case against the parents, initiating an investigation. However, the charges of assault were eventually dismissed, and the parents were instead accused of negligence. Nonetheless, in February 2022, the case against the parents was closed without any formal charges pressed against them. Despite this outcome, the child was not reunited with her parents. Instead, the Jugendamt pursued a civil custody case, seeking to terminate parental rights and obtain permanent custody of the child. Her parents have since been engaged in a legal battle, fighting for custody of their child in the German courts. In 2022, a psychologist assigned by the court conducted a detailed evaluation of the parent's mental well-being. The evaluation concluded that it would be best for the child to stay with one of the parents in a special facility where the other parent can visit regularly. However, due to practical reasons such as Bhavesh's expiring visa, this arrangement was not feasible. Unfortunately, even before a court ruling was made on the matter, the Jugendamt decided to move Ariha to a facility specifically designed for children with special needs, where she currently resides. [4]The Print
Baby Ariha's Repatriation
The Ministry of Exchange is also making several efforts to bring Ariha back to India. In 2022, MEA spokesperson Arindam Bagchi made a statement which read,
We are dismayed to learn that the child was abruptly shifted away from her current foster parent to a specialised foster care arrangement … We would like to reiterate that Ariha Shah is an Indian national and her nationality and socio-cultural background is the most important determinant of where her foster care is to be provided."
He further said,
We have been requesting Germany to return the child to India. The Embassy has repeatedly requested German authorities to ensure that Ariha's connection with her cultural, religious and linguistic background is not compromised and sought consular access to the child as well as cultural immersion at the Indian Cultural Centre in Berlin,"
In an extraordinary show of collaboration between politicians from different parties, 59 Members of Parliament representing 19 political parties composed a letter together in 2023. This letter was addressed to Philipp Ackerman, the German ambassador in New Delhi, and its purpose was to request his assistance in ensuring the safe return of Ariha Shah, a baby girl who had been living in foster care in Berlin for more than 20 months. The MPs earnestly asked Ambassador Ackerman to do everything within his power to bring Ariha back to India as soon as possible. The letter read,
India can well look after her own children. We request you to consider how your country would feel if a German baby was forcibly kept with Indian foster care. The Indian government has formally asked the German government of the child's return to a Jain foster family in India under the supervision of Indian child welfare authorities."
The signatories of the joint letter include notable Members of Parliament from various political parties. Among them are Adhir Ranjan Chowdhury and Shashi Tharoor from the Congress party, Hema Malini and Maneka Gandhi from the BJP, Kanimozhi from the DMK, Supriya Sule from the NCP, Mahua Moitra from the TMC, Ram Gopal Yadav from the SP, Manoj Jha from the RJD, Sanjay Singh from the AAP, Elamaran Kareem and John Brittas from the CPM, Harsimrat Kaur Badal from the Akali Dal, Kunwar Danish Ali from the BSP, Priyanka Chaturvedi from Shiv Sena (UBT), Binoy Viswam from the CPI, and Farooq Abdullah from the National Conference.
Facts/Trivia
Although her family follows a strict vegetarian diet, Ariha was fed non-vegetarian food in foster care. [5]

The Indian Express
Ariha Shah's case bears striking similarities to the case of Sagarika Chakraborty. Back in 2011, Norwegian authorities removed her two children from her custody, alleging "inadequate parenting." The Hindi film 'Mrs. Chatterjee vs Norway' (2023), featuring Rani Mukerji, was inspired by Chakraborty's arduous battle to reunite with her children.