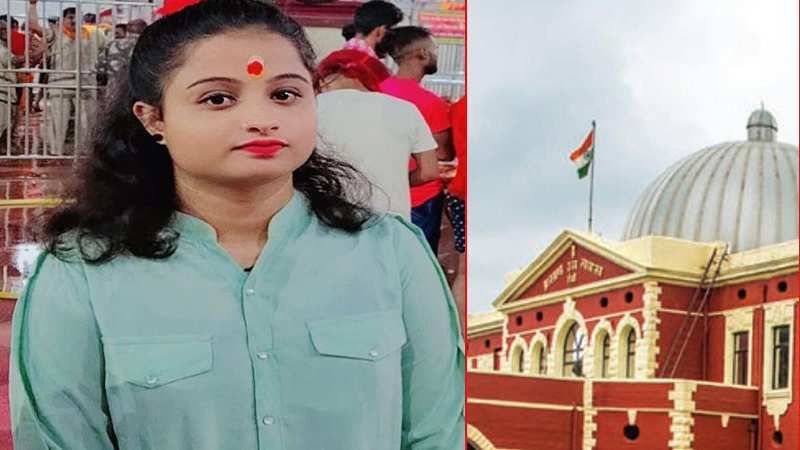 In a horrifying incident that took place in Dumka, Jharkhand, a 17-year-old girl named Ankita Kumari Singh was set ablaze by her stalker, Shahrukh Hussain, and his friend Naeem Ansari alias Chotu Khan on 23 August 2022. The girl later succumbed to her burn injuries on 28 August 2022.
The Incident
According to Ankita Kumari's father, Sanjeev Singh, Ankita was stalked by her neighbour, Sharukh Hussain, for more than a year. Reportedly, Sharukh Hussain used to follow her on the way to school and was forcing her to have a love relationship with him. Later, a night before the attack, when Ankita Kumari chastised Sharukh for harassing her, he intimidated her to face terrible consequences. Ankita immediately reported this to her father; however, since it was late at night, her father advised her to sleep and said that he would talk about this in the morning. According to Ankita Kumari's dying statement, while she was sleeping in her room at around 4 am on 23 August 2022, Sharukh Hussain along with his friend Chotu Khan threw petrol at her from the room's window and set her ablaze. When she woke up, her body was in flames as she ran up to her family members who tried to douse the fire. In Ankita Kumari's last statement, she stated,
I informed my father about Shahurukh's threats the evening before. The next day, at around 4 in the morning, he along with his friend poured petrol through the window of my room. I felt a sensation on my back and could smell burning. I opened my eyes only to see Shahrukh and his accomplice, Chotu, running away." [1]The Siasat Daily
She was admitted to Phulo Jhano Medical College, Dumka. Later, she was referred to Rajendra Institute of Medical Sciences, where she succumbed to death on 28 August 2022. In an interview with a media source, Ankita Kumari's father talked about the incident and said,
I told her that it's already late and I will go to Shahrukh's house and talk to his mother the first thing the next day. But that day never came. I will always live with the regret that I could not save her." [2]The Print
Injuries to the Victim
Soon after the news erupted about the murder of the victim, some reports claimed that she suffered 90 per cent burns on her body. Pankaj Sharma, a close friend of Ankita's father, was present at the Ranchi hospital at the time of Ankita's death. In an interview, he talked about Ankita Kumari's condition in the hospital and said,
She was talking to us. On 28 August, till about 12:30 am she was fine. Around 1:15 am she started feeling uneasy. I rushed to the ICU to call the shift doctor, who was sitting there. But he came 45 mins late." [3]The Print
Victim's Final Statement
In Ankita's dying statement in front of the magistrate, she said that she wanted the convict to be punished to death. Further, she added that she wanted the accused to have similar fate as she had. [4]APNlive.com
The Arrest of the Accused & Fast Track Trial
Soon after the terrifying incident of Ankita Kumari's murder, the accused in the case, Sharukh Hussain, was arrested by the Dumka police. Later on 30 August 2022, Sharukh's friend and the second accused in the case, Naeem Ansari alias Chotu Khan, was arrested by the Jharkhand police. In a media interview, Dumka superintendent of police Ambar Lakda said,
The accused Shahrukh has been arrested. We will apply at fast track court for a fast trial. People are cooperating with us. We appeal to people to maintain peace. The situation is under control and Section 144 has been imposed."
Failed Love-Jihad
In a media interview, Ankita's father, Sanjeev Singh, revealed that the Muslim stalker Sharukh Hussain used to stalk her and pressurised her to convert her religion to Islam. He said,
He kept on forcing my daughter to marry and convert for months. He was a one-sided lover, a stalker."
Sanjeev Singh shared that Sharukh managed to get her number from someone and started calling her. Further, Ankita's father explained an incident where Sharukh broke into his house to harass Ankita; however, the children inside the house called the neighbours for help and Shahrukh was scolded by her neibhours. Ankita's father, Sanjeev Singh quoted,
They even beat him up. But his behaviour did not change."
Reportedly, when Ankita refused to accept a love relationship with Shahrukh by saying that she wanted to focus on her career, he assured her a job in the police. Her father revealed that despite being a brilliant student, she skipped school after Sharukh started harassing her. According to sources, Ankita resided at Jaruadih Kasbah in Dumka, which has a mixed population of Hindus and Muslims. [5]OP India
Victim Ankita Kumari's age
According to Dumka's police, Ankita referred to herself as 19 years old in her dying statement.
However, according to her official documents, she was around 16 years old.
In an interview, former Chief Minister Babulal Marandi talked about this and blamed DSP Noor Mustafa for the misinterpretation. He said,
The victim was a minor but the police presented him as a major. This is not an ordinary thing, it was done by DSP Noor Mustafa to save accused Shahrukh Hussain. The victim stated about Chhotu Khan. But no action was taken. Police arrested her only when she died. The DSP who is politically well connected has a dubious track record. Few months back he helped an accused Julfikar Bhutto in SC ST Prevention of Atrocities Act."
Ankita Kumari's family
Ankita Kumari's father, Sanjeev Singh, worked as a helper in a grocery store, earning 324 Rs a day. Ankita's mother, Rekha Devi, passed away in 2021 after suffering from Cancer. Ankita Kumari had two siblings named Ishika and Mayank Singh. In a media interview, Ankita's sister talked about Ankita and said that she shared a good bond with her. She quoted,
I was her best friend after our mother's death. But I could not come to the house frequently after my marriage. There was nobody else in the house with whom she could share what she was going through. My grandparents are too old." [6]The Print
Compensation
On Tuesday, 30 August 2022, Jharkhand's Chief Minister Hemant Soren announced a compensation of Rs 10 Lakh for Ankita's family. Further, he talked to the Director General of Police and asked him to accelerate the investigation and transfer the murder case to the fast-track court. [7]India Today
Accused Smiling with Zero Regrets
On 23 August 2022, Shahrukh Hussain, the main accused in Ankita Kumari's murder was seen proudly smiling in a video and showing no remorse as he was getting arrested for committing such a horrendous murder. Soon after the video of Shahrukh smiling went viral on social media, many netizens showed their anger on social media and demanded immediate justice from the government for Ankita Kumari.
Political Altercation
Soon after Ankita Kumari's terrifying murder, various people protested on the streets against the government and police of Dumka and asked for immediate justice for the victim. Later, DSP Noor Mustafa of Dumka, who was alleged of negligence and protecting the accused Shahrukh Hussain, was suspended. In an interview, BJP legislature party chief and former Chief Minister Babulal Marandi accused Hemant Soren's government of not maintaining law and order. He quoted,
The DSP was trying to protect the accused initially as he belongs to a particular community. Action must be taken against him."
Later, Deepak Prakash, Jharkhand BJP's chief, questioned why no member from Jharkhand Mukti Morcha had yet met the family of the victim, while BJP politician Kapil Mishra assured that he would begin a crowd fundraising for Ankita's family. Priyanka Gandhi also took to Twitter to demand a speedy trial and the strictest punishment for Ankita Kumari's accused murderer.
AIMIM president Asaduddin Owaisi condemned the death of Ankita and urged a special court should be designated to try the case. He said,
I, not only condemn, but demand the Jharkhand government to deal with the case properly. If possible, a (special) court be designated there to try the case. He (accused) should get the strongest punishment as per law."