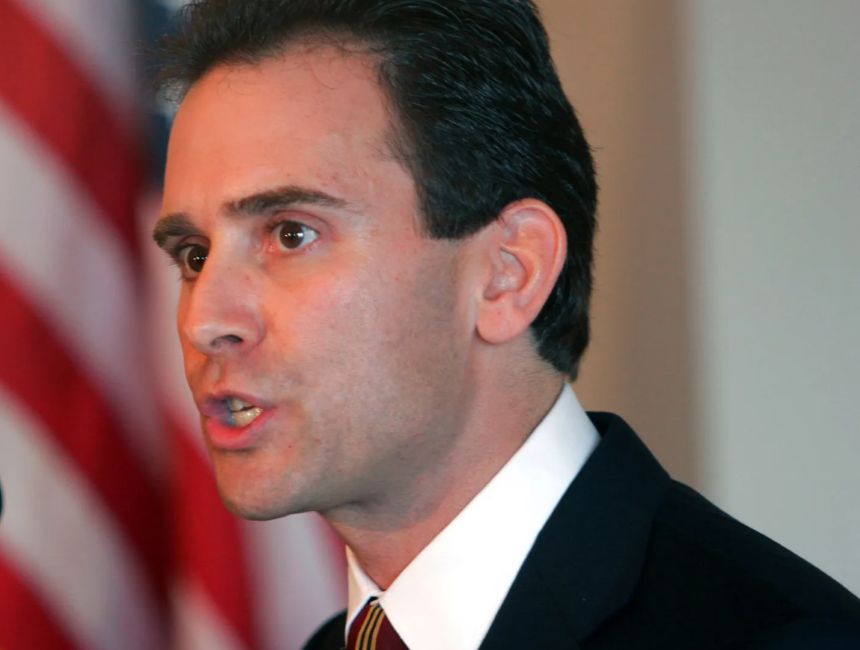 Adam Levy is an American attorney and TV show judge. He is on the bench of the TV show Tribunal Justice and helps adjudicate real cases.
Wiki/Biography
Adam Scott Levy was born in 1968 (age 55 years; as of 2023) in New York, New York State, United States of America. Adam Levy completed his law degree from Hofstra Law School in 1992. He began his legal career as an Assistant District Attorney (ADA) at the Suffolk County District Attorney's Office, prosecuting violent and non-violent offenders. He then co-founded the legal partnership, Levy & Santoro, in Carmel, NY, handling complex criminal and matrimonial matters. Adam was elected as District Attorney for Putnam County, New York where he served two terms (8 years). Additionally, along with being on the bench, he is also involved in the creation and production of the courtroom series "Tribunal Justice."
Physical Appearance
Height (approx.): 5′ 7″
Weight (approx.): 65kg
Hair Colour: Brown
Eye Colour: Brown
Family
Parents & Siblings
His father, Ronald Levy was a juvenile prosecutor in a court for young people. His mother, Judge Judith Sheindlin is a court show arbitrator (Judge Judy), television producer, author, women's advancement philanthropist, former prosecutor, and Manhattan family court judge. He has one sibling, Jamie Hartwright. He has three step-siblings from his mother's marriage to Jerry Sheindlin: Gregory Sheindlin is a lawyer, Nicole Sheindlin is a lawyer and CEO, and Jonathan Sheindlin is a retinal surgeon.
Wife & Children
Adam Levy's wife is named Lori and the two have three children together: Sarah Rose who is a Law Clerk on the show Judy Justice and is pursuing her law degree, while the other two, Jacob and Emma, are still in school.
Career
District Attorney
During his two terms as the Putnam County District Attorney, he implemented pragmatic and impactful programs to improve the fair and impartial administration of justice in the County. He prosecuted a wide range of criminal cases, including sexual assaults, political corruption, and witness intimidation matters. He also expanded the Drug Treatment Court Program, recognized for its effectiveness in helping residents overcome addiction while saving taxpayers from the expense of incarceration. He further initiated community education and forums to address social issues like bullying, cyberbullying, and drug abuse, aiming to prevent crime in future generations. Adam Levy founded the Putnam County Intelligence Committee, promoting collaboration among law enforcement agencies to fight crime more effectively within New York State and federally. Throughout it all, he dedicated time to training and mentoring young prosecutors through various legal institutes, helping them develop cross-examination and trial strategy skills as they began their legal careers.
Tribunal Justice
Adam Levy is one of the three judges on the Amazon Freevee's show "Tribunal Justice," which was created by his mother Judge Judy Sheindlin. He is also involved in the creation and production of the series. Adam uses his experience from the time he spent in court in front of several judges, and his experience as a District attorney, along with what he learnt from his mother Judge Judy, to help adjudicate the cases that come to the show.
Controversies
Alexandru Hossu Case
Adam Levy was accused of interfering in a rape case investigation involving his former personal trainer, Alexandru Hossu (deceased). Hossu was charged with raping a 13-year-old girl, and Levy publicly supported Hossu's innocence. He publicly claimed that Hossu was innocent, which raised concerns about a potential conflict of interest, as Hossu was a close friend of Levy's and his family's personal trainer. Adam Levy was accused of meddling with the case and the situation brought significant media attention due to Levy's connection to the high-profile Judge Judy and his role as District Attorney of Putnam County. However, no charges were ultimately filed against Adam Levy. [1]SheKnows
Defamation Case
In a $5 million defamation case between Putnam County District Attorney Adam Levy and Sheriff Donald Smith, a deposition revealed new details about Levy's relationship with Alexandru Hossu, his former live-in trainer. Hossu was charged but later acquitted in a child rape case. Levy admitted to being close to Hossu, letting him stay at his home, and travelling together. However, Levy denied discussing Hossu's illegal status or previous embezzlement investigation. The case's main issue was Hossu's residence during his arrest, with Levy insisting Hossu lived at Clocktower Commons, not his house. The deposition also raised suspicions about potential tip-offs during the investigation. Ultimately, Smith's previous statements were shown to be false. In 2017, the rape case concluded with the sheriff and former district attorney reaching an agreement, obliging Smith to pay $150 thousand and issue a public apology. Smith's written apology stated the following:
I know that you did not interfere with the investigation of Mr Hossu. Nor is there any evidence that you had any knowledge of Mr Hossu's immigration status or were intentionally harboring an illegal alien." [2]TheThings
Prosecutor Misconduct
A lawsuit was filed by lawyer George Galgano claiming that former District Attorney of Putnam County Adam Levy engaged in misconduct during a well-known case. Galgano accuses Levy of wiretapping his communications with clients and prosecuting him without any solid evidence, despite being told otherwise by a top prosecutor in Levy's own office. According to the lawsuit, Galgano believes that he became a target for Levy because he was vigorously defending someone who supported Putnam Sheriff Don Smith, a rival of Levy. Furthermore, Galgano had been investigating potential misconduct in Levy's office and was in contact with state police and the U.S. Attorney's Office. Galgano sued for malicious prosecution, unlawful seizure of communications and failure to intercede, alleging the defendants, which include Adam Levy, knew there were false statements in affidavits in the case, but proceeded anyway. The case has since been dismissed, and few claims were "dismissed with prejudice". [3]Lohud
Levy Alleges DiFiore Misconduct
Adam Levy filed a complaint against New York State Chief Judge Janet DiFiore, asking to remove her from the legal profession. DiFiore recently said she would step down from her role on August 31, 2022, after serving six years out of a 14-year term. Levy claims that DiFiore broke the rules of her job based on new information. In his complaint dated August 9, 2022, Levy says that recorded phone calls, emails, and other documents reveal that DiFiore protected her fundraising co-chair, George Galgano, from facing criminal charges, even though there was evidence suggesting he committed serious crimes. Levy accuses DiFiore, while she was the Westchester County District Attorney, of not prosecuting Galgano for trying to influence a juror illegally, despite Levy giving evidence of this crime. Galgano was caught on tape attempting to sway a juror's decision in a case. Levy also claims that DiFiore ignored evidence of Galgano being involved in drug possession charges. Levy believes that DiFiore's relationship with Galgano, who was her fundraising co-chair, influenced her decisions. Levy argues that DiFiore's actions were an abuse of power, violated her duty as a judge, and went against the rules of being a professional in the legal field. He wants DiFiore to face consequences and be removed from practising law. DiFiore's early resignation came after it was revealed that a complaint was made against her by Dennis Quirk, the President of the New York State Court Officers Association Union. The status of Levy's complaint remains undisclosed due to confidentiality matters. [4]Lohud
Awards, Honours, Achievements
Adam Levy received the 2013 Public Justice Foundation Outstanding Alumnus Award at the annual 'In Honor of Justice' alumni reception on January 30, 2013, in New York City. [5]

Hofstra Law News
Facts/Trivia
Adam Levy enjoys various sports like skiing, scuba diving, and white water rafting. He also enjoys spending time with his family. [6]

Amazon Studios
Adam Levy says that he looks and acts a lot like his mother, Judge Judy Sheindlin, on his show "Tribunal Justice." He learned a great deal from her, and he can't help but imitate her expressions because it's in his DNA. [7]

Daily Express US