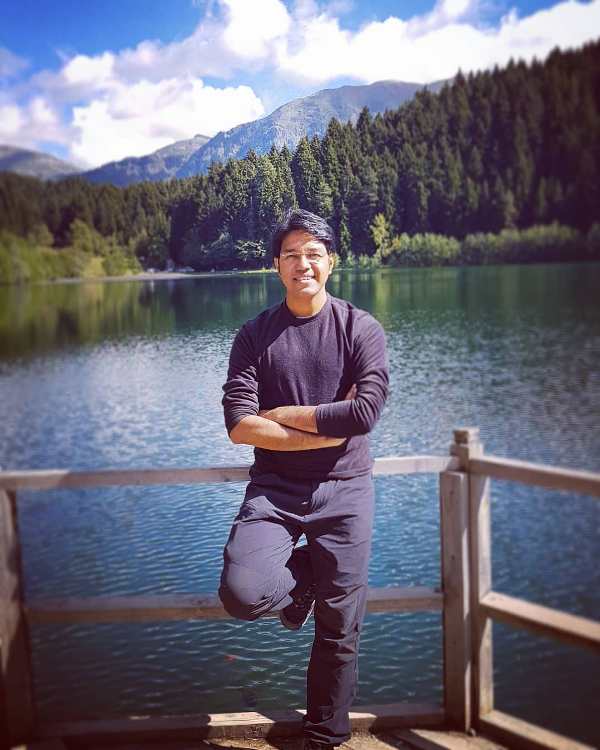 Varun Vagish is an Indian solo traveller who is known for his travel vlogs. He is known to popularise the concept of hitchhiking and couchsurfing through his travel vlogs.
Wiki/Bio
Varun Vagish aka MountainTrekker was born on Tuesday, 29 March 1983 (age 39 years; as of 2022) in Delhi, India. His zodiac sign is Aries. As his parents were government employees, he spent his childhood across several cities which include Narora, Tarapur, Mumbai, Hyderabad, Rawatbhata, and Asansol. He did his schooling at Atomic Energy Central School, Tarapur. He pursued a bachelor's degree in Communication and Journalism related programs at Delhi University from 2000 to 2003. From 2003 to 2004, he pursued a PG Diploma in Mass Communication/Media Studies at the Indian Institute of Mass Communication, Delhi. In 2012, he earned a PhD in Mass Communication from MD University, Rohtak, Haryana. He has also worked as a journalist and newsreader at All India Radio (AIR), academician, and PR professional. In an interview, he talked about his love for travel and said, 
A major part of my childhood was spent in Maharashtra. It is funny that as a kid, I used to hate maths. So, my mom, who was a teacher, asked one of her colleagues to give me tuitions, so that I get to learn better.  I used to make excuses that madam is unwell today, bunk tuitions and wander off. That time I was in Maharashtra in a place called Tarapur (India's first Atomic Power station) and the Sahyadris (Western Ghats) was nearby. So with my bicycle, I used to go off to the hills alone, for 2-3 hours. That's quite a memorable experience of my childhood days. And the love for the mountains was something I grew from a very tender age." [1] The HotFridayTalks
Physical Appearance
Height (approx.): 5′ 8″
Hair Colour: Black
Eye Colour: Black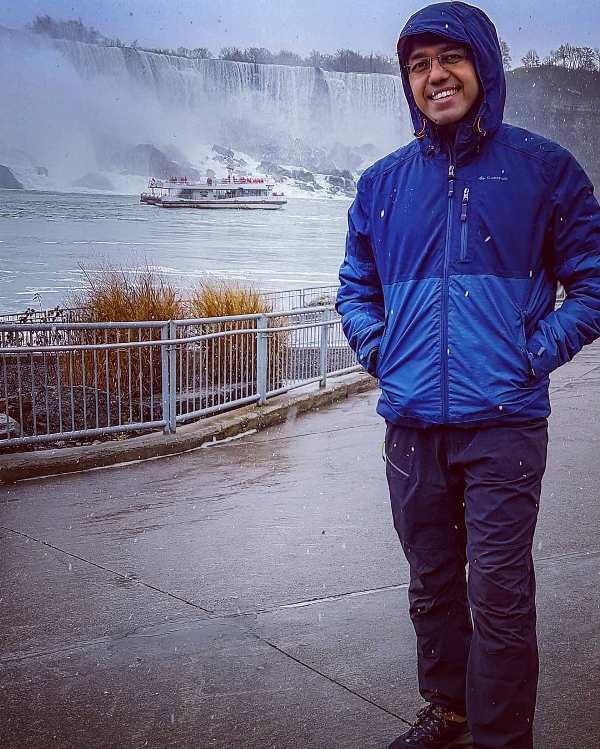 Family
He belongs to an OBC Hindu family. [2]Coal India
Parents & Siblings
His father was a government employee, and his mother was a teacher.
Wife 
He is unmarried.
Travel Vlogger
He has travelled to more than 25 countries and has received more than 200 million views on his videos of travel on his YouTube channel, Mountain Trekker. He has travelled and popularised the concept of Hitchhiking and Couchsurfing among Indian people while travelling. In an interview, Varun talked about his travel and said that it was a trip to Shimla on a motorbike when his boss gave him a leave for one day while he was working as a journalist; he stayed for a couple of hours in a gurdwara in Shimla, and then, he came back to his home.  [3]Navbharat Times According to Varun, he was so thrilled by this trip that he decided to become a travel vlogger. In an interview, when he was asked whether his parents gave their consent to his decision to become a travel vlogger, Varun replied,
No, both myself and my parents were confident that it was a good choice and that I will do well in it. I was getting a chance to chase my dream and my parents supported me in this. They had seen how difficult it was for me to manage a job with my traveling and blogging and felt I should devote all my time and energies to something I loved doing. Besides I had already started getting a good response to my work, which included the Government of India award for promotion of Tourism, and they felt I was on the right path."
Following his parents consent to become a travel vlogger, Varun created a YouTube channel where he started posting videos related to his travels. In an interview, he mentioned his Himalayan adventure in 2007, which is very close to his heart. He said,
I can't forget the bus ride, which was my first chance of travelling on a bus roof while coming back from Hemis Gompa. Can't forget the first sip of the local salty butter tea with a slice of local traditional bread made up of yeast and cereals. The vast plains near River Indus, the climb of Khardung la and the best part – my two-days long return journey in HRTC bus from Leh to Manali, which passed through the world's most amazing landscapes. This was Ladakh to me in June 2001. It was almost a virgin. Unlike today, there were a few shops in the main Leh market and very few vehicles. That was my first trip to Ladakh and will always be close to my heart."
Soon, his videos became popular, making him one of the most popular travel vloggers in India. Reportedly, the reason behind the popularity of his travel videos is that through his videos, he explains his strategy to manage funds while travelling. In an interview, he talked about these strategies and said,
The basic thing that I always believe and say to people is, when you are traveling, it is not about the money, but about the risk you are taking, about the courage. Another major thing is trust. You have to learn to trust people if you wish to enjoy your travel. If you wish to go hitchhiking, you have to trust people when you ask them for lift or wish to stay over at a stranger's place. Even I had issues initially, but once I started believing in people I got to know how beautiful it feels. The world is not as bad as we assume it to be, after watching news channels and shows which portray negativity."
According to Varun, the idea of budget travel came to him through an Australian traveller who Varun hosted in Delhi in 2004-05. In an interview, he talked about this and said,
I had once hosted a person from Australia, whom I had hosted in Delhi, in 2004 or 2005. We had become good friends and I got to learn a lot from him. I asked him how he managed to travel so much with limited funds. A great advice that I got from him is, when you wish to travel with less funds, you need to keep your necessities and wants limited too. You should be prepared to use public transport, you have to curb luxuriousness and lead a simple life if you wish to make the most of your travel. Secondly, you can put the internet to use to earn your expenses, you can opt for freelance jobs and whatever skills you are good at, you can put that to use. There is a plethora of opportunities to earn money online; all you need is an internet connection and a laptop. You can run a blog, create a YouTube channel or even make a website and monetize them to earn money."
Later, through his travel vlogs, he introduced people to a new and exciting aspect of travelling on limited funds, known as Volunteering. In an interview, he talked about this and said,
Another great option is volunteering, which is not yet very popular in India. It's a concept, where you volunteer your services and in return, you get free accommodation and food, instead of being paid for your service. I have recently uploaded a video of a girl whom I met in Turkey, and she shares her experience about how she travels the world without spending money, as she volunteers her services in return of the basic needs."
Facts
Varun has received a National Award in 2006 from the Government of India for the promotion of Tourism.
He has more than 1 million subscribers on his YouTube channel.
Before becoming a travel vlogger, Varun worked as Deputy Manager – PR of Eastern Coalfields Ltd.
Dr. Varun Vagish, Dy. Manager – PR of Eastern Coalfields Ltd is making waves on YouTube. An avid traveler, he runs a YouTube channel 'Mountain Trekker' in Hindi & has over 3 lakh subscribers with 28 million views.Doordarshan rates him as one of the of the best You Tubers in India pic.twitter.com/BUZedl3Tmt

— Coal India Limited (@CoalIndiaHQ) July 26, 2018