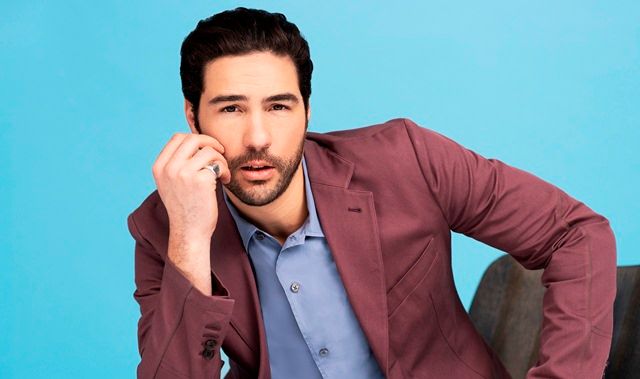 Tahar Rahim is an Algerian-French actor. He is known for his roles in the French film 'A Prophet' (2009) and British-American film 'The Mauritanian' (2021).
Wiki/Biography
Tahar Rahim was born on Saturday, July 4, 1981 (age 40 years; as of 2021), in Belfort, Bourgogne-Franche-Comté region, France. His zodiac sign is Cancer.
He earned his baccalauréat from Lycée Condorcet, Belfort (also known as General And Technological High School Condorcet De Belfort). In 2000, he enrolled himself at a sports college in Strasbourg, with his specialization in swimming, but after suffering ennui for a year, he quit the course. Following this, he enrolled himself in a computer science course at a college in Marseille but dropped out in two months. He then decided to pursue his passion for acting and began studying film at the Paul Valéry University in Montpellier, France. [1]MensXP In 2005, he moved to Paris and studied drama at Laboratoire De L'acteur-Hélène Zidi. [2]Madame Le Figaro At the same time, to make his ends meet, he worked at a factory during the week and a nightclub at weekends in Paris.
Physical Appearance
Height (approx.): 5′ 8″
Eye Color: Brown
Hair Color: Black
Family & Ethnicity
He belongs to an immigrant family of Oran, Algeria. [3]Vanity Fair
Parents & Siblings
His father was a teacher in Algeria and after his family shifted to France, his father became a worker. He has nine siblings. One of his brothers is named Ahmed Rahim.
Wife & Children
He is married to the French-Algerian actress Leïla Bekhti, who he met on the sets of 'A Prophet.' Together, the couple has a son named Souleymane (born in July 2017) and a daughter (born in February 2020).
Career
Films
In September 2006, Tahar made his film debut with the American film 'The 9/11 Commission Report' in which he appeared as a 'Taliban interrogator.'
In 2007, he made his French film debut with the Horror film 'Inside' as 'a policeman.'
In 2009, he got his breakthrough when he appeared in the lead role of 'Malik El-Djebena' in the French prison crime film 'A Prophet.'
He then appeared in lead roles in the French films Les Hommes libres (2011), The Informant (2013), The Anarchists (2015), The Price of Success (2017), and Treat Me Like Fire (2018). In 2011, he appeared in the US-UK historical drama film 'The Eagle' in which he appeared in the main role of 'Prince of the Seal People.'
The same year, he appeared in the French-Chinese film 'Love and Bruises' in the lead role of 'Mathieu.'
He appeared in a variety of French-Belgian co-produced films such as Our Children (2012), Le Père Noël (2014), Daguerrotype (also Japanese; 2016), and Heal the Living (2016). Apart from these, he appeared in several internationally co-produced films like The Past (2013), The Cut (2014), Mary Magdalene (2018), and The Kindness of Strangers (2019). In 2021, he appeared in the American-British legal film 'The Mauritanian' as 'Mohamedou Ould Slahi,' a US government captive who is languished in the Guantanamo Bay detention camp without charge or trial for fourteen years. He was appreciated for his portrayal of a real-life character. In an interview, talking about his preparation for the role, he said,
It was tough. I did my homework, I read his book, I listened to audio about him and watched videos to understand his psychology but at a certain point there's something that you cannot know without experiencing it physically, so to reach those dark places I needed some realistic conditions physically to just taste it. My job is to make it bigger, to magnify it, for example I wanted the team to shackle me with real shackles, not fake ones, so I could feel what Mohamedou has been through. The bruises I got, I kept them for weeks and I got shackled for real for only two days. For the torture scenes, one thing they would do was throw their detainee in a very cold cell so I asked the team to make it as cold as possible and spray me with water so I could feel what's the real state physically and I got waterboarded for real, we had a sign in case. I also did a drastic diet, I lost 10-12kg within three weeks."
TV Series
In 2007, he made his television debut with the French series 'La Commune' as 'Yazid Fikry.'
He then appeared in the French TV series 'Bref.' (2012). In 2016, he appeared in the lead role of 'Khalil Rachedi' in the French-British TV series 'The Last Panthers.'
He made his American TV series debut with 'The Looming Tower' (2018) as 'Ali Soufan.'
In 2021, he appeared in the British TV series 'The Serpent,' which was co-produced by BBC One and Netflix. In the series, he appeared in the title role of Charles Sobhraj, also known as The Serpent. Talking about his attraction towards playing Charles Sobhraj in The Serpent, Tahar said that he read 'The Life and Times of Charles Sobhraj' by Richard Neville and Julie Clarke, a book he bumped into when he was fourteen. Each time he read the book, he felt like it was a movie and wanted to play the character. He added,
In 2001 or so William Friedkin was prepping a movie about him with Benicio del Toro so I forgot about that and then I got an email 20 years later saying yep you got that offer, so it's a bit different. But apart from him, it's fascination and repulsion that are generally not conceivable that become automatically attractive to try and challenge yourself."
Religion/Religious Views
He is a Muslim by faith. [4]Vanity Fair
Awards & Achievements
European Film Award for Best Actor for 'A Prophet' in 2009
Lumières Award for Best Actor for 'A Prophet' in 2010
Globe de Cristal Awards for Best Actor for 'A Prophet' in 2010
César Awards for Best Actor and Most Promising Actor for 'A Prophet' in 2010
Dublin Film Critics Circle Award for Best Actor for 'A Prophet' in 2010
Prix Patrick Dewaere in 2010
Étoiles d'Or, France for Best Male Newcomer (Révélation masculin) for 'A Prophet' in 2010
CinEuphoria Awards for Best Actor – International Competition for 'A Prophet' in 2011
Officier de l'ordre des Arts et des Lettres in 2017
Favorite Things
Food: Algerian Kefta, Roga, Harsha, Kahel, Taham, Felfela
Film(s): Scarecrow (1973), Blow Out (1981), Taxi Driver (1976), Raging Bull (1980), Pusher series, The Exorcist series, Old Boy (2003), Memories of Murder (2003)
TV Series: The Sopranos (1999), The Wire (2002), Breaking Bad (2008), Peaky Blinders (2013), Mindhunter (2017), Chernobyl (2019)
American Filmmaker(s): Jerry Schatzberg, Martin Scorsese, Francis Ford Coppola, Brian De Palma, Paul Thomas Anderson, James Gray, Courtney Hunt, Gaspard Noé, Ken Loach, Wim Wenders, Nicholas Winding Refn, William Friedkin
French Filmmaker(s): Julien Duvivier, Marcel Carné, Jean Grémillon
Mexican Filmmaker: Alejandro González Iñárritu
Actor(s): Robert De Niro, Xavier Beauvois, Paul Meurisse, Lino Ventura, Mark Strong
Singer(s): Umm Kulthum, Édith Piaf, Cheikha Rimitti
Song(s): Do You Wanna Funk by Patrick Cowley and Sylvester, Dear Mama by Tupac Shakur
Band(s): Daft Punk, Queen
Travel Destination(s): India, Thailand
Facts/Trivia
He likes traveling in his spare time. In his teens, he even decided that if he would not become an actor, he would travel the world to find another profession for himself. Talking about traveling in an interview, he said,


I love traveling because I'm a big fan of the culture of others. I think it makes you a richer person inside of yourself – it feeds you as a human being. It's always good to discover new people, new cultures, new music, new movies."
When he was a teenager, he liked drawing and was good at it. He was a fan of Japanese animation and would draw his heroes. At some point, he began selling his drawings. At around sixteen, he quit drawing, and during the COVID pandemic in France, he got back to drawing again. Talking about it in an interview, he said,


I feel good. It's another way to escape from reality, like movies. I love to draw with my son, who's three years old, so that's what we do together. I needed an activity to keep myself busy, so I started to teach him how to draw. My son likes comic book characters, so I draw them for him, but I like to draw faces. I can't draw from memory, so when I'm alone, I take a picture of a friend or a family member – a face that I like – and I draw it. It feels good to be doing it, especially in a moment like this."
As a teen, he was interested in cinema and how it worked. In his teens, he would visit theatres four times a week and watch three films in a row until he got a headache.
In October 2005, the French documentary by Cyril Mennegun titled 'Tahar l'etudiant' was released; the documentary chronicles the journey of Tahar as a student at Paul Valéry University.

Tahar has also done theater. In 2007-2008, he played the blind character named 'Benjamin' in the play 'Libres sont les papillons' at Côté Court Theater, 11th arrondissement of Paris. The play was directed by Hélène Zidi-Chéruy and written by Leonard Gershe.
He was selected to be on the jury for the Un Certain Regard section of the 2015 Cannes Film Festival.
He has appeared on the covers of magazines like Glass Magazine, Paris Match, Flaunt, British GQ, Apollo, Vanity Fair, Le Parisien, and Vogue.
In an interview, he said that if ever got a chance to play a middle east hero, he would play 'Emir Abdelkader,' an Algerian religious and military leader who led a struggle against the French colonial invasion in the mid-19th century.
He likes learning new languages and mastering them. Apart from French, he knows English, Arabic, and Spanish.
Tahar is a sports fanatic, and as a teen, he played sports like football, boxing, and swimming.