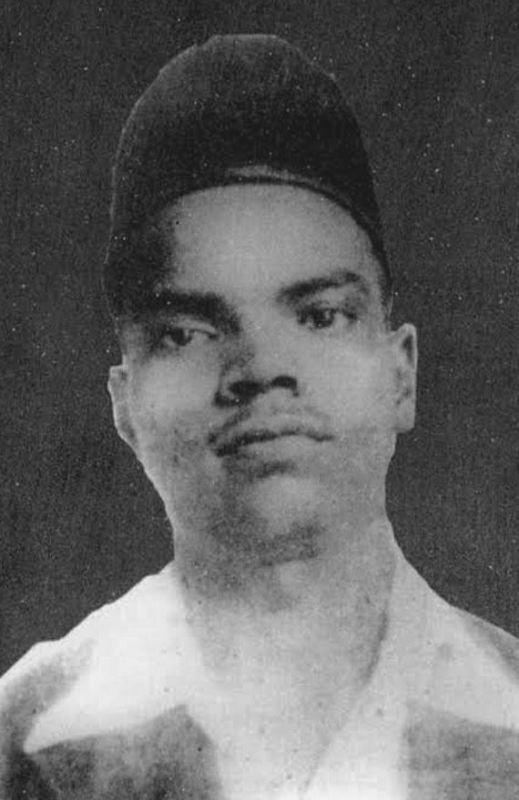 Shivaram Rajguru was an Indian freedom fighter. On 23 March 1931, he was hanged to death along with his companions Bhagat Singh and Sukhdev Thapar in the assassination of the British police officer John P Saunders and took revenge for the death of Lala Lajpat Rai who was known as the Lion of Punjab. Shivaram Rajguru actively participated in the revolutionaries activities conducted by the Hindustan Socialist Republican Association (HSRA) organisation during India's struggle for freedom.
Wiki/Biography
Shivaram Rajguru was born as Hari Shivaram Rajguru on Monday, 24 August 1908 (age 22 years; at the time of death) in Khed, Bombay Presidency, British India (present-day Maharashtra, India). [1]Free Press Journal His zodiac sign was Virgo. Rajguru earned his school education at New English High School in Pune. [2]RAJGURU – The Invincible Revolutionary He then went to the Sanskrit Mahavidyalaya for higher studies, when he was fifteen years old. [3]Times Now
Physical Appearance
Hair Colour: Black
Eye Colour: Black
Family
Parents & Siblings
Shivaram Rajguru's father's name is Hari Narayana, and his mother's name is Parvati Bai. Shivaram Rajguru had an elder brother named Dinkar.
Wife & Children
He was not married.
Caste
He belonged to the Deshastha Brahmin community of Maharashtra, India. [4]Zee News
Revolutionary Activities
Shivaram Rajguru started participating in Indian independence movements at a very young age. Initially, he became a member of Seva Dal and actively attended the training camp organised by Dr N. S. Hardikar at Ghatprabha. Dr N. S. Hardikar was the founder of Seva Dal and was a prominent politician and freedom fighter of India. When Shivaram Rajguru was sixteen years old, he became an active member of the Hindustan Socialist Republican Association (HSRA). Shivaram Rajguru was affectionately called Raghunath by the other members of HSRA. He was designated as the gunman of HSRA as he was a prominent shooter. Shivaram Rajguru, Bhagat Singh, and Sukhdev Thapar killed British officer J. P. Saunders in December 1928, and to accomplish this murder, they were assisted by Chandra Shekhar Azad.
Court Trials
Later, Shivaram Rajguru, Bhagat Singh, and Sukhdev Thapar were arrested by the British authorities. In their statements to the court, they said that they killed J P Saunders to take revenge for the death of Lala Lajpat Rai, who was killed during the police lathi charge at a protest against Simon Commission. In the courtroom, during their trials, Shivaram Rajguru was often seen teasing the British judge deliberately by answering his questions in Sanskrit, and the judge was often spotted shouting at Shivaram's answers. Bhagat Singh was told by Shivaram Rajguru to translate his answers to the judge in English.
Death
On 23 March 1931, Shivaram Rajguru, Bhagat Singh, and Sukhdev Thapar were hanged to death by the British authorities. Their hanging was scheduled on 24 March 1931, but to avoid public gatherings and protests, the trio were hanged a day before. [5]The Times of India
Legacy
The hometown of Shivaram Rajguru Khed in Maharashtra was named Rajgurunagar by the government of India to honour his patriotism and life sacrifice for the freedom of India.
An Indian author named Anil Verma published a book titled 'Ajeya Krantikari Rajguru' on Shivaram Rajguru's birth centenary on 24 August 2008.
'Rajguru Wada' the ancestral home of Shivaram Rajguru was announced as a memorial of Shivaram Rajguru by the government of India and was opened to the public to visit as a tourist place which is located on the Pune-Nashik Road at the banks of the Bhima river.
The Hutatma Rajguru Samarak Samiti (HRSS) has been unfurling the Indian flag at Rajguru Wada every year since 2004 on Republic day.
At Vasundhara Enclave Delhi, 'Shaheed Rajguru College of Applied Science for women,' a college was named after him to honour his sacrifices for the independence of India. This college works under the University of Delhi.
A postal stamp was issued by the government of India in 2013 with a picture of Shivaram Rajguru to pay tribute to his patriotism.
Facts/Trivia
The elder brother of Shivaram Rajguru, Dinkar, held the responsibility of the whole family when their father died when Shivaram was six years old. He received his initial school education at the local schools of Khed. He then pursued his higher education at New English High School in Pune.
Once, Shivaram failed in his English examination. He was mocked by his elder brother, Dinkar, in front of his new wife. Dinkar told him to read the English lesson loudly. Consequently, Shivaram felted insulted and abandoned his home with 11 paise in his pocket.
Shivaram Rajguru was fifteen when he left his home. Soon after leaving his home, he walked on foot to Varanasi for six days. In Varanasi, he continued his further education at Sanskrit Mahavidyalaya.
Lokmanya Tilak and his revolutionary ideas inspired Shivaram Rajguru to participate in the Indian independence movements. Shivaram Rajguru was a scholar of various Indian scriptures.
Soon after the assassination of J. P. Saunders, Shivaram Rajguru, along with his companions were planning the killing of the governor, but, he was arrested before the execution of the plan.
After the assassination of J P Saunders, Bhagat Singh and Shivaram Rajguru were trying to escape the police arrest and wanted to leave Lahore to Howrah. Sukhdev Thapar assisted them to escape and requested help from the wife of Bhagwati Charan Vohra named Durga Devi Vohra. Durga Devi and Bhagat Singh pretended to be husband and wife while Shivaram Rajguru pretended to be their servant while travelling through the train, and Bhagat Singh shaved his beard and cut his hair very short and dressed like an English man. The trio escaped the police arrest and Shivaram Rajguru fled to Benaras, and Bhagat Singh escaped to Howrah.