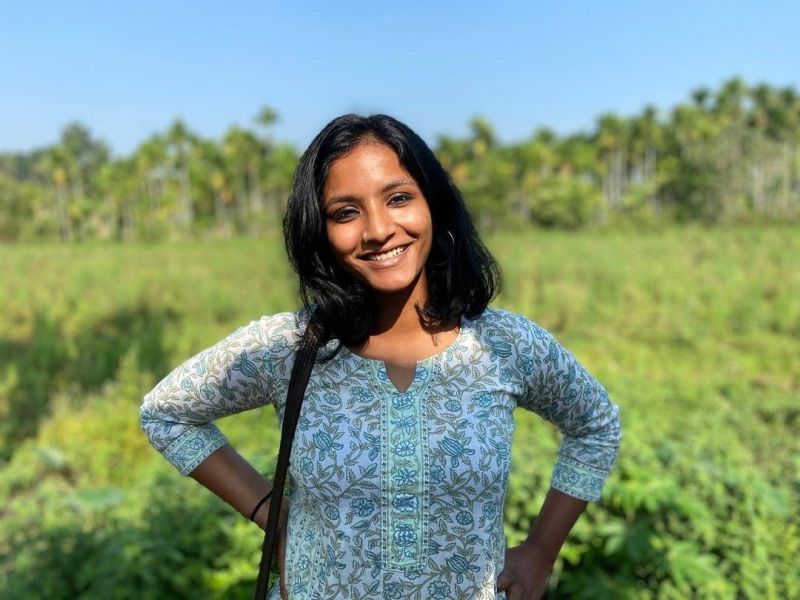 Nidhi Suresh is an Indian journalist at 'Newslaundry,' an Indian media company which provides news of corporate and government interests from different parts of the country. Nidhi focuses on gender inequality, crimes, human rights and conflict, and political issues in the North Indian states of Delhi and Uttar Pradesh.
Wiki/Biography
Nidhi Suresh was born on Tuesday, 7 February 1995 (age 27 years; as of 2022) in India. She studied at St. Francis High School [1]Nidhi Suresh – Facebook in Kerala. [2]Newslaundry – YouTube
In 2013, Nidhi pursued a diploma in Movement Arts and Mixed Media, Dance at Attakkalari Centre for Movement Arts, Bengaluru, Karnataka. [3]Nidhi Suresh – LinkedIn
Later, she pursued a Bachelor of Arts degree (2014-2017) in Communication and Media Studies at Mount Carmel College, Bengaluru. [4]Nidhi Suresh – LinkedIn She earned a master's degree (2018-2019) with an 8.6 grade in Conflict Studies and Human rights from Utrecht University, a public research university in Utrecht, Netherlands. [5]Nidhi Suresh – LinkedIn While pursuing her master's degree, she worked on a thesis titled "(Re)Imagining Azadi — How do young Kashmiri Muslim women in Srinagar discursively articulate their idea of Azadi (freedom) in the period after Burhan Wani's killing in 2016?" [6]International News Media Association She does not belong to a journalism background but still opted for this career with the thought of becoming a conflict correspondent or a reporter of geopolitical conflicts. [7]Newslaundry According to Nidhi, she didn't think of being a journalist before her graduation. In an interview, she talked about this and said,
I always wanted to write and to tell stories, but I had never really thought of journalism as a career until I was in my final year of college. I think the biggest challenge for me is to ensure that I keep my sense of outrage intact. As a young journalist, I've often been advised by seniors that to survive in this profession, it is important to grow "thick skin", to become a little desensitized and removed. Although I believe the day I become desensitised is the day I must simply stop reporting. I find it that to tell a sensitive story, it is most important to first be a sensitive person. But to wake up and ensure to be outraged but not merely in rage, is a constant challenge." [8]Nidhi Suresh – Instagram
Physical Appearance
Height (approx.): 5′ 6″
Hair Colour: Black
Eye Colour: Dark Brown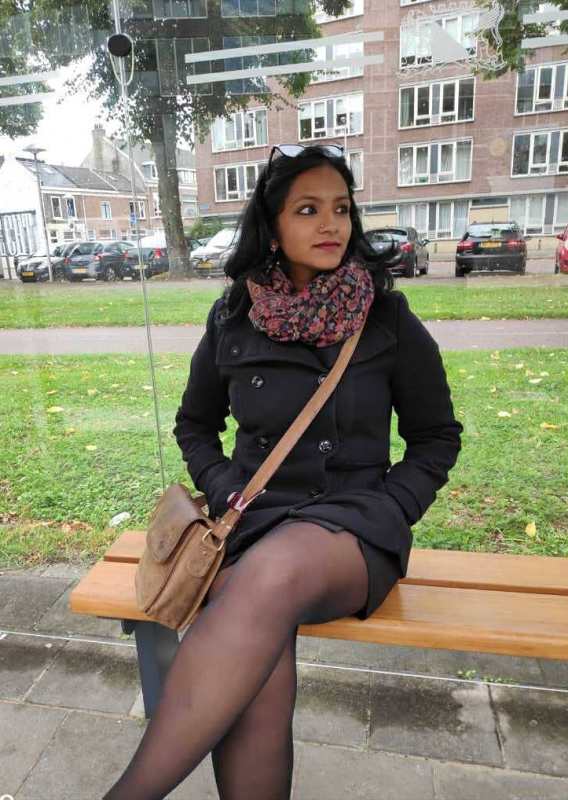 Family
Nidhi Suresh belongs to a Malayalee family in Kerala. [9]Newlaundry – YouTube
Parents & Siblings
Nidhi's father's name is Suresh Bhaskaran. He is the Managing Director at Kostal Group. Her mother's name is Sandhya Suresh. [10]Sandhya Suresh – Facebook
Religion
Nidhi Suresh follows Hinduism. [11]Newslaundry – YouTube
Career
Journalism
In 2017, she went to Kashmir where she worked for the first time as a reporter [12]Newslaundry for three months with a local newspaper 'Kashmir Observer' which provides news about Kashmir. [13]Nidhi Suresh – LinkedIn In May 2017, she shifted to 'Newslaundry,' an independent news media company in India where she worked as a Kashmir Correspondent to cover militancy, military, securitization, policy, and gender-related issues in Srinagar, Jammu and Kashmir. [14]Nidhi Suresh – LinkedIn According to Nidhi, while working at Newslaundry, she decided to pursue her master's degree and took a break. [15]Newslaundry In May 2019, she joined 'Quill Foundation' in New Delhi, where she worked for a year; Quill Foundation is an organisation which is engaged in work with a focus on social issues like injustice, inequality, and human rights violation. In August 2020, Nidhi rejoined 'Newslaundry' in New Delhi and worked as a news reporter. [16]Nidhi Suresh – LinkedIn
Kashmir
One of the prime interviews by Nidhi Suresh from Kashmir was that of Tabassum Guru, the wife of the Indian Parliament attack convict Afzal Guru who was handed three life sentences and a double death sentence for his involvement as one of the minds behind the attack. According to Tabassum, it was difficult for her to accept the loss and grief of her husband just like any other woman who had lost her partner. She didn't disprove the fact of Afzal's involvement in the attack which she suspected but didn't try to confront and stop him. Tabassum said,
I won't lie. I suspected, but I never checked, asked or stopped him." [17]Newslaundry
Hathras case
In 2020, she covered the Hathras case, a case about the gang rape of a 19-year-old Dalit woman by four upper-caste men in the Chanda village in Hathras, Uttar Pradesh. The incident took place on 14 September 2020. Nidhi referred to the victim as Asha in the reports; Asha died on 29 September 2020. The accused Sandeep Thakur, Ravi Thakur, Ramu Thakur, and Luvkush Thakur were arrested by the officials. Nidhi followed up on this case for months to analyse the current situation of the victim's family in Hathras and get an update on the case. While talking about the incident, Asha's mother said,
I don't go that side anymore unless I am asked to reconstruct the day of her rape." [18]Newslaundry
Farmers' Protest
Nidhi Suresh actively covered the farmers' protest at the Tikri border and Singhu border, which triggered the violence at the Red Fort by a group of farmers from Punjab and Haryana. The protest was against the three farm bills passed by the Indian Parliament in 2020; the protest started on 9 February 2020 and continued till 11 December 2021. She extensively covered the protest and wrote many reports on it. Nidhi shared her experience of capturing the details of the protest at the borders on social media. Nidhi disclosed many things from the lens of the media which she later shared on social media. In an interview, she talked about the importance of media in highlighting the issues of farmers during the protest. She said,
It was also during the farmer protests that we realised the importance of the media beat." [19]Newslaundry
Reportedly, Nidhi Suresh was obstructed by the police officials, a video of which went viral; the incident was opposed by the Coalition For Women In Journalism (CFWIJ), an organisation which supports female journalists around the globe. [20]Coalition For Women In Journalism
India's Rape Scandal
Nidhi Suresh has been one of the investigators of a documentary by Ramita Navai, an award-winning British Iranian investigative journalist, documentary maker, and author who has investigated large numbers of stories about sexual violence around the world. The documentary turns every chapter of covered-up rape cases involving personalities in power. The documentary covers the stories of two teenage girls, Jaya, who was raped by a positioned member of the BJP Kuldeep Singh Sengar, and Manisha, a 19-year-old girl from Uttar Pradesh, India who died in a hospital a week after the gang rape and her parents refused to attend her cremation. The cases are known as the 'Unnao rape case' and 'Hathras case' respectively. In 2021, in an interview, Ramita Navai shared her thoughts about the escalation of sexual offences after she had a word with some journalists in India about the censoring of rape cases in the country by the government. She said,
I spoke to so many journalists who have been threatened over covering stories about rape. This is where it gets interesting: why would the government want to censor rape stories? The number of rapes under Modi's rule have actually increased since his pledge – that's why they try to shut down these stories before they become public." [21]Stylist
In 2021, in an interview, Ramita expressed the aim of making this documentary and refer to it as a documentary with a perspective of bringing change in the system and justice to the victims. She said,
It's about the systemic coverup in this country. I want people to want serious change and to scrutinise after watching it. People need to be angry, shout about it and get justice for these women." [22]Stylist
The documentary was nominated for a Rose d'Or Award and titled one of the top 10 television programmes of 2021 by 'The Observer,' a Sunday newspaper which is published in Britain. [23]Stylist
Intern
Nidhi Suresh has been an arts and culture intern at Dharamshala International Film Festival (2016) and Lokhit Pashu – Palak Sansthan (2015). She has been associated with an Indian news media company 'NDTV' as an intern in politics and at 'NDTV Good Times' in arts and culture. [24]Nidhi Suresh – LinkedIn
Controversy
Reportedly, Nidhi Suresh was booked by UP police on a complaint by News18 journalist Deep Srivatsava for an allegedly defamatory post. According to the media, the FIR was registered under Sections 500 (punishment for defamation) and 501 (printing and engraving any matter that is known to be defamatory) of the Indian Penal Code by Sadar Bazar police in Shahjahanpur, Uttar Pradesh for a tweet shared by Nidhi. [25]The News Minute As per the media, the FIR was registered after a case reported by Nidhi Suresh about a Hindu woman from Shahjahanpur in Uttar Pradesh who converted to Islam and adopted the name Ayesha Alvi. The report by Nidhi contained the allegations of Ayesha Alvi that she was harassed by the media for her decision to accept Islam referring to which she filed a petition in the Delhi High Court in which she stated that she had been receiving threatening calls from a number. The petition read,
The first mobile call that I received was from 063******** and when he came he threatened that he will publish the news about my conversion and that I would get arrested and he demanded money from me and when we denied he threatened again. Thereafter he forcefully took 20 thousand rupees from us." [26]The News Minute
When Nidhi tried to contact the person, the call recipient identified himself as Deep Srivatsava, a reporter at News18; however, Deep refused the allegations of receiving extorted money from Ayesha Alvi. [27]The News Minute
Favourites
Beverage(s): Chai and filter coffee
Facts/Trivia
According to Nidhi, she is guided by the works of Svetlana Alexievich, a Belarusian investigative journalist, essayist, and oral historian who writes in Russian. [30]

Newslaundry – YouTube
In an interview in 2021, she shared that she faced language issues while doing ground reporting in the initial days of her career. According to Nidhi, she learned the Hindi language from her mother. She added that she used to dance to Bollywood songs which her mother used to translate for her. [31]

Newslaundry – YouTube
Nidhi is fluent in Hindi, Tamil, and Malayalam languages.
Nidhi has a tattoo inked near her left collar bone.
According to her, she had to go to therapy in 2021 as she was so much affected by her profession. While referring to her experience, she said,


Firstly, I am under no delusion that I can find a way for the profession to not affect me. It affects me quite deeply and to work efficiently, I think it is important to be affected to certain extent. It shows you care. But I also think it is important to be a sustainable and eco friendly journalist. Due to the erratic and emotionally draining nature of the profession, a lot of journalists tend to have disruptive personal lives. I find that damaging not just to oneself but also to your immediate ecosystem of people. To me that lifestyle is neither sustainable for oneself as a professional nor is it fair to your circle of loved ones. For the last one year, I have been regularly going for therapy. Apart from that I try to be diligent about mundane but important habits like working out regularly, paying attention to my food, making time to do fun things and to ensure that I am not constantly drowning in my own thoughts." [32]Nidhi Suresh – Instagram
References

↑

1
Nidhi Suresh – Facebook

↑

2
Newslaundry – YouTube

↑

3,

↑

4,

↑

5,

↑

13,

↑

14,

↑

16
Nidhi Suresh – LinkedIn

↑

6
International News Media Association

↑

7
Newslaundry

↑

8,

↑

32
Nidhi Suresh – Instagram

↑

9
Newlaundry – YouTube

↑

10
Sandhya Suresh – Facebook

↑

11,

↑

31
Newslaundry – YouTube

↑

12,

↑

15
Newslaundry

↑

17
Newslaundry

↑

18
Newslaundry

↑

19
Newslaundry

↑

20
Coalition For Women In Journalism

↑

21,

↑

22,

↑

23
Stylist

↑

24
Nidhi Suresh – LinkedIn

↑

25,

↑

26,

↑

27
The News Minute

↑

28
Nidhi Suresh – Facebook

↑

29
Nidhi Suresh – Instagram

↑

30
Newslaundry – YouTube