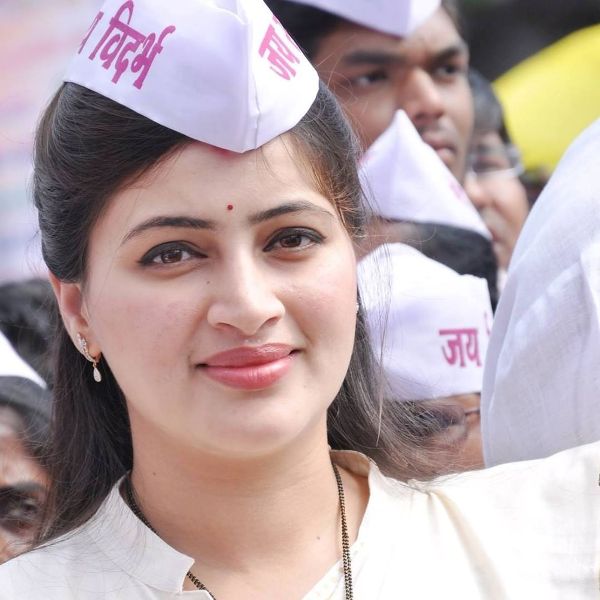 Navneet Kaur Rana is an Indian actress, social activist, and politician. She is the wife of independent politician Ravi Rana. In 2019, she was elected as the MP from the Amravati Lok Sabha constituency. In 2022, she made headlines in Hanuman Chalisa Row.
Wiki/Biography
Navneet Kaur Rana was born on Saturday, 6 April 1985 (age 37 years; as of 2022) in Mumbai, Maharashtra. Her zodiac sign is Aries. She did her schooling at Karthika High School, Kurla West, Mumbai (Up to 10th standard). She dropped out of her school when she was in twelfth standard and started working as a model. Later, she pursued a Bachelor of Commerce. [1]Seventeenth Lok Sabha Members Bioprofile of Navneet Rana Although her father frowned at her dream to become an actress, her mother and brother were supportive of her career.
Physical Appearance
Height (approx.): 5′ 5″
Weight (approx.): 55 kg
Hair Colour: Black
Eye Colour: Brown
Figure Measurements: 34-28-35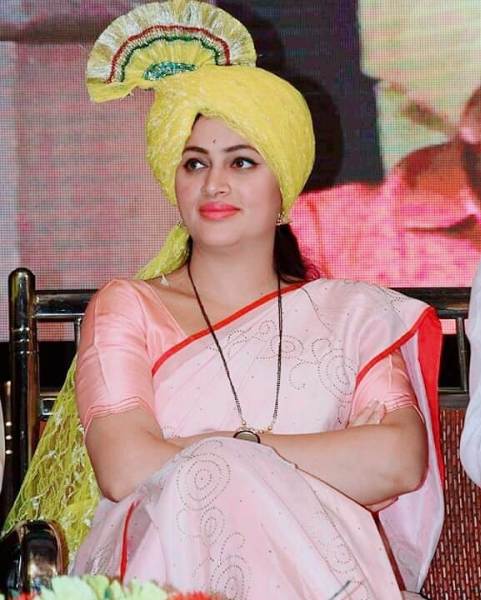 Family
Parents & Siblings
Navneet Rana's father, Harbhajan Singh Kundless, was an army official. Her mother's name is Rajani Kaur.
Husband & Children
On 2 February 2011, Navneet Rana got married to Ravi Rana in a mass marriage ceremony. Ravi Rana is an Indian independent politician who was elected as an MLA for the third time in a row from the Badnera Assembly Constituency in 2019. The couple made acquaintance at an ashram of Baba Ramdev during one of his Yog Shivirs organised by Ravi Rana.
Navneet and Ravi were one of 3613 couples who tied the knot in a mass marriage ceremony held in Science Core Ground, Amravati, where various popular Indian personalities like Baba Ramdev, Maulana Mahmood Madani, Vivek Oberoi, and Prithviraj Chavan were present.
Together, Navneet and Ravi have a son, Ranveer, and a daughter, Aarohi.
Caste
Navneet Rana belongs to a Punjabi family. [2]The Indian Express. There has been a dispute on the fact that she is of Labana caste or belongs to the 'Mochi' (cobbler) community. [3]The New Indian Express
Address
Permanent Address
50, Ganga Savitri,
Shankar Nagar, Rajapeth,
Amravati-444606, Maharashtra
Present Address
19, Duplex, North Avenue,
New Delhi-110001
Career
Entertainment Industry
Navneet Kaur Rana has worked in the Telugu, Punjabi, Tamil, Malayalam, Kannada, and Hindi film industries. She ventured into the entertainment industry when she appeared in a few music video albums. She made her acting debut with the Kannada film 'Darshan' (2004) in which she played the lead role of Nandini. The film follows a terrorist named Rahul who seeks revenge on Nandini's family by making her all in love.
She came into the limelight when she made her debut in the Telugu film industry with 'Seenu Vasanthi Lakshmi' (2004).  Thereafter, she appeared in various Telugu films like Jagapathi (2005), Roommates (2006), Jabilamma (2008), and Flash News (2009).
In 2005, she made her Bollywood film debut with 'Sitam' in which she played the role of Sharmila Sharma. Other Bollywood films in which appeared include Chetna: The Excitement (2005) and Little Terrors (2014). In 2009, she made her debut in the Malayalam film industry with 'Love in Singapore' in which she played the role of Diana. The Punjabi films in which she appeared include Lad Gaya Pecha (2010) and Chhevan Dariya (the Sixth River) (2010).
In 2010, she played the lead role of Nandhini in the Tamil-language comedy film 'Ambasamudram Ambani.' She also appeared as a contestant in the Gemini TV dance reality show 'Humma Humma.'
Politics
2014 General Elections
In 2014, Navneet Rana, on a ticket from the Nationalist Congress Party (NCP), contested the Amravati Lok Sabha seat, but she lost the election. Shiv Sena candidate Anandrao Adsul won the seat by a margin of 1,37,932 votes.
2019 General Elections
In 2019, Navneet Rana, as an independent candidate, contested and won the Amravati Lok Sabha seat defeating the Shiv Sena candidate Anandrao Adsul by 36,951 votes. From 13 September 2019 to 13 September 2020, she served as a Member of the Standing Committee on Agriculture. On 13 September 2020, she became a Member of the Standing Committee on External Affairs. She was also a Member of the Consultative Committees on the Ministry of Finance and the Ministry of Corporate Affairs.
Controversies
Abused by Anandrao Adsul
In 2014, Navneet Rana registered a complaint at Gadge Nagar Police Station, Amravati, against Anandrao Adsul (from Shiv Sena) for abusing and threatening her in the name of caste and character. The harassment began when it became evident that Navneet would be contesting against Adsul in the 2014 Lok Sabha elections on a ticket from the NCP. [4]CNN-News18
Caste Certificate Issue
On 8 June 2021, the High Court of Bombay cancelled the caste certificate issued to Navneet Rana, citing that it was obtained fraudulently using fabricated documents. Rana's SC certificate stated that she was a member of the 'Mochi' (cobbler) community. The HC passed its order on the petition filed by Anandrao Adsule who sought cancellation of the caste certificate dated 30 August 2013 issued by the Mumbai Deputy Collector, identifying Rana as belonging to the 'Mochi' caste. The petition against her claimed that she hailed from Punjab and belonged to the Labana caste. The bench noted that her original birth certificate did not mention the caste 'Mochi'. The HC said,
In our view, there are two sets of documents produced by the respondent no.3 (Navneet Rana) which were contradictory to each other before the scrutiny committee. The respondent no.3 had claimed to be 'Sikh Chamar' as well as 'Ravidasiya Mochi'"
Therefore, the HC imposed a fine of Rs 2 lakh on her. The decision came with serious implications as Navneet a Member of Parliament from the Amravati Lok Sabha constituency, which is reserved for candidates belonging to scheduled castes. On 17 June 2021, Navneet Rana filed an appeal in the Supreme Court challenging the Bombay High Court verdict cancelling her caste certificate. [5]The New Indian Express
Arrested In Hanuman Chalisa Row
On 23 April 2022, the Mumbai Police arrested her, along with her MLA husband Ravi Rana, after she gave a call for the chanting of Hanuman Chalisa outside Maharashtra Chief Minister Uddhav Thackeray's private residence 'Matoshree' in Mumbai. The politician couple was sent to 14-day judicial custody after the Mumbai Police slapped the sedition charge on them. Earlier, Ravi and Navneet had announced that they would recite Hanuman Chalisa in public if mosques continued to use loudspeakers for Azaan and other announcements. Thereafter, the couple was booked under IPC section 153 (A) (Promoting enmity between different groups on grounds of religion, race, place of birth, residence, language, etc., and doing acts prejudicial to the maintenance of harmony), and section 135 of the Mumbai Police Act (violation of prohibitory orders of police). Later, the police also added IPC Section 124-A (sedition) in the case against them. [6]NDTV The City Civil and Sessions Court granted bail to the couple on 4 May 2022 over bonds of Rs. 50,000 each and directed them not to speak to the media about the case. [7]The Hindu
Non-bailable warrant
In November 2022, Navneet Rana and her father received a non-bailable warrant from a Mumbai court in connection with a fake caste certificate case. Rana and her father allegedly forged their caste certificates to make her contest the election from a seat that was reserved for Scheduled Caste candidates. [8]The Hindu
Asset & Properties
Movable Assets
Deposits in Banks, Financial Institutions and Non-Banking Financial Companies: Rs 6,03,398
Personal loans/advance given: Rs 2,49,70,000
Motor Vehicles: Rs 82,65,418
Immovable Assets
Agricultural Land: Rs 1,82,88,320
Commercial Buildings: Rs 40,00,000
Residential Buildings: Rs 5,15,00,000
Note: The given estimates of movable and immovable assets are according to the year 2019. [9]Myneta
Net Worth
As of 2019, her net worth is Rs 5,39,77,680. [10]Myneta
Facts
Navneet Rana and Ravi Rana established a social organisation named  'Yuva Swabhiman,' which worked for the welfare and empowerment of the poverty-stricken class of society. Later, the organisation turned into a political party named Yuva Swabhiman Party.

In 2019, Navneet's MLA husband, Ravi Rana, physically came to blows with Shiv Sena's Amravati district chief Dinesh Boob while attending an event at the old-age home Madhuban Vrudhashram, Amravati. Ravi Rana alleged that Dinesh Boob had used foul language while talking about his wife, Navneet, on social media and during his election speeches in 2019. Thereafter, the verbal quarrel escalated to fisticuffs and the two manhandled each other. Soon, police intervened and forced Dinesh Boob and his supporters to leave the ashram.
In her leisure time, she loves listening to music and doing yoga. She is also fond of sports like running, shot put, and long jump.
She can speak in seven languages.
Ravi and Navneet often take advantage of their independent status. During the 2019 Lok Sabha elections, the Ranas sided with Congress-NCP and Navneet Rana contested the Amravati Lok Sabha seat with the NCP's support. However, during the 2019 Legislative Assembly elections in Maharashtra, the Ranas flipped and sided with BJP when Ravi Rana offered his unconditional support to the BJP to form the government. However, when NCP, Shiv Sena, and Congress formed the government under a new alliance Maha Vikas Aghadi (MVA) and pipped the BJP to power in 2019, the Ranas again maintained their neutrality.
In the 2019 general elections, Navneet Rana as an independent candidate spent Rs.65 Lakh, followed by Anandrao Adsul of Shiv Sena, the two-time MP from the constituency who had spent Rs.49 on the process. Rana roped in Bollywood celebrities like Govinda and Suniel Shetty apart from NCP supremo Sharad Pawar to address the rallies. [11]

The Times of India