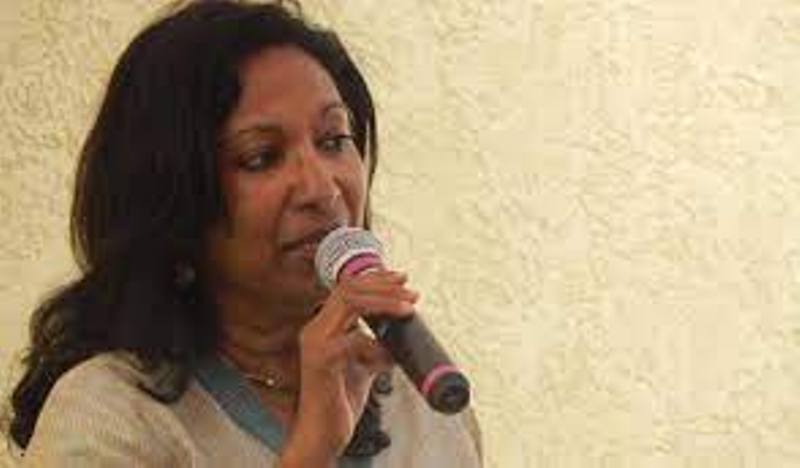 Meena Alexander (1951-2018) was an Indian English Poet and scholar. She is famous for her anthologies like Illiterate Heart and Raw Silk. She is known for her poems on dislocation and migration. She is considered one of the best diasporic writers of contemporary literature.  She passed away on 21 November 2018 due to cancer.
Wiki/Biography
Meena Alexander was born as Mary Alexander on Saturday, 17 February 1951 (age 67 years; at the time of death) in Allahabad, India. Her zodiac sign is Aquarius. She celebrated her 5th birthday on a ship in the Indian Ocean when she made a journey from India to Sudan with her family to join her father who was posted there. She continued visiting her grandparents in Kerala, India. Mary was home-tutored in Khartoum to speak and write in English. She finished high school by the age of 13; At the same age, she started her college at Khartoum University. When Alexander turned 15, she changed her name to Meena. In 1969, she graduated with a bachelor's degree in English and French. After she turned 18, she moved to England to pursue her PhD in British romantic literature at Nottingham University. In 1973, Meena completed her PhD.
Family
Meena was born into a Syrian Christian family from Kerala, India.
Parents & Siblings
Her father, George Alexander, was a meteorologist for the Indian government, who was posted to a newly independent Sudan in 1956 and her mother, Mary Alexander, was a homemaker. She had a sister Elizabeth Alexander.
Husband & Children
Meena got married to David Lelyveld, a Jewish American historian, in 1979. She met David at the Central Institute of English in Hyderabad, where she was a lecturer and he was on a sabbatical from the University of Minnesota. After her marriage, Meena moved to New York City with her husband, where she spent most of her life and raised her children. Meena and David had two children, Adam Lelyveld and Svati Lelyveld.
Other Relatives 
K. K. Kuruvilla
K. K. Kuruvilla was the maternal grandfather of Meena Alexander and a delegate of the Mar Thoma Church at the International World Missionary Conference. Kuruvilla was a freedom fighter, and social worker and was an active member of the Indian National Congress. He was actively involved in the Indian Freedom Movement and was a close associate of Mahatma Gandhi. Mahatma Gandhi stayed at the residence of K.K. Kuruvilla, on the night of January 16, 1937. [1]Naloor Library
Kunju
Meena's maternal grandmother, Elizabeth also known as Kunju, was the daughter of Rao Bhadur George Zacharia. She was the YWCA student secretary. In 1928, she was nominated as one of the first women legislators. [2]Naloor Library
Religion
Meena Alexander followed Christianity.
Career
Writing
Meena Alexander started writing poetry in her childhood. When she started her graduation at Khartoum University, her poems were translated into Arabic and were published in a local newspaper. Her first collections of poems were published by Writers Workshop, Calcutta, the press founded by P. Lal, a professor of English at St. Xavier's College. [3]The Wire During the time, when Meena was teaching in India, was a time of stress in India under the National Emergency; imposed by the then Prime Minister, Indira Gandhi, which led to restrictions in freedom of speech, freedom to assemble, and other democratic forms of citizenship in India. During this time, she wrote a novel about the political conditions of India, Nampally Road (1991). Talking about the connection between Alexander's book and the political challenges in India, writer Githa Hariharan said,
Nampally Road is the landscape Alexander's young protagonist, Mira Kannadical, must negotiate on a quest that involves personal as well as political challenges, choices and discoveries. Nampally Road is also a place living through a particular time. The road is in Hyderabad, a city with its own distinctive history, physical and cultural feel, and hierarchies. The city's present life is reflective of India in the grip of the seventies, a decade pinned to the collective Indian memory with the experience of the Emergency imposed by Indira Gandhi."
Alexander's personal life experiences of dislocation and a yearning to reconcile are easily felt in her literary works. Most of her poems and writings revolve around the themes of migration, trauma, and reconciliation. Some of her published works include Stone Roots (1981), House of a Thousand Doors: Poems and Prose Pieces (1988), Raw Silk (2004), and Birthplace with Buried Stones (2013). She published her second novel in 1996, Manhattan Music based on the life of Indian immigrants in the city. In 1993, Alexander published her autobiographical memoir, Fault Lines and later in 2003, after the September 2011 attacks, she wrote an extended version of her memoir in which she mentioned the incidents of her childhood about facing sexual abuse by her maternal grandfather, whom she was very fond of, and talked about the impact of the September 2011 attacks on everyone and everything. Meena Alexander was named a National Fellow at the Indian Institute of Advanced Study in 2014.
In 2009, her work was critiqued in the book Passage to Manhattan: Critical Essays on Meena Alexander, edited by Lopamudra Basu and Cynthia Leenerts. Meena Alexander read her poems at many literary events and forums including Poetry International (London), Struga Poetry Evenings, Poetry Africa, Calabash Festival, Harbor Front Festival, and Sahitya Akademi. Her speech titled, "What Use Is Poetry?", which she addressed at Yale University in 2013, was published in World Literature Today.
Her poems were published in The New Yorker, Harvard Review, Kenyon Review, and Threepenny Review. After her death, her poetry collection "In Praise of Fragments" was published in 2020.
Teaching
In 1974, after completing her PhD at Nottingham University, Meena returned to India and started working at the English Department at Miranda House, University of Delhi. In 1975, she became a lecturer of French and English at Jawaharlal Nehru University and a lecturer in English at the Central Institute of English at the University of Hyderabad, from 1975 to 1977. After Alexander moved to New York, she became an assistant professor at Fordham University from 1980 until 1987, when she became an assistant professor in the English Department at Hunter College, City University of New York (CUNY). In 1989, she became an associate professor. In 1990, she also became a lecturer in writing at Columbia University. In 1999, she was appointed Distinguished Professor of English at Hunter College.
Awards, Honours, Achievements
In 2002, her Illiterate Heart won the PEN open book award.
In 2009, she was honoured with Distinguished Achievement Award by the South Asian Literary Association.
In 2016, the Word Masala Foundation Honoured her with the Word Masala Award.
In 1993, her memoir Fault Lines was chosen as one of the Best Books of 1993 by Publishers Weekly.
 In 2002, she was awarded the Imbongi Yesizwe Poetry International Award.
Death
Meena Alexander died on November 21, 2018, due to endometrial serous cancer in New York City.
Facts
She spoke Malayalam, French, Arabic, English, and Hindi.
 In 2015, The Statesman described her as the,


undoubtedly one of the finest poets of contemporary times"
Alexander's poetry was adapted into music, including her poems Impossible Grace (2012) and Acqua Alta (2008).
She served as an Elector, at American Poets' Corner, at the Cathedral of Saint John the Divine, New York.
As a child, Meena wanted to be a Trapeze artist in a circus.
She held the Martha Walsh Pulver residency for a poet at Yaddo.