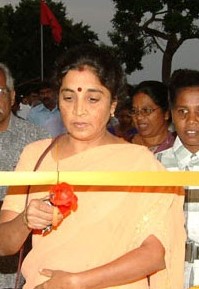 Mathivathani Erambu was a Sri Lankan woman who was the wife of Velupillai Prabhakaran, founder and leader of the Liberation Tigers of Tamil Eelam (LTTE), a Sri Lankan Tamil militant organization. She was found dead on 20 May 2009.
Wiki/Biography
Mathivathani Erambu was born in Sri Lanka. She is from Punkudutivu, an island situated off the Jaffna peninsula. Reportedly, she was pursuing her higher education at Jaffna University, Sri Lanka in the early 80s.
Family
Parents & Siblings
Mathivathani was born to Earambu Master, and his wife Sinnammal. Her father was a teacher, while her mother was a homemaker. She was the third child and also had a younger brother, Balachandran, who was also a member of the militant organisation LTTE. He died in one of the battles with the Sri Lankan Army in 1987.
Husband & Children
Mathivathani's husband's name is Velupillai Prabhakaran. He was the militant leader and founder of the Liberation Tigers of Tamil Eelam (LTTE). They got married on 1 October 1984 at Thiruporur Murugan Temple in Tamil Nadu. He died on 18 May 2009 while fighting against the Sri Lankan Army. They had two sons and a daughter. Their son Charles Anthony Prabhakaran was the head of the Information and Technology department of the LTTE. Velupillai named him after one of his most trusted lieutenants, who was killed in a gunfight with the Sri Lankan forces. Charles was killed in a gunfight with the Sri Lankan Army on 18 May 2009. Their younger son Balachandran Prabhakaran was twelve years old and was reportedly shot dead by the Sri Lankan Army after capturing him in May 2009; however, the Sri Lankan Army denied having shot him. Their daughter's name is Duvaraga (deceased). The dead body of their daughter was recovered by the army on 20 May 2009.
Relationship/Affairs
Mathivathani met Prabhakaran while she was studying in college, where she and a few of her friends actively participated in protests against the government. While participating in one such protest, she, along with several other female protestors, was kidnapped and taken to Madurai, Tamil Nadu, where she met the LTTE leader, Velupillai Prabhakaran, who then sent the kidnapped protestors to the Thiruvanmiyur residence of Balasingham, a leader of the LTTE. Prabhakaran was living at that time at the Madras Legislative Assembly members' hotel and visited Adele's Thiruvanmiyur residence on business. After the celebration of Holi his visits to Thiruvanmyur became more frequent to meet with Mathivathani and they started dating. Since Thiruvanmiyur was a conservative Brahmin suburb of Chennai, problems arose due to their affair and LTTE's code which barred marriage. Eventually, a new rule was made, which allowed those who had served in LTTE for five years to get married. The change in the rule allowed the Velupillai and Mathi to get married. [1]Pirapaharan: Vol 2
Death
Mathivathani Erambu was reportedly killed by the Sri Lankan Army; however, later the army denied killing her and said that they had no information on her whereabouts. Mathivathi's body, along with her daughter Duvaraga's body, was found on 20 May 2009. [2]India Today
Facts/Trivia
In his book Pirapaharan: Vol 2, a biography of the LTTE Chief Vellupillai Prabhakaran, T. Sabaratnam mentions Adele, a worker of the LTTE and a close confidant of Velupillai, who spoke about Mathivathani's life after marrying Prabhakaran in her book The Will to Freedom. She recalled and wrote,
Throughout the years of her marriage, Mathi has never known a permanent home and safe family life. Nevertheless, she has lived out the role of the wife to a guerilla leader with great courage and dignity and consistently struggled to provide a stable life for her children."
During her college days, Mathivathani, along with her few friends, had launched a death fast on 9 January 1984 against the government in Jaffna University. [3]

Pirapaharan: Vol 2
Mathivathani Erambu was also affectionately called Mathi.