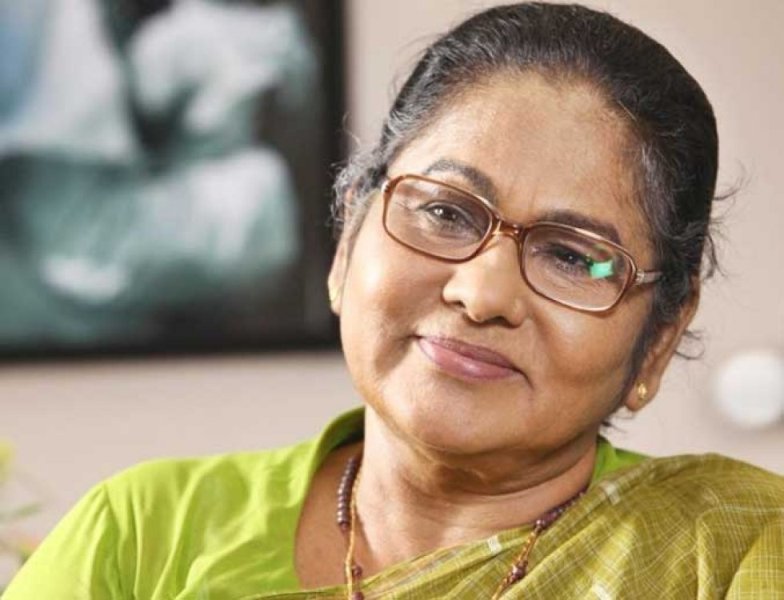 KPAC Lalitha was an Indian actress who predominantly worked in the Malayalam film industry. She was also an accomplished theatre artist. Her real name was Maheshwari Amma. KPAC Lalitha is the stage name that she adopted after she started working with the K. P. A. C. (Kerala People's Art Club) theatre in Kayamkulam, Kerala. She worked in over 550 Malayalam films for five decades. KPAC Lalitha was conferred with the two National Film Awards for Best Supporting Actress and four Kerala State Film Awards. She was the recipient of the Filmfare Lifetime Achievement Award which was presented to her at the 2009 Filmfare Awards South. For five years, she was the head of the Kerala Sangeetha Nataka Akademi. KPAC Lalitha is known for her notable roles in the Malayalam films Shantham (2000), Life Is Beautiful (2000), and Valkannadi (2002). In February 2022, she died at the age of 73 years.
Wiki/Biography
KPAC Lalitha was born as Maheshwari Amma on Wednesday, 25 February 1948 (age 73 years; at the time of death) in Kayamkulam, Kerala, India. [1]The Times of India Her zodiac sign was Pisces. K.P.A.C. Lalitha dropped her school studies when she was in class seventh. [2]Onmanorama
Physical Appearance
Hair Colour: Black
Eye Colour: Black
Family
Parents & Siblings
Her father's name is Kadaykatharayil Veettil K. Ananthan Nair. He was a photographer. Her mother's name is Bhargavi Amma, and she was a homemaker. Her parents had five children. She was the eldest among the five siblings. The names of her siblings are Indira, Babu, Rajan, and Shyamala.
Husband & Children
KPAC Lalitha got married to Bharathan in 1978. Bharathan died in 1998. He was a renowned Malayalam filmmaker.
The couple has two children. The name of her daughter is Sreekutty.
KPAC Lalitha has a son named Sidharth. Sidharth made his acting debut in the film Nammal, which was directed by Kamal in 2002.
Early Life
KPAC Lalitha belonged to Ramapuram near Kayamkulam. In her childhood, her parents wanted her to join dance classes, so they shifted to Changanassery from Ramapuram. Her initial dance teachers were Chellappan Pillai and Kalamandalam Gangadharan. At the age of ten, she began acting in theatre plays and shows. She appeared in the play Geethayude Bali, which was her first show. Later, she joined the K.P.A.C. (Kerala People's Arts Club) in Kerala, which was a renowned drama theatre. Soon after joining this theatre, she was given the stage name Lalitha. She then began working in Malayalam films and K.P.A.C. was a tag that was added before her name Lalitha to make it different from the other Malayalam actress 'Lalitha.'
Films
The name of her first film was Koottukudumbam, which was released in 1969. This movie was directed by K. S. Sethumadhavan. In 1978, KPAC Lalitha got married and took a break from her acting career and appeared in only a few films. In 1983, she resumed her acting career in the Malayalam film industry again with the film Kattathe Kilikkoodu, which was directed by her husband. Some of her popular films between 1986 and 2006 were Gajakesariyogam, Apporvam Chillar, Makkal Mahatmiyam, Shubha Yatra, My Dear Muthachan, and Kannanum Polisum. The films like Vadakku Nooki Yanthram (1989), Innathe Program (1991), Dasharatham (1989), Venkalam (1993), Godfather (1991), and Amaram (1991) were known for her critically acclaimed performances. In 1991, KPAC Lalitha was conferred with the National Film Award for Best Supporting Actress for her film Amaram, which was directed by her husband. After the death of her husband in 1998, she took a short break from her acting career. In 1999, KPAC Lalitha appeared in the film Sathyan Anthikkad, which was directed by Veendum Chila Veetukaryangal. KPAC Lalitha is also known for her great performances in Tamil films including Kadhalukku Mariyadhai (1997), Maniratnam's Alaipayuthey (2000), and Kaatru Veliyidai (2017). Apart from playing the role of a supporting actress in several Malayalam films, she is also known for playing memorable comic roles in the films.
Awards, Honours, Achievements
National Film Awards
1990: Best Supporting Actress – Amaram
2000: Best Supporting Actress – Shantham
Kerala State Film Awards
1975: Second Best Actress – Neela Ponman, Onnum Lelle (1975)
1978: Second Best Actress – Aaravam
1990: Second Best Actress – Amaram
1991: Second Best Actress – Kadinjool Kalyanam, Godfather, Sandhesam
Asianet Film Awards
2000: Best Supporting Actress – Shantham
2007: Best Supporting Actress – Thaniye, Nasrani, Aakasham
2011: Best Supporting Actress – Snehaveedu
Filmfare Awards South
2009: Filmfare Lifetime Achievement Award
Other Awards
2007
2009
Thoppil Bhasi Prathibha Award
Annual Malayalam Movie Award (Dubai) for Best Outstanding Performances
2010
Bharat Murali Award[16] 2011: Bahadoor Award
2011
Kambisseri Karunakaran Award
2012
Thoppil Bhasi Prathibha Award
2013
Cherukad Award for Literature for Autobiography "Katha Thudarum" (Writer)
2014
Kalaratna Fellowship by Kerala Sangeetha Nataka Akademi
Sangam Lifetime Achievement Award
2015
Part-Ono Films- Samaadharanam-'Prashasthipathram'
SIIMA Lifetime Achievement Award
Vanitha Film Award – Lifetime Achievement
TCR Bharath P.J.Antony Smaraka Abhinaya Prathibha Award
IIFA Awards IIFA Utsavam – Performance in a Supporting Role (Female) – Nominated
2016
Parabrahma Chaithanya Award
2017
Good Knight Film and Business Award
Death
KPAC Lalitha died on 22 February 2022 at the age of 73 at Thrippunithura, Ernakulam, Kerala, India. She was not well for a long time and was admitted to a local hospital in Kerala for treatment. [3]Asian News
Facts/Trivia
At the beginning of her career, she was asked to put on weight for her role at KPAC theatre. KPAC Lalitha was so desperate to act in the play that she consulted a doctor for gaining weight, and soon, 16 injections were injected into her by the doctor, and she followed a strict non-vegetarian diet of soup made from buffalo tail, dried grapes soaked in a toddy, raw egg in milk, and cold rice gruel. [5]

Onmanorama She was fond of eating Chyavanaprasam.
According to media sources, KPAC Lalitha was the first child of her parents after five years of their marriage. [6]

Deccan Herald
Her remuneration for her first film in 1969 was Rs. 1000. [7]

Onmanorama
Her father once collapsed during his working hours, and she was then studying in class seventh. The doctors advised her father to quit his job and take a rest. KPAC Lalitha then decided to take the charge of the family crisis and started acting in theatrical productions at the age of ten.
Her son, Sidharth, chose to be a director soon after acting in a few Malayalam films. He was the director of the 2012 film Nidra, which was an adaptation of the 1984 film with the same name. This film was earlier written and directed by his father, Bharathan.
In 2010, KPAC Lalitha published her autobiography titled Katha Thudarum (Story To Be Continued). In 2013, this autobiography won the Cherukad Award.