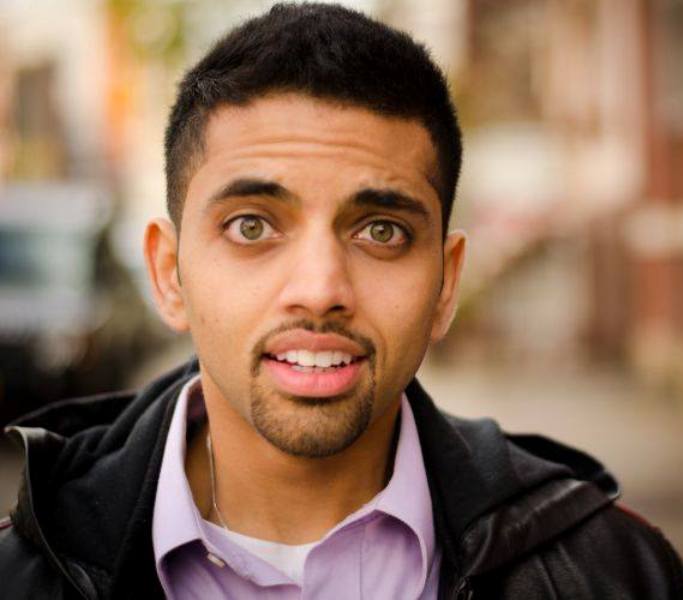 Akaash Singh is an American actor, stand-up comedian, and podcaster of Indian origin. He is known for hosting a podcast with American stand-up comedian Andrew Cameron Schulz and for his YouTube comedy series Bring Back Apu.
Wiki/Biography
Akaash Singh was born on Friday, 4 May 1984 (age 39 years; as of 2023) in Dallas, Texas. His zodiac sign is Taurus. Akaash pursued his schooling in Texas. He wanted to be a doctor like his uncle so Akaash attended Austin College, Sherman, Texas for his premed studies from 2002 to 2006.
Physical Appearance
Height (approx.): 5′ 5″
Hair Colour: Black
Eye Colour: Moss Green
Family
Akaash Singh belongs to an immigrant Indian family in America.
Parents & Siblings
His mother, Padma Devi, is a home maker. He has an elder brother Anshul Singh.
Wife 
Akaash Singh got married to Jasleen Singh in July 2021 in New Jersey. Jasleen Singh works as a marketing analyst.
Relationships/Affairs
Akaash Singh was in a relationship with Jasleen Singh for six years before tying the Knot in July 2021. Jasleen and Akaash met at the Hoboken Comedy Festival in New York in 2015. Jasleen knew about Akaash through her sister, who was a big fan of Akaash's podcast. According to Akaash, he spotted her at the festival in New York and started pursuing her.
On 4th October 2019, Akaash wrote a post on his Instagram talking about his relationship with Jasleen and said,
Four years ago today I chased this girl down after a comedy show because she looked like she might be Indian, and she had that – a rarity for our peoples. Fast forward to today and she's gonna be my wife. Moral of the story: Give street harassment a chance."
After about four years of dating, Akaash Singh proposed to Jasleen Singh at the Empire State Building in 2019 two days after her birthday and they got married in 2021. [1]StylesRant
Religion/Religious Views
Akaash Singh follows Hinduism. During a show, he talked about his religion and said,
I have a Sikh name, but I am a Hindu" [2]The Downing Town Times
Caste
Akaash Singh belongs to the Kshatriya cast. [3]The Downing Town Times
Career
Comedy
Akaash Singh started doing stand-up comedy during high school. Talking about it, he said,
My first experience of doing comedy came in high school — because a friend made me do it, it was at an open mic at a bar in Denton called the Brick House Café. I was onstage for about five minutes. I didn't do it again for another four or five years."
After graduating from college, Singh pursued stand-up full-time and moved to LA in September 2006. While in LA, he did multiple shows but they were not successful. By February 2007, he was doing a minimum of 5 open mics per week. In 2008, he moved to New York where he started doing comedy club gigs occasionally and became a comedy barker at the Village Lantern.
Akaash is famous for his comic take on racism and his jokes about white privilege. In February 2022, Akaash released a comedy special on his official YouTube channel "Bring Back Appu" which was based on the removal of the Indian immigrant character, Appu, from the famous American show 'The Simpsons' due to it being criticised because of being racist. However, Akaash in his video made jokes about the character not being racist but an American dream. The video crossed over a million views in its first week. In March 2022, he released The Crowdwork Special which made him the comedian who produced two specials in back to back months. [4]Broadway World
Acting
Television
In 2014, Akaash Singh made his television debut with the American show Good Medicine. In the show, he played the role of an Indian- American wannabe player, Raj. In the same year, he appeared in HBO's supernatural drama television series The Leftovers, he played the role of a Dry Cleaner employee. He became famous for appearing in seasons 6 & 7 of American sketch comedy and battle rap improv game show Wild 'n Out. In 2015, Akaash Singh appeared in an American reality comedy television series Guy Code on MTV2. Akaash Singh has appeared in many television shows including Red Oaks (2015), Guy Code vs. Girl Code (2016), and Fake News at Night (2018).
Netflix
In 2016, Akaash appeared in an American comedy-drama series Brown Nation. He played the role of Mookie, an IT company employee in America of Indian origin.
Podcast
Akaash Singh hosts a podcast, Flagrant, along with Andrew Schulz, an American comedian. The podcast originally started as a sports podcast but in 2022, it started covering current events and pop culture. After the success of the podcast, Singh also created a Patreon where they post an additional podcast during the week.
Other Works
Akaash Singh owns a production company, Padma Devi Productions, in the name of his mother. [5]Global Indian Times
Favourites
TV Show: Looney Tunes, Bugs Bunny
Sports person: Reggie Miller
Comedian: Ramy Youssef
Facts/Trivia
During an interview, in 2022, talking about his love for sports and it being the inspiration behind starting the famous Flagrant podcast with American stand-up comedian Andrew Schulz, he said,


I'm a big Cowboy fan. Mavericks fan, obviously. I was born and raised in Dallas, Texas. Sports is big. Andrew wasn't as big into sports. Really big basketball fan, but that's kind of it. But we both talked about how sports is a good thing because people don't get super-political over sports typically. Colin Kaepernick divided a lot of people, but normally, [for] most of us, I think sports is a place to leave all that shit behind. It has some place, but I'm not going to not be friends with somebody because they're a Bears fan or a Niners fan. So, it's a place where we can all come, even if we're different, and just talk around this thing. And there's not a lot of sensitivity, typically around sports fans. It was a way we knew we could still do our non-sports stuff that's comedy and flagrant and funny, and have a through-line."

In an interview, in 2017, when asked why he chose to be a stand-up comedian, Akaash said that it was his friend that encouraged him to become a comedian and said,


When I was in 11th grade Anatomy and Physiology, one of my friends in the class said 'You're not gonna be a doctor. You're gonna be a stand-up comedian, and I'm gonna be your manager and take 10% of whatever you make.' I was intrigued, but never thought I could do it. Then he messaged me our Freshman year of college and said there was an open mic in Denton [Texas] and I needed to get material together. I nervously put on these shows in our little dorm. Not the dorm, but our little dorm room with bunk-beds. And then I went and did it. And I remember there were moments when the audience was laughing so hard that I couldn't say the next line because I memorized a script. I remember I was freaking out because, 'oh my god the audience is laughing too hard I can't say what I want to say next."

In February 2022, Akaash Singh appeared on the The Joe Rogan Experience,a podcast hosted by American comedian, presenter, and UFC color commentator Joe Rogan.

In July 2022, Akaash Singh sold out his all the 5 shows in Minneapolis.