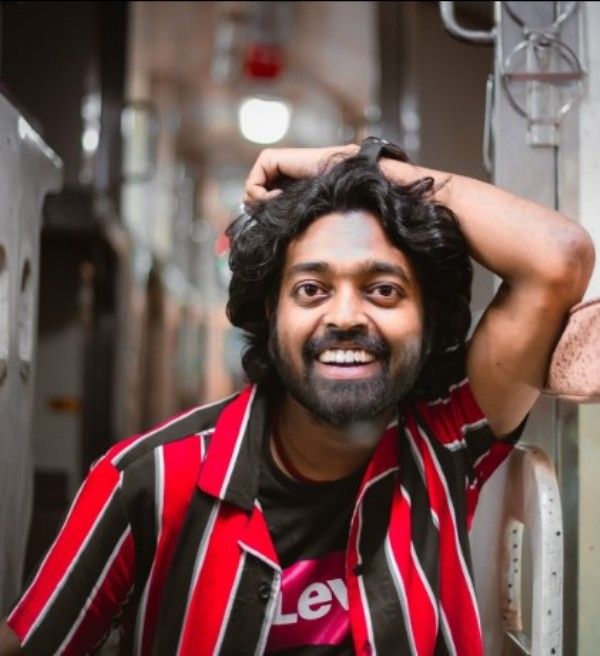 Adarsh Anand is an Indian YouTuber, actor, mimicry artist, and Instagram Influencer. He is famous for his funny lip-sync videos on Instagram.
Wiki/Biography
Adarsh Anand was born on Saturday, 4 November 1995 (age 27 years; as of 2022) in Bhagalpur, Bihar. His Zodiac sign is Scorpio. He did his schooling at the Achievers Point, Tilkamanjhi, Bhagalpur, India. Soon after completing his schooling, he pursued a Bachelor of Science in Physics. He was inclined towards acting since childhood. Adarsh, during his childhood, used to participate in different programs held in nearby villages. In an interview, Adarsh talked about this and said,
Then gradually I started getting fond of acting. Used to go and dance in programs held in villages and cities. The economic condition of the house was not that good."
Physical Appearance
Height (approx.): 5′ 8″
Hair Colour: Black
Eye Colour: Black
Family
Adarsh Anand belongs to a lower-middle-class family in Bihar.
Parents & Siblings
Adarsh Anand's father, Ravi Karna, is a teacher in a private school. In an interview with a media house, Adarsh talked about his father and said,
Father is a teacher. He used to teach children. He has also been fond of singing and playing. I was a very shy type of boy in my childhood. He didn't talk to anyone much. Papa used to beat and beat about it."
Adarsh Anand's mother, Madhubala Devi, is a homemaker. He has two sisters named Pooja Shree and Vidhya Shree.
Wife 
Adarsh Anand is unmarried.
Religion
Adarsh Anand follows Hinduism. [1]Adarsh Anand – Facebook
Career
Initially, Adarsh started making lip-sync videos and funny videos on the Chinese app TikTok through which he gained popularity. He had more than 3 million followers on TikTok until it was banned in India. In 2017, Adarsh started his self-titled YouTube channel on which he uploaded lip-sync and funny videos. As of 2022, Adarsh has more than 1.87 million subscribers on his YouTube channel. He also shares his funny short videos on Instagram. Adarsh has more than 1.9 million followers on Instagram.
Controversies
Adarsh Anand was denied entry at an event in Patna
In 2022, Adarsh Anand alleged that he was insulted by journalist Manish Kashyap at The Face of Patliputra's event. According to Adarsh, Manish invited him for a performance at the Face of Patliputra event; however, on the day of the event, Manish stopped taking calls from Adarsh following which Adarsh couldn't participate in the event.
Gun firing incident on the shooting set of Adarsh Anand
Reportedly, on 27 November 2022, large crowds gathered to witness Adarsh Anand's live performance in Hathiya Nala of Mayaganj, Bhagalpur, Bihar, India; however, during his performance, an altercation took place between two groups in the audience. In between the fight, two individuals took out their pistols and open fire on each other. In the incident, an individual named Sunny Paswan died on the spot, and Rohit Rajak, who was admitted to a private hospital, was declared dead soon after his arrival at the hospital.
Facts/Trivia
Adarsh Anand was an RJ before he ventured into acting.
According to Adarsh, he has mimicked more than 200 voices.
In 2018, Adarsh Anand participated in an event named Ghar Ghar Mein Star. In the event, Adarsh received a cash prize of Rs 51,000.
In an interview with a media house, Adarsh Anand talked about his career in acting and shared that once he went for an acting audition in Chandigarh; however, he was not selected. He said,


Papa had sent him to Chandigarh for the audition by taking donations. I was also selected, but don't know what happened, I was told to see the acting of the top 10 selected. I cried too…. After that I decided that now I do not want to go anywhere. You have to prove your acting yourself."

Adarsh's ancestral home is in Jharkhand, India.
Initially, Adarsh wanted to become an engineer; however, owing to his poor financial condition, he dropped the plan. In an interview, Adarsh talked about this and said,


After 12th, I also gave JEE Mains exam and passed. But father was a teacher, money was tight, so he could not take admission in any course. I also wanted to become something. He also prepared for general competition for a few years. Gave the exam but could not succeed."

Adarsh, during an interview, while talking about his poor financial condition, revealed that once he was kicked out of a dance school due to his inability to pay the fees. He said,


If there was no money, how would I have learned acting. I went to a dance class, but I didn't have the money to pay the fees, so the teacher didn't keep me. They kicked me out by scolding."

According to Adarsh, during the initial days of his acting career, he used to face discrimination for being a Bihari. In an interview with a media house, Adarsh talked about this and said,


In many places, I have to face discrimination because of being a Bihari, but now people from Bhagalpur are coming to Bhagalpur, not Mumbai, because of my acting. It is a matter of good luck for me."

For his short videos, Adarsh cross-dresses as a woman. In an interview, he talked about this and said that initially, many social media users addressed him as transgender. He said,


Once a girl messaged him on Insta and asked if you are a 'Chhaka'…." Adarsh ​​says that people call trans women Chhaka. Take it as an insult.We need to change that. He says that many times he came across trans women who asked him to raise his voice for the rights of those women."