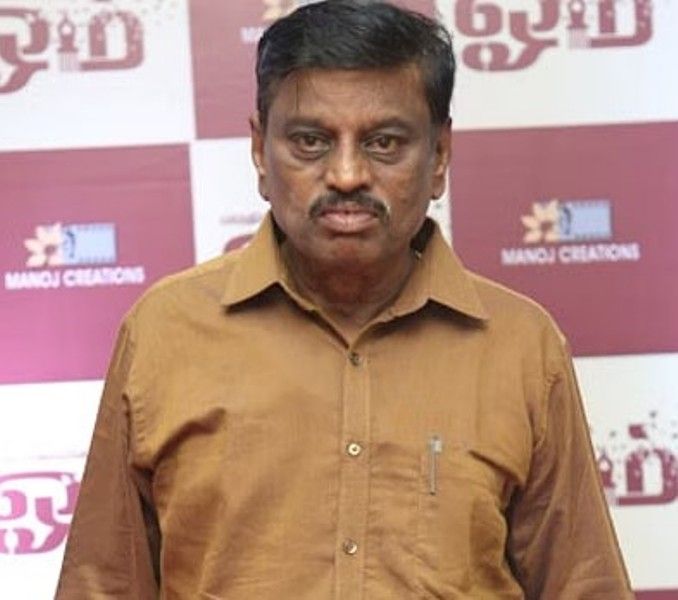 E. Ramdoss was an Indian director, writer, and actor who predominantly worked in the Tamil film industry. He came into the limelight after appearing in the Tamil film Vikram Vedha in which he played the role of Velraj.
Wiki/Biography
E. Ramdoss was born in the Year, 1957 (age 66 years; at the time of death) in Villupuram, Tamil Nadu. Soon after completing his schooling, he attended Islamiah College, Vaniyambadi, Tamil Nadu. According to Ramdoss, he was fascinated by watching films since childhood. After completing his post-graduate degree, he shifted to Chennai to pursue a career in Tamil films. In an interview, he talked about his career in films and said that his friends and school teacher suggested him to pursue a career in films. Ramdoss said,
When you see a girl while studying at school, you get a rush. That's how it came to me. I wrote a letter and sent it to the school. I don't know if it goes to the headmaster.Shouldn't I be the books you hold close to your chest?' That book I wrote went to the headmaster. He called me and praised me for the lines. When I shared this with my friends, they said, 'It's good… you should try in cinema."
Physical Appearance
Height (approx.): 5′ 9″
Hair Colour: Black
Eye Colour: Black
Family
Ramdoss belonged to a Tamil-speaking family in Villupuram, Tamil Nadu.
Parents & Siblings
Ramdoss' father, Ethirajalu Pillai, was a freedom fighter. His mother, Poongavanam, was a homemaker.
Wife & Children
He had two sons named Rama Pandian and Kalai Selvan.
Career
As a screenwriter
Ramadoos, soon after shifting to Chennai, started his career in screenwriting, and the first film he worked on was Enakkaga Kaathiru (1981), a Tamil film which starred Suman and Sumalatha. Subsequently, in the late 1990s, Ramdoss worked as a writer for many Tamil films like Raja Muthirai (1995), Dhinamum Ennai Gavani (1997), Harikrishnans, and Anthahpuram (1999).
As a director
In 1986, he made his directorial debut with the Tamil film Aayiram Pookkal Malarattum. Subsequently, Ramadoos has worked as a director in many Tamil films like Ravanan (1986), Vaazhga Jananayagam (1996), and Suyamvaram (1999). In an interview, Ramdoss talked about his career as a director and explained how he got the opportunity to direct films. He said,
I did not ask Manivannan for a job. The towers don't tilt but dubbing happens. Manopala went to see him. I went too. I used to go and sit and give corrections. Manivannan was looking at me like 'Yarra… Ivan'. Manivannan allowed me as a person who respects it because I am an educated person, Manobala said, 'It is our fear'. That's how I joined him."
As an actor
In 2004, Ramdoss started her career in acting. In 2004, he worked in the Tamil film Vasool Raja MBBS in which he played a minor role of a ward boy.
He has worked in many Tamil films like Cuckoo (2014), Thappu Thanda (2017), Goli Soda 2 (2018), and Boomerang (2019).
Death
On 23 January 2023, Ramdoss, died of cardiac arrest, at a private hospital in Chennai.
Facts/Trivia
Ramdoss was famous for playing the cops in many Tamil films. He has appeared in the role of a police officer in Yuddham Sei (2011), Kakki Sattai (2015), Visaranai (2016), Dharma Durai (2016) and Vikram Vedha (2017) among his other Tamil films.
In an interview, Ramdoss talked about his love for poetry and said that while pursuing his post-graduate degree at Islamiah College, Vaniyambadi, Tamil Nadu, he often recited poems at various cultural functions at his college. While discussing the same, Ramdoos said,


Next I went to Kaviko College. Poets come, sit near them, listen, watch and fall in love with writing. I completed my degree and joined straight cinema. Don't know anyone here. Well, I decided that we will direct it ourselves. Manophala said, 'You have to go from being an assistant to being a director.' I asked Manobala, 'OK, add someone to it." [1]Hindustan Times

Before marking his acting debut in the Tamil film Vasool Raja MBBS (2004), he had an uncredited role in the Tamil-language film Nooravathu Naal (1984).